SAILBOAT BUILDERS:
---
VOYAGER 388 - sails with icebergs in the Antarctic
SEE Voyager 388 in Antartic ! http://www.syquijote.com/
---
Dear Bruce, This email is 28 years overdue. In 1985 we purchased your blueprints for the 38' steel spray and the next year and a half we spent all our time and energy building her in San Diego, Ca. At that time I , Jules, was 35 and my wife, Suzie, was 22. My wife learned how to weld for the project and so she did all of the welding. I did all of the cutting, grinding and general encouragement. It took us another 5 years to equip the boat and save the funds before we left in 1992 for Hawaii.
The next 20 years we sailed between 45 south and 55 north in the Pacific ocean. She has been our full time home ever since. She is very comfortable and a safe cruiser during the gales and storms of high latitudes. We even went unscathed during Hurricane Iniki in Hawaii 1992. We would like to thank you for the fine design for which we have received many compliments over the years. Picture included. We recently posted 3 clips of her on UTUBE called The voyage of Emerald Steel. You might be interested in viewing them. Thank You again, Julius and Suzie Hanak S/V Emerald Steel San Diego, Ca. U.S.A
---
Dear Sirs, We purchased your project of Centeniel Spray 45 about 10 years ago. According to this project, my friend - Zihni Butuner, built the beautiful Melissa1 in his factory - Tire Profil in Izmir Turkey. (attached some photos). She was finished and launced in 2007 and since then she is sailing in the Eagean and he is very happy with her. She is now in Teos Marina - Turkey. Now he is interested in your project of Voyager 600 and we found that type in wood epoxy. Thank you, Gideon Tur
---
NOVEMBER 2012 - ROBERTS 25
Thanks you for your prompt response to my inquiry regarding the year of build for my 25 ' Adventurer. In the eighties they were an outstanding design and they have stood the test of time to still be a very desirable all-round yacht of her size in today's market.
I wish you and all the rest of your crew at Roberts Yachts a very safe and prosperous future. Regards Norman Totman
---
Hi Bruce, My wife, Pat knew that I needed to be on the water and found a Spray 40 built in Vancouver, BC. She convinced me to spend the extra revenue that I received from working too many hours on the Gitane Des Mers (47' LOA. 40' LOD, 14'6" beam). When friends ask how I convinced my wife to let me buy the boat, I simply reply, I broke down and let my first mate talk me in to buying the boat. I realize the bad humor, yet it applies. J
Although I am still learning the boat, our Spray 40 performs well, we have a Volvo 6 cylinder diesel that we use for marina ingress-egress and have found that even the sloop configuration sails well (although I still prefer the junk schooner rig). We averaged 6.5 knots for a few hours and 7.2 knots for about a half hour until I reduced sail to enter our protected winter moorage. The Spray is everything that I had read and heard from other owners. Although we will not win races, it is a heavy smooth sailing and comfortable sailboat—exactly what we want. Regards Gene
---
OCTOBER 2012
EURO CAT 2000 'Indio Pacific' built in Brisbane by Bob Rochester.
G'day Bruce
The boat was launched on June 4. Spent the next 2 months commissioning.
Now at Lady Musgrave lagoon and heading to Cairns. The yacht is well up to expectations and it provides all the security and comfort that we expected
Comfort is superb and cruising range excellent. I think that she will excel in Ocean work,which we will see this year. Last year was mainly light conditions where the Ghoster was most used and was carried up to a boat speed of 7 knots and over the deck speed of 12 knots. Higher winds suited the Genoa and Main with boat speeds up to 11 knots.
When motoring the Yanmar 4 JH4-HTE's were comfortable and economical at 2000 revs giving 6 knots. At max revs a speed of 10 knots can be relied on. In fact many light windward conditions were best handled with engines and main.
Most appreciated features - EchoTEC model 900 AML - 2 Watermaker, Mase 11.1 Generator, 1000 watt of Solar, 24v Alternators on Engines - All of this enables the installation of 230v ac. This provides excellent refrigeration, water supply and generally best use of household appliances.. The other striking feature of Indigo would be spaciousness in the limited number of main cabins.
Preparing to depart for Cato Island and then North to Swains. Boat is well up to expectations. Have experienced some heavy weather and are impressed by the stable ride especially to windward. Judy can still use the vacuum cleaner at 30 knots + She is alo impressed by her washing machine and dishwasher not to mention the deep freeze !!
The initial requirement - Comfortable living for 2 persons but limited accommodation for 2 guests and 3 children (so they don't stay too long!!)
- Large Rig but easily handled by 2 persons.
- Good range and 10 knots under power or sail
You have achieved this in all respects Bruce.
Speak to you soon. Best regards, Bob and Judy Rochester-
---
OCTOBER 2012 Roberts 370
Hi Bruce,
Firstly the boat has given us a great deal of pleasure and yes she sails very well. Our first real shake down cruise was a trip accross the gulf in conditions which were forcast to be 25 to 30 knots. we very soon after found that the conditions were not as to be expected. the majority of the trip was in conditions of 35 to 40 knots blowing from the SE on our port stern quarter.
She really powered along with no vices at all. The depth soon shallowed as expected so were surfing 2.5 to 3 mtr waves. when we reached our destination it was just to risky to attempt to anchor in the haven we wanted so went back to sea and spent the night riding it out. Her performance was very impressive. Thank you for a great boat, Graham and Shirley.
---
Bruce Roberts Spray Update
---
I was involved in a discussion a while back on this site with regard to the sailing abilities etc of
Bruce Roberts
Spray's.
I had purchased a Gaff
Cutter
in Greenwich and intended to bring her to
Greece
where I live. Well..I did just that. I had her trucked to Marseille..to Port Napoleon. This was by far the most professional and well run yard that I have ever seen. Then to
Corsica
..had a damper plate failure..fixed it..then to Sicily...on to Methoni.
The boat was absolutely superb. She handled bad
weather
..which we encountered most of the time..very well and I stayed dry without a
dodger
. She seemed to shoulder the waves out of the way!. We averaged 5 knots on 1200 miles and at one point were surfing in the high 8's. She also pointed reasonably well for a shoal
draft
boat. The
sails
needed to be trimmed just right and when I found the best set up she sailed herself. You need to be alert for
weather
changes as the gaff rig can be a handfull when short handed.
So..anyone thinking these boats are slow slouches...well they are most definately not. Of course it depends on the set up and all but I am so pleased with mine. She
looks good
... Has loads of space...very comfortable..and I got her for an amazing
price
.
Now comes the fun part..I am setting up a
charter
business here in Methoni. Talk about sailing into a
storm
. Greek beaurocracy is just appalling...Any tips on this one welcome...I am getting there but very slowly.
Cheers
---
Hi, Bruce! Our lovely R-38 Ketch - "Donna's Diamond" - has been sold.
Thanks for helping! I think her new owner is going to love this boat, as we did. She is sound and ready to go! Once again, thanks for your help! And thanks for one fantastic boat!
Regards Dennis Fria
---
OCTOBER 2012 Roberts 53 / 532
Dear Bruce, I write as a very satisfied customer of yours back in the early 1980's when I purchased your boat plans for the Roberts 53 Steel hull sailboat.
There followed eight years of single-handed construction in Mississippi,USA by yours truly (having taken a welding course at the local college - I am a medical doctor by profession).
I found your full-scale boat plans to be excellent and thoroughly enjoyed building and finally launching her at Biloxi, MS in 1992.
As I am a U.K. citizen as a 'Permanent Resident Alien' in the USA, I had to register her with Lloyds of London under the name 'MLANJE' rather than with the US Coastguard.
I sailed her on short trips in the Gulf of Mexico from Biloxi for a few years. I am now retired and living back in the UK.
Kind regards, Dr Sidney M Sheen
---
August 2012 Euro Cat 2000
G'day Bruce, I have your email that was forwarded from our previous address. Please note new contact details.
The boat was launched on June 4, in a hurry because of poor future tides.. Spent the next 2 months commissioning.
Now at Lady Musgrave lagoon and heading to Cairns.
The yacht is well up to expectations and it provides all the security and comfort that we expected
I don't know how to attach photos to email , but when we get to Cairns , you can be sure of copies.
The plan is to stay on the boat for the next 2 years and then to hand over to our Son. Speak to you soon. Best regards, Bob and Judy Rochester--
~S.V INDIGO PACIFIC~
---
JULY 2012 - ROBERTS 310
Hi Bruce, as promised some time ago that I'll let you know when we have one
of your 310's, she is on twin fins as per your drawings and rig as per boat plans. Sailing performance is superb, better than expected. We had the pleasure for 2 days of
sailing here with Dick Durham (Yachting monthly news editor). She is to be featured in August issue. We managed to sustain 8.5 kts running beam to wind in 17 kts of wind. I think this proves that you know how to design an excellent smallish steel yacht. Jill and myself and Duncan Mason would just like to say thanks for an excellent design. She is a great talking piece in our local marina in Cearnarfon north Wales. Ive enclosed a pic of here under sail on the test day. If you would like any other pics please let me know and ill send some. Best regards Duncan & Jill. We think that the magazine feature will put it in better words than we ever can.
---
Hi Anja & Bruce,
Thank you and all at your organization for the fantastic, efficient service.
You guys really do run a professional operation, it is no wonder there are so many Bruce Roberts yachts sailing the world!
Many thanks, Kind Regards Shane Smith, Director / Principal
---
SPRAY 36 - JUNE 2012
Bruce, Thank you for your quick reply. I've been having some paint problems and this information will be of great help!!
I built " Tequila Mockingbird " in my backyard in Denver, Colorado USA. over a 10 year period. We trucked the boat to San Carlos, Mexico in 2007 and launched her. We've been living aboard full time since then. I chose the pilothouse version and have been very happy with the choice. We've been through 2 hurricanes and have never been worried about the boat handling any conditions we've encountered.
I've attached a couple of pictures, the first was taken as Tequila Mockingbird being craned out of the back yard , the start of it's trip to Mexico. The other picture was taken in Agua Verde which is on the Baja Penisula here in Mexico.
Thanks again for the zinc info' Ed Kennedy
---
April 2012 - Spray 370 B See SAILING PHOTOS
Hi Bruce, Yes we finally got her ready for sea. We took her out last Saturday. In about 7-9 knot winds, we were making 3.7 to 4 knots close hauled and 4.5 knots running downwind wing and wing. What really made me happy was that once the sails were trimmed to her course, she steered herself, keeping within 5 degrees of a base course. I sat there for 15 minutes and never had to touch the wheel.

She heels just enough to let you know the sails are drawing but otherwise sat very upright and steady, no hobby horsing in the waves and riding the swells very well. We are looking forward to heading north from Newport, OR up to the Anacortes, WA area early next month. Let me if there is anything else you would like to know about "Icanaho."
VOYAGER 600
CRUISING SAILBOAT See the beautiful finish of this Wood Epoxy V 600 was built by Nazli and Yildirim Beyazit Usta in Turkey who writes " Average speed is about 9.3 knots with the motor. It is very easy to handle while cruising and very very smooth. We are often complimented on how it glides on the water by other people. We only have to make very fine adjustments while steering."
Roberts NEW YORK 65 January 2012
Hi Buce, Surfing a Bruce Roberts designed "Carol Lee" down some 12-14 occasional 16+ foot / 5 m seas. Winds were sustained 35 knots gusting higher. The Carol Lee is a steel 65 foot long cutter rigged sloop. This video was taken shortly after sunrise just south of Cape Mendocino. The Coast Pilot describes Cape Mendocino as a place of "great climactic change" I concur! Super fun!
Bruce, video of one of your designs surfing down waves. That's me on the helm. Andrew http://www.youtube.com/watch?v=V6y9pb4Z2jc&feature=youtu.be
Hi Bruce, Andrew Bermel, my ex-USCG delivery captain sent u a link to the Carol Lee. The original name was Melon Eye, so now u know: she actually is the New York 65 on ur website. Second owner bought her in Coose Bay, OR sailed her to Ilwaco and put her in the boat yard 3 years ago
You designed a beautiful, very fast ocean runner: She starts surfing beyond hull-speed and can do a steady 14-17 knots, top speed so-far was 20.5 knots!

I'll send some pics later on, Best Regards, Hans Duetz
---
JANUARY 2012
Voyager DS 440 Kit supplied by Bruce Robeerts.
Hi Bruce,
Just a quick email to let you know that the steel and the paper boat plans arrived yesterday - coincidentally at exactly the same time!
Very pleased with everything so far. Next job is to stack it all correctly and check off the parts. It will be a very long project and I do not anticipate a launch date for a few years ! Regards Julian Aldridge
---
Roberts 36
Ron Llewellyn's Solo Circumnavigation
Ron departed Australia in August 1999. His path was Christmas Island - Cocos Keeling - Rodrigues - Mauritius - Reunion - South Africa - St. Helena - Brazil - Windward and Leeward Antilles - Trinidad - Venezuela - Columbia - Panama Canal - Marquesas - Tuamoto Achipelago - Tahiti - Society Islands - Tonga Fiji - and returning to Australia November 2002
---
SPRAY 28 - JANUARY 2012
Aluminum version built by Robert Millikin
Hi Bruce, I just wanted to advise you of a change that I have made to my SPRAY 28 web site. You currently have a link to it under your Spray 28 page. The new link http://public.fotki.com/robtm373
It's been two years since we launched SILVERADO. We have logged around 2500 miles in the sea of Cortez....the boat is amazing!
I am attaching one of my favorite underway photos of SILVERADO. In the past two years I have experienced virtually all sailing conditions one will see in the Sea of Cortez. The boat is extremely comfortable in all conditions especially when it gets rough. It is not a fast boat but it does fine in anything over 8kts. I have just launched a new web site which is dedicated to SILVERADO and our travels in her. The link is: http://web.me.com/sv.silverado/sv.silverado/Home.html
Thanks again for your timely responses.
Robert Millikin Tucson, AZ
---
DECEMBER 2011 LOYAL CUSTOMER !
Hi Bruce, Can I please have the steel list for the Voyager DS 440. I need now to make sure I can afford the steel for this.
Its been a few yrs since I built your Roberts 345 radius chine.

It is many years since I built the Roberts 34ft In England
And 32 years since I built the Roberts 25 after down in Brisbane often visiting your place at Gumdale in Australia.
Any way Could you please E mail me Materials list for all the steel so I can start getting some quotes in...I will be ready to purchase the boat plans in two weeks time. Regards, Mark Bridgwood
---
December 2011 Voyager 495
Dear Bruce, we have just bought Voyager 495 from Karel Navara from Brno, Czech Republic. Our first sailing experience is excellent and we are excited about the speed and boats behavior.
We are planning to convert the boat into the expedition one, for ocean expeditions, as we are planning to explorer Chilean fjords and sail to Antarctica, where we have been several times, but not with our own boat; I would like to consult some of them with you, if possible. Libor Mertl ( Bruce says YES I will be happy to consult with the new owner of this beautiful boat.)
---
Roberts Spray 40 - Around the World !
Departed Port Renfrew Vancouver Island July 2nd 2005 , Direct for Hiva oa Arrived August 19th (Autona) my second longest passage). I stopped many places in the Pacific and left the boat in N.Z. for 2 months then sailed to New Plymouth for my starting point for Australia. Direct to Gladstone then I passed north of Australia and around The cape of Good Hope. I sailed direct from Cape Town to Trinidad , departed Cape town October 4th 2006 and arrived Chagaramas Trinidad November 25th 2006. A 52 day passage my longest as expected as the trades had not filled in. I left my boat in Trinidad till November 8th 2007 and sailed direct to Panama. It took about a week to get thought the Panama canal once I arrived, things were a bit intense as I had had no reverse gear since Australia. I anchored one night in the Pacific off Panama City then sailed for Hawaii, giving up 19 days later and anchoring at Port Angel Mexico to wait for the trades. Departed for Hillo on Dec 28th 2007 and crossed my out bound track on January 19th 2008 at approximately N 21degrees 22 min. by W130 degrees 42 min . or 1275 miles east of Hawaii, log states "Could use some wind". Arrived Radio Bay January 31st 2008. Departed for Canada Feb 28th 2008 arrived back at Port Renfrew March 22nd 2008 after the toughest passage I have experienced to date.

My boat is a Roberts Spray built by Frank Thiessen at Whistler B.C. and trucked to the ocean. Frank died in a freak accident in the far east before he achieved his goal which was to sail the world in DrifterWay. I bought her from his sisters. Many times when things got rough out there and DrifterWay stood to and brought me out of it I would say out loud "Frank you built a good boat" Maybe he kept me out of trouble as much as Slocum and the "Spray"

The roughest water for me was off South Africa bound for Richards bay and meeting 30 -40ft almost vertical walled waves in the Agullhas current as I neared port. Another tough time although of short duration was staring at water dripping off the welds on the bow of a freighter off the coast of Venesuala (I must have missed it by 20ft at 0100hr on a very rainy night.

Major Path of Voyage:
Vancouver departure, Marquesas, Cook Islands, Nuie, Tonga, NewZeaLand, Australia, Maritius, South Africa, Trinidad, Panama, Mexico, Hawaii and then back to Vancouver.
---
September 2011 Spray 55
Thank you for the boat plans for my spray 55,which is very close to completion.
Please note attachments. recently I have been approached to build another of your boats, namely a PCF 40, I am not sure which format I would like to follow regarding the building of this vessel, lines boat plans or cutting files.
I have always used lines boat plans, or a table of offsets, so I am not offay with other methods, however I have read a lot about dx files and kits, it seems to be the logical way forward. Regards Neil Hunter.
---
VOYAGER 765 September 2011
Hi Bruce, I received the files you sent in good order. They look great. Thank you very much. Kind regards, Piet Vos
---
September 2011 SPRAY 22 Hi Bruce,

I completed the construction of Spray 22. Very satisfied. Thanks for a great project and expert advice.
I am now interested in the idea of ​​building a yacht with engine. I am interested in the project Coastworker 28. Variant with a large cabin and stern-drive.
---
SOLD.
Hi Bruce, My late brother's boat has sold. Thanks so much for all you kindness and consideration during a very trying time for us. You are one in a zillion, you know. Thanks heaps. Felicity ... Felicity Smith

---
SOLD ... Bruce, "Clarity" is sold and my wife is happily investing the proceeds in our new home! "Clarity" will winter-over in Deale, MD; then she will sail to her new home in Muskegon, Michigan.

Please remove from your website, or mark it sold if you prefer. I want to thank you for your consistent responsive support throughout both the building and more recently, the process of finding her a new home. The entire adventure has been fun, rewarding, and fulfilling for me. I am and will remain a true advocate of your designs, your service to your
followers, and of you, Bruce.

If I can ever return the many favors, perhaps in the way of an experienced advocate, I would consider it an honor and privilege. Also if you and yours ever travel through western North Carolina, Teresa and I would feel honored to have you here for a layover.. Happy sailing always! Bill Russell
---
VOYAGER 495
Kit or boat plans & Cutting Files
FROM: Voyager 495 builder in Australia.
Message from Rick : Bruce - some idea of how the Voyager 495 sails - I'm extremely pleased with the performance. I've been through the 55 kt thing in the open sea as well as 60 kts from a cyclone in Mackay Harbour. I've bumped this and that ... but she's as tough as nails, and very comfortable to live aboard. We are in Newcastle at the moment and hope to be in Sydney for the start of Sydney to Hobart and New Years. We'll then head back to the warmer climate early next year (we have a trip back to Bundaberg before Xmas, yet) ! Gotta go

---
ANOTHER ROBERTS 53 ( R 532) SAILS AROUND THE WORLD - TWICE + SO FAR !
Hello Mr. Roberts, We own a 53' Steel ketch of your design built by Perry Smith of Milwaukee Wisconsin. She started to be built by Mr. Smith, a retired navy welder in 1981
Lisa Marie was renamed "Jump up" and was sailed around the world by John Flannigan an his family . She was then sold to Chuck and Dianne Osgood and was again sailed around the world, completing her second circumnavigation June 2010. They Renamed her "Bear".

We purchased her last October in Maryland and brought her to Florida. We set Sail May 20, f 2010 for Bermuda, then a straight sail to Ireland. Upon arrival, we met John, who built a Spray in the Middle East. He said that you lived locally. Please let me know if you are not to busy to get to get together to show you
"Bear" Thank you. We have a beautifully designed boat of yours. She is really well made. Mark Clarke S/V Bear
---
MARCH 2011 Roberts 345 & Voyager DS 440
Hello Bruce, In 1976 I drove up to one of your offices in Vancouver B.C. Canada and bought a set of your boat plans for a Roberts 34 and launched it in 1982. I sailed it until 1991 at which time I sold it. It was a great experience for me and I was able to sell it for more than double what it cost me to build ( solid fiberglass one off ).

My sons are now near the age I was when I built the 34 and we are contemplating another boat preferably in steel . Last week we got your study boat plans for the 434, 440 DS and the 495 and really like the 440. I need to determine whether it is less expensive to buy the CNC files and get quotes on the metal and cutting here in Seattle or to get the kit from you folks. Thanks! Steve.
STEVE HAS PURCHASED CUTTING FILES & boat plans FOR THE VOYAGER DS 440 !
---
FEBRUARY 2011 Hi Bruce, Ok, thank so much for the help I've been telling everyone I know who wants to build a boat to contact you you have been such a big help Regards, Mike Sent from my BlackBerry® powered by Virgin Mobile.
---
FEBRUARY 2011 PCF 40
cutting files
Dear Bruce, you are great and so fast! Whenever we will put the keel and start, you will be receiving pictures immediately. builder has a Web cam system at his site, and i Will be able to watch 7/24...Best regards, Berke Kardeş
---
JANUARY 2011 - Voyager 495 - Reply from builder in Australia when I asked how his boatbuilding project was going ! No more boatbuilding !!! All sailing now … I've clocked up over 3,000 nm in Epicurus now and the yacht has performed just great… I'll attach some photos later Paul Grainger !
---
NEW BOWSPRIT FOR TOM THUMB 24
Many, many thanks for such a swift and comprehensive reply. I will keep you posted on how Seerauber looks following surgery! Regards Tony
Anthony Fountain S/V SEERAUBER

---
ROBERTS 434 - December 2010 - Hi Bruce, Thanks for replying so quickly. I confirm Sifu is a multi chine steel hulled Roberts 434 with centre cockpit and ketch rig. She is at present on a mooring in Fornells, Menorca. We are sorry to be selling her after 19 years (14 years living onboard) and close to 45,000 miles sailing. I attach some photos of 'SIFU', it seems a while ago when you were onboard in Annapolis. We had a good crossing Norfolk - Bermuda - Azores - Scilly - Bristol in 1998 averaging 141.7 miles per day and only used 40 gallons of diesel. In 2000 we sailed to northern Norway, 68 degrees north inside the Arctic circle, a fantastic experience. The 44 may be one of your older designs but certainly lives up to her 'offshore' name, safe and very seaworthy, a mid Atlantic tropical storm with 70 knots+ proof of my statement. We would love a copy of your book and the drawings. Best Regards John & Sarah

---
VOYAGER DS 440 NEW DESIGN !
Hi Bruce!
It's been a while since I last wrote. My father was really busy trying to pull everything together, but now it's a milestone again. This weekend we did our first 40km trial cruise with the new born DS440 in the Danube river in Budapest. The boat is operating on it's own engine, everything is working fine (we also have batteries installed and some of the instruments). We were really curious how the boat will behave in water. We must say it exceeded our expectations.
The Voyager DS 440 runs extremely smoothly in the water. We were a bit afraid of the manoeuvrability due to the long keel design, but no problem at all. It is a really handy boat, although the mass feels. It's line it is not a toy, it is a serious boat. :) Our course a lot of our friends tried and one really experienced boat captain said something, which I can only try to accurately translate: "It's freaking good! :)" with a big smile on his face. We had a plastic boat in lake Balaton before, but we must say that was a toy compared to this. We also tried creating waves with a friend's motor boat to see how stable the boat is, and it did surprisingly well. It is a huge difference compared to "normal plastic boats build for charter purposes and not for cruising". Regards Norman Toth

---
SEPTEMBER 2010 - Spray 370 cutting files.
Thank you Bruce, I understood everything. Very nice to do business with you. Sincerely, Igor.
THIS EMAIL IS FROM A CLIENT IN RUSSIA WHO ORDERED THE SPRAY 370 CUTTING FILES ... WE ANSWER EMAILS WITHIN 24 HOURS OR LESS - CUSTOMERS LIKE THAT SERVICE !

---
SEPTEMBER 2010 ROBERTS 410
Hey Bruce, Thanks for the fast response! I did not DOWNLOAD or on CD - YOU CHOOSE DOWNLOAD OR CD. . . the 370 or the 310 so your person can remove them if you like. You and your people do excellent work, your customer service is second to none IMO. I also really appreciate the new pricing on your boat plans! Regards, Randy.
---
SEPTEMBER 2010 - VOYAGER DS 440 LAUNCHED. ( If you would like to see this clip - Request by email and we will sent it to you.)
Hi Bruce, Thanks for the video clip. Amazing there is no ripple around the boat including the rear end and looks like just gliding through the water. Wow ! Awesome ! Tony
---
SEPTEMBER 2010 - SAILBOAT STUDY PLAN CLIENT
Hi Bruce, Thank you for this wealth of information you have sent me. And thank you for those kit prices, again very important info. I will obviously need some time to digest all this information properly, but I am very keen to make my selection and move on with my boatbuilding project. Now that I am back home in Sydney, I've got the best conditions to do that. I also purchased your book "Choosing for Cruising" and I will read it with interest and purpose.
I wish to say that I am positively impressed with your attention and support even at this very early, informative stage of my project. With this, you are rapidly gaining my interest and trust, both key decision factors in selecting the best design for my Dream Boat. As we move on, I hope we can build further on this two-way cooperation.
Now, I'll go to do my homework. It is a critical and inevitably a time-consuming process, yet I will most certainly come back to you as I make some progress. Thank you very much.
Yours, Alan Rusyak Sydney Australia

---
AUGUST 2010 ... ROBERTS 58
Bruce, Thanks I have submitted the order, looking forward now to get started. Should be interesting I will do the construction on my small farm in rural Oklahoma which may sound crazy, but I'm less than 50 miles from the port of Catoosa on the Kerr Mc Clellan Navigation channel the furthest port capable of reaching the Ocean. Thanks again ... Bruce you run a 1st class operation.!! John M. Newell
---
ROBERTS 345 Dear Bruce, An acquaintance sailed to the Antarctic (from Tasmania Australia) in a steel Roberts 345. In our local paper "The Mercury" it was reported that the family had returned from their adventure safe and sound. A rather extraordinary testament to the design I should think!
"Ice caps off family's Antarctic adventure"
The Mercury, SAILING to one of the coldest places on earth in a 10.3m yacht might not be everyone's idea of a fun holiday, but for three members of the Tucker family it was the adventure of a lifetime. ``I've always had this idea to travel down to Antarctica,''

Matt Tucker was a lecturer at the Australian Maritime College in Launceston. He sailed with his brother and father, I believe it was a 6 week voyage with no unexpected mishaps. Brave fellas!

The same week those guys came home the Aurora Australis returned from a 10 week voyage. I was sailing on the Derwent at the time and had to get out of it's way. Looking up at that big red ship gave me a little perspective on what you would normally go to the Antarctic in and some sense of what the Tuckers had done. Kind Regards, Aidan Bindoff

---
Voyager 495 DOES THIS BABY SAIL !!!

Comment from Paul Grainger in Australia
With SE winds on the nose on way home – sailed easily at 30 degrees into the wind with full headsail and 130% genoa – 20-25kts wind, should have reefed the main to correct the heel but decided not to and just kept going – not uncomfortable. Paul Grainger
---
AUGUST 2010 - ROBERTS 341
Hi Bruce, I've attached a picture of Aries Tor anchored in the Chagos archipelago in the Indian Ocean. We left Lake Ontario three years ago aboard this 341 built in Montreal in the early nineties. She has been an excellent passage maker, quite surprisingly keeping up with the bigger boats most of the time. She secured a place in my heart early on when she brought me safely through a Gulf stream storm between Halifax and Bermuda. Our bow continues to point west for the time being. Thanks for an excellent design! Best Regards, Rob Lang

---
WHAT A TRIP IN A ROBERTS 36
Hello Bruce, I was contacting you nearly 2 years ago asking about rigging improvements for Southern ocean circumnavigation on Roberts 36. It was OK until my first rollover. It did not take the water impact.
I nearly made it around, single-handed. From NZ directly to Antarctic Peninsula, South Shetlands, Falklands, circumnavigating South Georgia, South Sandwich, Cape Town, Crozets, Kerguelen.

Following your advice I was extremely careful around ice. Heavy seas deformed the hull a bit but she is safe. I capsized on my way to Hobart - 900 miles to go, dismasted. I made it on jury rig to Portland Victoria after 26 days.

Could you tell me how long mast I actually need please? It is on the bottom on 46 south°, too far to measure it. I'd prefer the shortest reasonable mast possible. I have an ambition to make a mast which would survive a roll over (not that I want to try again).

My former aluminum mast (proper size) broke in tabernacle (it stayed on two pins, I won't make this again). I have got a wooden mast from a smaller boat which I am going to use now. I will make it longer. Thank you Daniel Petrasek SY Waterbird
---
SOLD
Hi Bruce, My late brother's boat has sold. Thanks so much for all you kindness and consideration during a very trying time for us. You are one in a zillion, you know. Thanks heaps. Felicity ... Felicity Smith

---
VOYAGER 600 - February 2010
Dear Bruce, Thank you for sending the new agreement and letting us know of the new time schedule for the boat plans and patterns to be completed. We are very excited about the general arrangement.
We also wanted to especially thank you for your patience and understanding through the design process. You should know that this boat has been a dream of my father for a very long time and we are very thankful to you for helping us to realize this dream.

The general arrangement of the boat, which you have spent so much time on, is exactly how we dreamed this boat would be and we really appreciate your willingness and kindness to accommodate all our wishes.

We are looking forward to seeing the final of the general arrangement. We hope that you won't hesitate to ask us any questions that might rise during the completion of the drawings. Thank you very much. Nazli and Yildirim Beyazit Usta

---
SPRAY 370 B - See photos
Built by Rod & Dee Palanca
We have launched in Newport, OR. Some boat plans have changed. We have lots to do on the boat like masts and sails and inside work. We also plan to travel to see family and friends as well as go fishing and crabbing and just have fun.
---
Hey Bruce, I just wanted you to know that I received the book today and wanted to thank you for writing this book and for your expertise and knowledge on how to build boats. I am excited to learn this process and hope to accomplish my dream of have my own boat. Thanks Again!!! Peter Brum
---
SPRAY 33 - March 2010
Hi Bruce, My name is Chris Davis, I have just acquired a 33 foot steel hull spray. I have been looking at boats for 35 years and I thought it was unusual looking when I first see it. But now I own it and have looked around it for three weeks and started work on it I have now realised it probably one of the prettiest 33 foot boats I have ever seen. (especially as it is built in steel). From the shape of the stern to the beam to the bow spite. It's probably a boat that any serious long distance sailor needs. It's not too big it's not too small. It's my little steel tug. Its massively over built as any excellent sea boat should be. I'm so pleased I have found this boat and cannot wait to go sailing in rough weather and keep it forever, I do not need to look at any other boats!! Many thanks Regards Chris Davis
---
ROBERTS 434 WOOD EPOXY ... AUGUST 2009
Dear Mr. Bruce, We are very grateful for the rapid delivery of the DOWNLOAD or on CD - YOU CHOOSE DOWNLOAD OR CD. . .
. If in the process of studying the boat plans we fail to understand some particular details, could we ask for further information from you ? We are looking forward to receiving news from you. Sincerely yours, Mihai Mustatea ... BRUCE REPLIED: Ask as many questions as you need to and I will personally answer.

---
Hi Bruce! Take a look at my blog http://metamundus-tom.blogspot.com/ to see your newest Brazilian baby growing up. By the way, congrats to you and your staff, the parts are fitting nicely together! Wonderful job!
Best regards! Thomas Ogrizek Brazil Bruce Roberts - Voyager DS 445 (Under construction)
---
I have been away these last 3 days, so apologies for my late reply. Firstly thanks for the gaff design. I love it, and I can't wait for the boat plans to arrive so I can get started. Secondly thank you for the contact. As soon as I get the boat plans I will contact them to get a quote. I would like to thank you for your most efficient help and replies to my emails, and as soon as I get the boat plans I will let you know. Regards Alex
---
Dear B. Roberts, Our congratulations for your outstanding services. We appreciate your company experience and effort to sustain and improving technology in the field. Thanking you for the kind cooperation in assisting our work. Looking forward for more successful years to come. Best regards. Ali Shafeeg.
---
Hi, Here are some of the pictures from the weekend , We had a slip for 5 days and made the most of it. We did raise the mast up and a jib and we took her sailing, it handle really well. the winds must of been around 20 kmh and we had good speed ... The little engine pushes her at 10 kmh . it is vary quick to respond whether it be under sail or power. I couldn't be more please. everything worked as it should and for a small boat its vary stable. lots of good comments from other boat owners. Unfortunately we had to take her back out. That was a little depressing. We are going to paint her up now and finish all the rigging and hardware. Georges Leduc
---
VOYAGER 543 ... WOOD EPOXY VERSION OF VOYAGER 542
Hello, Bruce!
I was surprised by how fast I received your study boat plans. You sent me the DOWNLOAD or on CD - YOU CHOOSE DOWNLOAD OR CD. . .
on August 23th, and I got it on August 29th! Thank you very much!
Regarding both options I ordered for studying, the Voyager 388 and the Voyager DS440, my best choice will probably be the first one, inspired by what you say in the book, 'choose the smallest boat that will satisfy your current requirements'. Thomas Ogrizek THIS CUSTOMER HAS NOW ORDERED A CUSTOM SET OF boat plans FOR THE VOYAGER 543 TO BE BUILT IN WOOD EPOXY.
---
SPRAY TRAWLER 475 JULY 7th 2009
Dear Bruce, This is (Attached pictures ... see link above) as close as I could get to KARA 1 this year. Right now I am in the middle of Asia, Almaty-Kazakhstan and working to cover her expenses. Hopefully I will get a break in October and enjoy the murmurs of the twin Cummins 210. Apart from my work schedule things are well, and KARA 1 is at good hands. She is in tip top condition and so far friends are enjoying short cruises. No complaints whatsoever.Best Regards Erhan KUM
---
JULY 7th 2009
Hi Bruce, I have just browsed through your pdf file you send me earlier. Its awesome man ! Even I am a novice but I felt your materials are a work of very high quality craftsmanship. Thanks very much thanks Regards Mike
---
JULY 6th 2009
Dear Bruce, Your DOWNLOAD or on CD - YOU CHOOSE DOWNLOAD OR CD. . .
arrived today. I was very surprised at the speed it arrived here. Thank you so much. Best regards, Thombi
---
ROBERTS 53
- JUNE 2009
Now Roberts 532
Bruce, I own a steel hulled version built in 86 and constantly upgraded. You have seen photos of some of the interior when we met at Annapolis Boat show one year. Your reaction to the quality of the woodworking was that it was very impressive.
I am now approaching the last part of my big boat days. Not because I have grown old, I am only 53. I just am moving into lots of other fun things and long distance cruising is not at the top of the list. The boat has been only a day sailor out of St. Petersburg now for the last few years.
I am only mentioning this to you so that if you learn of anyone you has fallen in love with your design but can't wait for the build time, I might be the answer. Feel free to forward my name around. I will be putting some photos and spec list together over the next few months. I am not in a hurry but I am moving forward. Sincerely, Bob Glennon 16280 Bowline St. Bokeelia , Fl 33922 702-596-3377
---
thanks you very much for the quick delivery I have received the study boat plans. They are great. Full of information. I received the study boat plans for NY55 fiberglass (is the boat I am looking for), NY46 and R532. I would like to receive more information about the NY65 fiberglass version, if is possible, because I am undecided between NY55 and NY65 (both of them in fiberglass).

Thanks in advance for your attention Kind regards Achille Castrogiovanni
I am pleased to say I was able to send the NY 65 drawings by return email ... Bruce
---
VOYAGER DS 544
JUNE 2009
Hi Bruce, Your study boat plans are very pleasing and accurate. The Voyager 544 is of interest to me, Thanks, Paul Tetu
Thanks, Paul Tetu
---
JUNE 2009 ... If you are in Europe .. Try out a Spray before building one for yourself .. Contact http://www.spray-charter.com/
---
JUNE 2009 ... CAT 35 / 36
JUST LAUNCHED ! - check out this attractive Power / Sailer CAT CAT 35 / 36

---
JUNE 2009 ...
TRADER 65
Bruce, We finally got your wonderful book. It was on a bit of a journey in several different hands to get to us in the Bahamas. When we finally thought we were going to get it, it came up lost from the bag of the person that brought it through the Marsh Harbour airport. I kept calling the airport for days and someone finally found it in Customs!
We think it is a beautiful book with a lot of great information. We can only image how much work goes into putting all that information together. We were thrilled with how the pictures of "Ciganka" looks. Thanks for signing it also! Hope all is well for you. Tomorrow we start our Summer run of youth charters with 15 to 20 people living on board every week through mid-August. Yikes! All the best to you Bruce! Thomas & Linda
---
ROBERTS 434 WOOD EPOXY May 2009
Hi Bruce, Here is an update on my boat construction of your ROBERTS 434. The more I get into this project the more I am admiring your skills as a navel architect. I just realized that the engine can be made to easily be pulled up thru the cockpit floor without damaging the rest of the vessel. Fantastic! When I attended the Chicago boat show last winter, I did not see that at all on the factory models; in fact the engine compartment was so compact, I pitied the mechanic that had to work on it.. Have a Spiffy Good Day! Earl
---
Sent: Monday, May 04, 2009 1:38 PM
Subject: RE: Bruceroberts.com Web Order Received (9273 = $99.00)
Hi Andy,
Received the study boat plans last Wednesday so they arrived very quickly, very impressed with the amount , quality and detail of the information provided.
I am planning for my retirement in a few years and obviously I am thinking of building a boat. My thoughts originally were wood/epoxy but after reviewing the supplied information I am thinking a steel kit would be a better way to go. It just means I need to acquire some new skills which will not be a problem. What you can help me with is an indicative A$ cost of a steel kit and boat plans for the Euro 1000 delivered to Hobart. This will let me budget accordingly along with large workshop, electric hoist etc Regards Gordon Blunsdon Dealer Principle PABX Sales and Service Pty Ltd
---
Hi Bruce, Just thought I would let you know that I used to own a Roberts 25 design which I delivered up the coast from Batemans Bay to Sydney. When the weather finally turned in my favour I had no crew so, inspired by the ability of the Roberts design, I decided to sail her solo to Sydney.
The Roberts 25 had a tiller pilot but no lifelines. I clipped myself on with a harness for the full duration of the voyage which was lucky as I encountered some serious weather. It ended up being 4 to 5 metre seas with a following breeze gusting to 40 knots. The waves were constantly breaking as they loomed above me but the Roberts held her course well and I never broached. In fact no water ever came aboard as she lifted to each wave and her hull shape gave a safe comfortable motion. In any other boat of the same size I would have been **** scared. My tiller pilot failed so at one stage I was on the helm for 12 hours straight until I could duck into Jervis Bay for a rest. An excellent and very seaworthy design. Thank you so much for that. Best Regards, Colin Skinner

---
Hi Bruce, thanks for the email, we bought our PCF 40 complete, she was built in Nova Scotia in 1982 by Shelburne Marine. Attached is a picture of Old Rosie, she is a great boat! My wife and I spend our summers sailing her on Georgian Bay ,Ontario. Thanks for the inquiry, Ben

---
ROBERTS 532
SUCCESSFUL FISHING BOAT !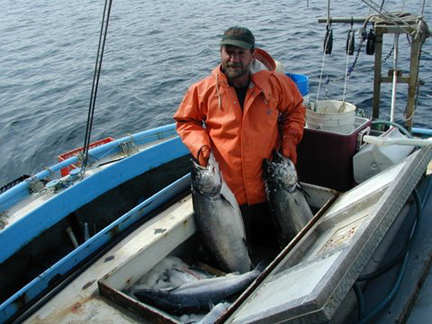 Dear Mr. Roberts – Goodson, I am the current owner of a steel hulled Roberts 53 ( Now Roberts 532 ) ketch. It was built in 1985 by a commercial fisherman for commercial salmon and albacore trolling and thus it has a fish hold where there would typically be cabin space. I have owned this boat for five years and I use it for commercial salmon trolling in Alaska. I have owned and worked on dozens of different boats and this Roberts 53 is my favourite of them all. I hope to continue making a living on this boat for as long as I am healthy enough to do it. This is more than a job to me, it is a life that I love.
There are not many sailboat/commercial fishing boat combinations that work well, but this is one of them. I use the sails to get out to, and back from the fishing grounds when the wind is favourable. I use the engine for actual trolling, and for running in no wind or un-favourable wind. The engine (a Detroit Diesel 371) also powers hydraulic fishing and anchor winches. The boat holds 1400 gallons of diesel, and on a typical 5 day fishing trip burns around 120 gallons of fuel.
Sincerely, Frank Murray owner/operator of f/v AKVAVIT
Harrison "Smitty" Smith built the AKVAVIT in Stanwood, Washington, with a lot of help from his girlfriend Lorrie. Smitty taught Lorrie to weld and apparently she did a lot of the welding on the AKVAVIT. I haven't found any bad welds yet. Smitty sold the AKVAVIT in about 1997 to a couple of partners who fished the boat for albacore. They fished the west coast and out to Midway and down to Samoa. I bought the boat from them in 2003
---
MARCH 2009 - HERE IS THE FEEDBACK WE LOVE TO RECEIVE !
SPRAY 400
Hi Bruce, Joe Brady from Ireland here. I Bought a set of Spray 40 cutting files from you about a year an a half ago. Boat worked out well, everybody happy. I have an interest in building Euro 1400 Aft cabin. Can you send me some information i.e. cost of cutting file and the option of you supplying the kit pre cut and delivered to Ireland, engine options etc. I would appreciate your suggestions on the matter. Regards Joe

---
ROBERTS 345 - ROLLING THE RADIUS PLATES.
Bruce, I will take some photos while we are rolling and send to you. It's easier than I thought it would be and it leaves a fair hull with few seams to weld. You do have to cut your sheets at least 6" over-lap or the rolled piece my not fit the opening between topsides and bottom. Regards, James

---
Roberts 341
Version A
Hi Bruce, I've attached a picture of Aries Tor anchored in the Chagos archipelago in the Indian Ocean. We left Lake Ontario three years ago aboard this ROBERTS 341 built in Montreal in the early nineties. She has been an excellent passage maker, quite surprisingly keeping up with the bigger boats most of the time. She secured a place in my heart early on when she brought me safely through a gulf-stream storm between Halifax and Bermuda. Our bow continues to point west for the time being. Thanks for an excellent design! Rob Lang
---
Hi Bruce! Take a look at my blog http://metamundus-tom.blogspot.com/ to see your newest Brazilian baby growing up. By the way, congrats to you and your staff, the parts are fitting nicely together! Wonderful job!
Best regards! Thomas Ogrizek Brazil Bruce Roberts - Voyager DS 445 (Under construction)
---
Roberts 432 Version B
Dear Bruce, We launched our 432 steel cutter in the summer and are very happy with her performance. She feels very solid, even in a blow, and is forgiving with the couple of novices we are. She doesn't heel much which is great because we have a main of 12 ounce cloth which will take a real beating. We were impressed with the speed down wind, 8kts in 20 kts wind, awesome!

She is sitting in Vancouver BC waiting for spring when we'll depart on a journey around the world! Thank you for such an excellent design, can't wait to hit "the big blue" ! Best wishes for a prosperous upcoming year,
Building has been such a great experience for us both, now let the fun begin! Sandy & Gena CSV Dulcie-Darlene
Hi Hal, Well, I just got back from helping Lee and Sheila Keely get their new boat to Boston on their way home to the Chesapeake.
We had a pretty rough trip across the Bay of Fundy and the Gulf of Maine, with south west winds at 25 knots and 8 – 12 foot seas. The whole trip took 62 hours at roughly 7-7.5 knots.
The boat performed very well in the rough weather and at no point did we feel in any danger, even when we were taking a foot of water over the bow! There were times when the whole foredeck was awash! So, I think we can safely say thank you for designing ANOTHER safe ocean worthy boat! Thank God For Pilothouses!
Feel free to share these photos on the net, the owners are very happy and proud of their boat! Talk to you soon Hal, Brian
POWER BOAT BUILDERS:
---
Coastworker 40 fiberglass version.
This boat was built in Tanzania .. see builders comments:
Attached the photo boat in the water, we managed to achieve 35 Knots on the speed with the twin 300 hp diesels.
---
Hi Bruce, We launched our trawler (RACCSO) day November 18, 2012 in the waters of the Rio Guaiba Porto Alegre in Rio Grande do Sul, Brazil.
The boat is very beautiful, we have to put something in ballast lead since it was built in aluminum and it weighs less than the original design.
The final speed engine with 115 hp yanmar reached 9.5 knots, and a cruising speed of 8 knots with the engine at 1800 rpm. With the auxiliary motor of 54 hp got to 6 knot cruising speed.
The boat was very stable and pleasant to navigate. Best regards Rubem Koefender
Curtume Rusan 51 3714 4400
---
OCTOBER 2012 TY 43 RUSSIA
Дорогие друзья!! Спасибо за прекрасный проект лодки!!!

Dear friends! Thank you for the excellent project boat!
boat building lasted for 2 years

Соколов Андрей Анатольевич
Компания "Волжский Ветер"
www.vveter.ru
+7 902-363-26-30
---
September 2012 TY 520
Dear Bruce, we have lived aboard our TY520 for over two years now and have traveled around 3000 miles around Singapore, Thailand,Malaysia and Indonesia. We have a single engine John Deere 6068SFM50 rated at M4 2600rpm and 267Hp.
In good conditions we have reached just over 10knots max but our cruising speed for comfort and economy is 6-7 knots.
At 1200 rpm we can achieve 5 knots and burn around 6 ltrs/hour
At 1500 rpm we can achieve 6 knots and burn around 12 ltrs/hour
At 1800 rpm we can achieve 7 knots and burn around 24 ltrs/hour

We have the capacity to hold 8000 ltrs. Had I realized how economical the John Deere was I would have cut capacity back to say 6000ltrs.

The engine room on the TY520 is fantastic. Sea Crest Marine in Bangkok did a great job in designing the layout. We have 2 x 2000 ltr tanks on either side and down the centre line there is the John Deere/twin disc gearbox, 17.5 Kva Onan Genset and a large Coltri Sub Dive compressor. Beside the compressor at the rear of the engine room there is a 50Hp Yanmar for Hydraulics. This runs the bow and stern thrusters and anchor windlass. There is a separate hydraulic pump on the John Deere for auto pilot and power steering.
There is plenty of space to walk around the John Deere and Genset with about 1.75 m headroom throughout the entire engineroom. Six 200amp house batteries plus starting batteries for John Deere, Yanmar and Genset are all under the checkerplate flooring in Sea Crest Marine custom made ventilated battery boxes. We have a 24v system. In the lazarette we have washer/drier, chest freezer and a workbench with lots of storage for tools and dive gear.

We have found that the TY520 is about the perfect size for our lifestyle. There is a huge amount of space on the top deck for entertainment and barbecues. The pilot house is enormous with 2.3 mtr ceiling. The 3 cabin 2 head layout is ideal for trips and friends staying in the Marina.

Very happy with our choice of boat and thank you for the support and help over the years. Always happy to help/advise potential builders in this part of the world. Warm regards Al and Mel Dow (Singapore)
---
AUGUST 2112 COASTWORKER 28
HI, my Name is Toby and I qualified as a boat designer from Falmouth (UK) in 2010. For my final year project I designed an aluminum rib, which I am now Building at home in Pembrokeshire.
When studying for my degree I used your book "The complete guide to "METAL BOATS " on countless occasions.
The book is a wealth of knowledge and now it's used for my own personal benefit and my own knowledge on metal boats. So thank you !
The enquiry was inspired by my dad bidding on one of your costal worker 28's at an auction. Unfortunately his bid was not successful.
Dads comment was given the facilities we have; we could probably build one......The boat in question we are interested in is CW 28 ALUMINUM ... CUTTING FILES & boat plans 8 FT BEAM Planing hull INBOARD OR STERN DRIVE OR OUTBOARD OPTIONS NOW AVAILABLE
We would be building in aluminum with an inboard diesel preferably. At this stage please could you send me a price for what it would cost for the cutting files and boat plans? As this is our first build we would greatly value your recommendations. Sincere Thanks, Toby
---
MARCH 2012 - Cat 35/36

OWNERS COMMENTS:

"It is great that with only 164 HP twin Steyrs I can now get almost

30 knots out of her"

"Hi Bruce,
The boat was incredibly stable and responsive. We had to berth the boat twice in difficult cross winds and your hull design ensured she performed like it was on rails. No problem at all." Bruce and Hal, I wanted to thank you both for all of your help to finally get to this point, and to let you know how great she turned out"
---
DECEMBER 2011 New Custom EURO 1600
Morning Edgar, Bruce,
Well as Bruce promised, delivery before Christmas, and today is 20th December my wedding anniversary, so it is a very good start of the day!
I am very happy with the final GA boat plans, and my experience with you Edgar & the Netherlands team is promising for the continuation of the "Project"
I wish you both and your family a Merry Christmas and Happy New Year.
Best regards Louis
---
September 2011
ONE OF OUR MANY REPEAT CUSTOMERS !!!

Could you please forward me approximate times for assembly of each and approximate price of 520 and 620 kits?

I am also interested in cutting the kit on my own plasma machine and I would like to know if you can supply drawing files (without nesting), as I might get parts onto sheets I am presently cutting.

I am currently enjoying my Waverunner 342
(launched 2003).

Thank you and kind regards, Bill Sandham
---
ATLANTIC 50 LAUNCHED See photos.
---
Mr Masigla about his boat´s performance:
What I used with my W45 was Twin Hamilton Jet connected one each to two 250 HP Diesel engines.

31 knots at the max while 22-25 knots at economical speed.

No major change were done on the hull except for the chine which was a bit emphasized (widening) with hope to enhance planing effect. Also, the W45 is designed as planing hull and its best to make it run over 15 Knots and attain the planing speed
---
FEBRUARY 2011
Well, here is ANOTHER Happy Home Builder of your WR 44. I built our boat out of American White Oak, Marine ply and epoxy. The hull is encased in 2 layers of 850 gram Quadraxial Epoxy glass. I fitted 2 x 135HP Perkins 6 cyl natural aspirated diesels and she cruises beautifully at 8 knots at 1600 rpm. All the work was done by my wife and I except for the sanding and fairing.
The boat was built mainly for the rivers and canals of Europe. We shipped her to Rotterdam from Durban (South Africa) in June 2010 and cruised to Amsterdam to see my family (I was born there). From there via the Bergse Maas to Maastricht, Namur, Mons, Tournai, Gent to Zeebrugge where she is out of the water for the winter. We are returning in April 2011 to collect her and carry on cruising through to France via Paris down to the Soane. Then we will fly home to SA for the winter.
We are delighted with the design which can cruise most of the canals of Europe as well as the Med. One can even go down the Rhine, across to the Danube, come out at the Black Sea via Istanbul, the Greek Islands, back to the Rhone and France. This size boat would be ideal for this kind of trip. I am now 66, so can dream on!!........We are enclosing some photos to show off our boat and your excellent design. Kind regards, Bob and Margie de Boer South Africa

---
Trawler Yacht 43
Cutting file client - sent us photos of his TY 43 -
Email Bruce if you are interested in seeing this boat.
Great thanks for the excellent project !!!!!!!!!!

Соколов Андрей Анатольевич
Компания "Волжский Ветер"
+7 902-363-26-30
---
TRAWLER YACHT 620 JANUARY 2011 ... The Emerald Lady is in Marsh Harbour, Abaco, Bahamas until April. It was a wonderful trip. The boat ran great and was very comfortable. My wife is very pleased with the boat's seaworthiness. Total mileage was 1200 NM on 950 gal. of fuel. It uses about 150 hp to go 8kts. thru the water under normal sea conditions. We are home in PA for the holidays and will return to the Bahamas in early January. At that time I will send you some current pictures. Have a Happy New Year! Regards, Tom Springer
---
COASTER TY 28
Hi Bruce, CD arrived this morning. Many thanks for your swift and helpful service. Many hours of study ahead! Best regards, John Baker
---
Hi Bruce, "I have had a CW28 built here in Thailand (GRP) and used around the East Gulf of Thailand. Jomtien and Koh Chang regions. It's really great and is intended for family cruising, island hopping and fishing. I am conducting sea trials at the moment. The boat is powered by an FNM 225 HPE inboard diesel. Prop shaft is 2" SS. G/bx is 2.43 ratio."
"Thanks for a really nice design boat." John A. French
---
SEPTEMBER 2010 - TRAWLER YACHT 470 - FIBERGLASS
Hi Bruce, Everything is fine with the construction of TY 47 hull shape makes it very easy to build. Temperatures in Norway means that there is little building in the winter, but something we get to. I'm sending what I have pictures and you will see if anything can be used. Thanks for all contact and service so far. Best regards Knut-Erik

---
SEPTEMBER 2010 - WAVERUNNER 55
DEAR BRUCE, I WANT TO THANK YOU FOR EVERYTHING YOU DO FOR THIS FIELD AND THROUGH YOUR HELP AND ADVICE I MAKE MY DREAM TO THE TRUTH NOW WE ARE SAILING IN LEBANON AND THE MEDITERRANEAN SEA AND HERE SOME PICTURES. BEST REGARDS, KHODR AKKAOUI
---
SEPTEMBER 2010 Trawler 485 built in Belgrade and has recently motor sailed from Yugoslavia via UK, Iceland, Greenland, Canada, USA to South America. See photos
---
NEW AFT CABIN TY 650 - 20 m EMAIL BRUCE If you are interested in this new larger version !
---
Good morning Bruce. Thank you very much for your reply. Thank you for your patience and kind PROFESSIONAL approach. With great respect to you Vladimir.
---
Waverunner 65 JULY 2010
Hi Bruce, We have made good progress with launching our boat, the sea(river) trial took place 2 weeks ago where Finning attended to commission the 3126 engines.
The boat managed 13 knots which is great considering it weighs almost 60 tonnes and only has the 2 off 350hp engines.
The Finning Engineer was really impressed with the standard of the boat and especially with the engine room size/quality of installation. He said it is certainly comparable with the big players such as Fairline, Princess etc. Chris Jakeman MARSHALL ENGINEERING UK
---
JULY 2010 TRAWLER YACHT 520 - SEE PHOTOS
Hi Bruce, we finally managed to get our boat out of Thailand. SeaCrest Marine in Bangkok were excellent to deal with and certainly saved our boat. When we left Bangkok we had a sharp 2 metre wave right on the bow for the first 36 hours, quite the opposite from the big following seas that we experienced bringing Rod Steel's Trawler Yacht 620 down from Korea. The TY520 handled the waves very well indeed. We had a problem with the Auto Pilot hydraulics and had to hand steer for the whole 36 hours so we would have known if the boat was not performing ! Towards the end of the 36 hours as we closed in on the Malaysia / Thai border the seas swung around about 30 degrees from head on and we were still handling things pretty well. No doubt the boat would be improved with Stabilizers but we always felt safe.
We have power steering and the boat really responds well. I am very happy with the way it manoeuvres. Stats wise we have….Single John Deere 267 Hp and we were cruising at 7+ knots using around 15 litres an hour at 1500 rpm. Very economical. Twin Disc Gearbox and 4 blade prop, Onan 17.5 KVA Gen set, 8000 litres of Fuel giving us arrange of around 3000 miles, Yanmar 40Hp for hydraulics. We have stern and bow thrusters and Lewmar windlass all hydraulic, Raymarine Radar and electronics, 2000 litres fresh water, Coltri Sub Dive compressor, Happy to share any information with prospective builders and also any advice regarding where to build and with whom in South East Asia. I have attached some pictures of the Sea Crest Pilot House and Engine room. They did an excellent job. We arrived in Singapore just as they were having their National Day celebrations so we got some good pictures! Very Happy to be back in Singapore and Very Happy with the boat Bruce. Regards Al Dow

---
EURO 1000 - March 2010
Hello Bruce, I'm glad to talk to you again ... I think it was before 4-5 years when we first talk about the EURO1000. We ordered the boat plans and we constructed a safe, beautiful ship called "ΘΕΟΔΩΡΑ ΙΙ" - "THEODORA II" ...

My father mailed you a DOWNLOAD or on CD - YOU CHOOSE DOWNLOAD OR CD. . .
with some photos from the construction, but if you want I can e-mail you some more.... Everyone is surprised with us because we are living away from the sea, country side and we managed on our own to build a yacht, move it by truck to "PLATAMONAS AT PIERIA GREECE NEAR MOUNTAIN OLYMPOS" 200 km away...

Anyway, this time I mail you in order to ask the prises for the an Atlantic 40 the 12 meter yacht I am interested in all the types of kits (steel and aluminum), also the cost for the cutting files separately and also the prise for the boat plans and the travel cost for them all.

Hope to hear from you soon. Nikolaos Paparidis (my father is John Paparidis)
---
Hi bruce ,
can I just say you are a absolute gentleman that is excellent thank you very much, the cheapest i can get AutoCAD in Glasgow pro edition is £2450 that has just saved me a lot of time and hassl thanks again, John UK Scotland

---
TRAWLER YACHT 620 March 2010
Email from owner of TY 620 "MY BLUE STEEL"
Yes, I have high resolution versions of the ones BC sent you and of the interior. I can do more anytime if required as well. It might be better for me to put a DOWNLOAD or on CD - YOU CHOOSE DOWNLOAD OR CD. . .together for you and mail it
to you. I think the TY 620 design is great! Kind regards, Rod
---
TRAWLER YACHT 620 "MY BLUE STEEL", registered in the UK, departed 1800hours on December 28th, 2009 from Mokpo, Korea.
This was the start of her 2,600 nm trip to the Singapore, with stops planned in the Philippines and Kota Kinabalu, although the boat had sufficient range to complete the trip non-stop. The Owner is very satisfied with the interior and sea trials; max speed about 12.7 knots with twin 235HP John Deere at 2000 rpm and 7.0~7.5 knots with one engine at 2000rpm. Onboard were Mr. Rod Steel as the Owner/Skipper, his partner Angie Sach, Mr. John Holbrook and Mr. Alistair Dow. "MY Blue Steel" arrived in Singapore, where she will be based, on 14th January 2010 and is available for viewing there by prior arrangement.
I am proud to build Bruce Roberts designs, which I am very impressed with, and thank you for your assistance in marketing GHI Yachts Korea.
---
DECEMBER 2009 EURO 1400
Hi Bruce,
Just a wee note to say thanks for speedy delivery of DOWNLOAD or on CD - YOU CHOOSE DOWNLOAD OR CD. . .and as it says on the box I gave my friend the DOWNLOAD or on CD - YOU CHOOSE DOWNLOAD OR CD. . .and cutting has already began, they are intrigued, as they have never been involved in this sort of project before although they are sheet metal specialists. i'm on the look out for a low flat bed commercial trailer to build the frame for the jigs then i can get under way i would also like to add for the price i prayed i'm very happy with what i've received with a bit of luck ill be starting the build early january and i will send photos to keep you updated thanks and merry xmas to you and family . John Scotland uk

Hi, Well, I just got back from helping Lee and Sheila Keely get their new boat to Boston on their way home to the Chesapeake.
We had a pretty rough trip across the Bay of Fundy and the Gulf of Maine, with south west winds at 25 knots and 8 – 12 foot seas. The whole trip took 62 hours at roughly 7-7.5 knots.
The boat performed very well in the rough weather and at no point did we feel in any danger, even when we were taking a foot of water over the bow! There were times when the whole foredeck was awash! So, I think we can safely say thank you for designing ANOTHER safe ocean worthy boat! Thank God For Pilothouses!
Feel free to share these photos on the net, the owners are very happy and proud of their boat! Talk to you soon, Brian

---
E-BOOKS
Dear Anja and Bruce, Please be advised I down-loaded and got your e-book BUILD YOUR OWN POWERBOAT and boatdesigns. Thanks a lot for your kindness, please Buy the way it's a most convenient way to send such a book for Russian customers, be in mind as well, please Best Regards Dmitriy

---
OK I BELIEVE NOW! April 2010
In all of the builders replies back to you was all of this "Thanks Bruce for getting back to me so soon" and "Thanks Bruce for getting -
this
- or -
that
information back to me so quickly", well personally I thought it was a little much and not real, well Sir I stand now with my mouths jaw dropped to the floor and saying "Thanks Bruce for getting back to me, sooo, quickly and helping me with my very simple question" and there is no doubt in my choice to who's design I am going to build from now. Very impressed! Ron Wikstrom Aledo, Tx.
---
WAVERUNNER 45 - September
Dear Bruce, I purchased from you many years ago (I think 25 years ago) a set of boat plans & patterns for Waverunner 45 (wood) which I personally built and used by the family for so long.

About my WR45.
She is a lovely princess with her Twin Hamilton Jets (at 28 Knots)
and frequently used by close family friends. Everybody enjoyed her presence until my four kids all grew up and their respective professions restricted their interest about the sea. She was later bought by someone and transferred elsewhere south of the Philippines where I lost track of her. One day soon I shall build another one for me and my wife.) Capt. Adelino L. Masigla
---
EURO 910 March 2010
Hi Bruce, I received my study boat plans yesterday, thank you very much for the quick service. I got some time last night and today to have a quick look over them and I am very impressed.
In Sheet 1-SWIM the hull looks to have a longer LWL is this to accommodate a swim platform? (BRUCE'S COMMENT ... ALLOWANCE FOR SWIM PLATFORM ) or is the rear cabin slightly smaller, ( Bruce says ... Aft cabin is same size in all versions ) either way I really like that curved line at the rear. Kind Regards, Brian.

---
COASTWORKER 37
SEPTEMBER 2009 -
ALSO SEE PHOTOS OF CW37 WORKING IN INDIA.
We have built a boat as per your design. We are very happy at the beautiful design and look of the multipurpose boat. Following are the trial parameters. We did about 1 hour of Sea trails yesterday.

1. Condition -
a) About 1000 lits of water in tank at the stern.
b) Some loose gear from workshop in the wheel house about 200 kg.
c) About 100 litres of fuel.
d) 5 persons.
e) Draft F- 1.50 A - 1.55.

2. Engine conditions -
a) Max RPM attained in ahead - 1825
b) Max RPM in astern - 1655.

3. Maneuvering -
a) Crash stop - 15 secs.
B) Steers like a car with a very light steering.
---
EURO 1000
-
JULY
Hello Bruce, I have received your 'Illustrated Custom Boatbuilding' book and 'Build Your Own Power Boat' e-book and I am impressed with your knowledge, experience, and business. My next step is to purchase boat plans to build a luxury fishing boat. Regards, Bob

---
Trawler Yacht 520 - THE FIRST PLATE WAS TACK WELDED ON AUGUST 3, 2006 AND WE SLID HER DOWN TO THE SEA ON THE 18TH OF AUGUST 2007.
DEAR BRUCE,
THANKS FR YR MAIL. PLEASE FINS ATTACHED SOME MORE PICS OF "ANEMONE" WHICH ARE ALREADY IN MY OUT BOX. I WILL ALSO SEND YOU MORE PICTURES TAKEN DURING CONSTRUCTION. BELIEVE ME "ANEMONE" IS THE BEST LOOKING BOAT OF HER KIND IN BODRUM, OR EVEN IN TURKEY. EVERY TIME I AM ON BOARD I CAN'T HELP ADMIRING HER AND PRAISE YOU FOR YOUR WORK.SHE IS A FANTASTIC BOAT, STEADY, WELL BALANCED, VERY COMFORTABLE , SEAWORTHY AND BEAUTIFUL. EVERYWHERE WE GO PEOPLE COME AND EXPRESS THEIR ADMIRATION.
"ANEMONE" IS A GREAT TRAWLER, FIRST OF ALL SHE IS A REAL TRAWLER; EVERYWHERE WE GO PEOPLE COME AND ADMIRE HER, ASK FOR OUR PERMISSION TO TAKE PHOTOS. SHE IS NOT ONLY BEAUTIFUL BUT ALSO A VERY TRUSTWORTHY BOAT IN ALL RESPECTS. WE WENT INTO FORCE 7 WINDS AND SEAS, NO PROBLEM SHE CAN HANDLE MUCH MORE VERY EASILY. WE HAVE INSTALLED 2 x VOLVO "D7C TA" ENGINES WHICH ARE RATED 265 HP AT 2300 RPM.
WE ARE CRUISING AT 10 KNOTS/ HR AT 1900 RPM. THE FUEL CONSUMPTION AT THIS SPEED IS ABT. 60 LITERS / HOUR.
OUR MAX. SPEED IS 12 KNOTS/HR ALTHOUGH WE HAVE ONCE SEEN 13 KNOTS TOO BUT THERE WAS A FAVOURABLE CURRENT.
AT 1600 RPM WE EASILY MAKE 8,5 KNOTS WHICH SAVES A LOT OF FUEL THOUGH I HAVEN'T CALCULATED IT YET.
AT 1300 RPM WE MAKE A NICE 7 KNOTS /HRS WHICH IS AN EXCELLENT SPEED FOR PASSAGE MAKING AND THEN THE FUEL
CONSUMPTION WILL CERTAINLY NOT EXCEED 30 LTRS/HR. I ALSO CUT OFF ONE ENGINE DURING CRUISING WHICH SLOWED THE BOAT LESS THAN 1 KNOT ! REGARDS, ALI

---
Roberts TY40/42 owner reports:
"I launched this boat in June of '97 at Michigan city, IN. Shakedown cruise got a perfect 10. I just completed a cruise to Florida via the Tenn-Tom to Tampa where I completed the interior. I returned via the Intercostal, East coast, Hudson, Erie Canal and the Great Lakes.
This vessel performed beyond my wildest expectations !
Fuel economy 10, handling 10, speed 9+ pitch stability 9+, roll stability 8 I used no ballast " (Designers note: We recommend ballast in all of our trawlers). Robert J. Wouda
---
FROM PROFESSIONAL BUILDER:
Hi Bruce, Thought I would e-mail you a couple of pictures of the 43' Voyager TY. Things are going well, and should be setting side shell later this week. Will be setting keel and rudder tomorrow. Altogether we have about 60 hours in at this point, not bad considering we only have had 1 man working steady on it!! Rumor has it there is a 57' possibly looking for a construction site from Colorado. We are having so much fun we'd love to build some more!!! Could you add us to your Metal Boat newsletter as a West Coast assembly company??? It would be great if you could. Well, Bye for now, back to welding! Bart Samaduroff.
---
Coastworker 28
Dear Bruce, Two years back I ordered a plan from you (Coastworker 28). I built this boat in Kochi, India for a friend of mine. The construction took nearly eight months, working part time, and it was a truly enjoyable experience.
We 'shoe-horned' a venerable six- cylinder Leyland (90BHP) engine into it with a 3:1 reduction gear (the engine with GB weighs over a tonne!), because the boat is used primarily as a small tugboat, and this boat has been performing well for the past year and a half, keeping very busy in the backwaters of Kochi.
I am now thinking of building another boat, for myself this time- and my preferences are the Coastworker-1000 and Euro-1200, in that order.
Please let me know the prices for the pre-cut steel kits for these two boats, as well as the prices for cutting and building boat plans only, in case I decide to go that route. Thank you and best regards, Anthony Koithra

---
Hallo Mr. Roberts !!
I bought your project EURO 1200. Now you can see my boat. I think that she is wonderful. I have a planned to finish it within two years.
I made this boat myself all ( to weld, to paint, to make a teak ) All this I work with my hands. I enclosed you some photos, Best regards, Andrej Kozjek

---
Hello Mr. Roberts. First of all my sincere excuses for the late reply but this message has been laying unnoticed in the "drafts" folder in the last three weeks. Thank you very much for the info on props. It corresponds to my calculations, so we now feel more confident to order a pair of props with those characteristics.
The helm responds magnificently and the boat keeps the direction as though she was on the rails, even when encountering waves created by high-speed boats passing by. I'll keep you informed. Best regards, Skipina Slavisa
---
COMMENTS from CANADIAN Trawler Yacht 43 builder ... Maggie Mais:
Hi Bruce. Sorry its taken so long to reply. Life is hectic. 2 kids, 2 puppies, 2 birds, 1 unfinished boat and mother nature has kicked in with a vengeance. Winter is here all too quickly and we have paint to apply. The project is going well. Peter is going to start the paint on Sunday!!! The interior is 90% complete with the exception of engine hook-up, plumbing, batteries and engine room completion. We are so pleased with the quality of woodwork our shipwright has done.

The interior is done in maple, ceilings are tongue and groove pine. The windows and doors are in (diamond sea glaze). The galley is unbelievable. I love to cook, and my galley is used hard. The room with which to work was very spacious. So abundant it was, I had a kitchen cabinetry business in our local area design and build and install the galley. All we had to do was slide the fridge in and mount the gimballed stove. Countertops are Corona (TM), double sinks are recessed and we designed a bar area directly across from the galley, beside the circular steps leading to berth area. I must say, given our years of boating experience, we have designed and customized our vessels layout, far better than our land based home. Fondly, Maggie A Mais.
---
COMMENTS from Australian
builder of Trawler Yacht 43
Numerous professionals have been coming in to see our TY43 build and all are amazed or surprised at the quality of workmanship and the fairness of the hull (thanks to your kit). One was the shipwright who will be doing the fit out. He comes from the timber boat building industry and his comments were "I've never seen anybody achieve this with steel.

---
Sent:
Thursday, July 10, 2008 7:24 PM
Hi Andy, Boy are you guys efficient, just sent an email to Bruce advising him that I would respond to you tomorrow and here you are as the next email. Will send photographs in the morning, Many thanks for the very prompt inter-company response. With best regards Rory


---
Bruce, I received your study boat plans on Friday. All looks good and are very detailed. Narrowed down to the two designs (Waverunner 342 or 38).

Regards, Nick
---
JUNE 2010 Dear Bruce, I get my DOWNLOAD or on CD - YOU CHOOSE DOWNLOAD OR CD. . . yesterday. It was perfect and very helpful. Thank you very much. God protect you and your family. Best Regards, Hosein Pourmollayi
---
DECEMBER 2009 TRAWLER YACHT 620 (Now over 20 of these boats in the water) FULL SET OF PHOTOS included in study plan packages. MY BLUE STEEL, registered by Isle of man, UK .
Departed 1800hours on December 29, 2009 from Mokpo, Korea.
She started to explore for about 5000 miles to the Singapore, to be estimated to touch one or two ports for the supply. The Owners has been very satisfaction for interior and sea trial, max speed about 12.7 knots with twin 235HP John Deere at 2000 rpm and 7.0~7.5 knots with one engine at 2000rpm. Crew were Mr. Rod Steel as the Owner and his wife, Mr. John Holbrook and their friend total 4 persons who have lived in Singapore. Now I am receiving email time to time from them as follows, wishing bon voyage. All equipment was maker, Raymarine 120. Painting for shell is beautiful as per Awl-grip coating scheme and draft and ballast is good line for full loading of fuel oil and fresh water.
---
COASTWORKER 25 - September 2009
Hi my name is Bob Preece I bought your boat plans back in 1998 for a 25 Coastworker semi planing hull and fitted a Cummins 6b 130 hp 22x17 prop R-P-M 1.9 1 gearbox and i have just put a Cummins 6 bt 160 hp same max revs as the 130 2800 rpm .. .Thank you for that it is a good boat had it out in some stupid weather before it became a charter boat good safe stable boat.

---
Trawler Yacht 43 and Voyager 495 - KOREA
Hi Bruce, Together with your designs, firstly Trawler43 and Voyager495 were launched at Mokpo, Korea. Trawler 43, Perkins 180HP @2100 rpm for main engine- max speed 10 knots, wing engine Perkins 65hp 6 knots, Generator 8kw Northern Lights and Mastervolt DC equipment, air conditioner main air, Windlass Muir Thruster side power 6kw, paint as per Awl-grip coating scheme. Water maker 30l/hr marine village USA
---
SPRAY 475 TRAWLER ... Built in Turkey.
Attached are the latest of KARA1. I'm not sure whether they qualify for your e-book but they sure will qualify for the purpose she was built for. Thank you again on behalf of my friends. They appreciate every minute of their time spent on KARA1. They keep telling me '' THE BEST BOAT ON EARTH IS THE BOAT OF A FRIEND '' Best Regards Erhan KUM

---
TY 520 Being built in Singapore. January 2010
Bruce,
Sorry for not having been in touch for so long it has been a very busy year for Tina and I.
Anyway our boat is moving along really well and your cuttings files work perfectly the builder had no problems at all, we are now at the outfitting stage so in the next week they plan to move her out of the building shed to blast and paint the hull and superstructure, internally the insulation is now complete and they are installing the first of the woodwork, the carpenters employed by boats and Boats are all ex Grand Banks people who where laid off when they closed in Singapore so the quality of the workmanship is first class, they also have their own in house design team so it has been great to see our ideas turned into reality.
If all goes well we are still on schedule to complete the boat around March and if we can complete the inclination and sea trials in time we may try and get the boat into the Singapore boat show. Mainly of the main systems such as the steering , hydraulic thruster are all class approved commercial systems which have actually worked out more or less the same price as the yacht equivalents anyway, Dave and Tina Anderson.

---
BEWARE OF THIS RIP OFF !
Dear Mr Roberts, I recently purchased study boat plans on DOWNLOAD or on CD - YOU CHOOSE DOWNLOAD OR CD. . .from you, thank you as I am very very happy with your prompt service and the detailed information on your DOWNLOAD or on CD - YOU CHOOSE DOWNLOAD OR CD.
I have spent countless hours on the internet looking at boat building sites and purchasing study boat plans etc, in the course of my studies I on many occasions stumbled across this web site http://www.boat plans4boats.com
I never ordered anything from them as I just dont like the "look" of the site. Anyway I eventually weakened and purchased their so called 200 + boat plans and blue prints. The only way you can get a true glimpse of what they supply is by buying the product.

These people are scammers! their boat plans are scans from old magazines AND one zip file is your free ebook on "How to build a sail boat" which came on your DOWNLOAD or on CD - YOU CHOOSE DOWNLOAD OR CD. . .
of study boat plans with the Spray series of vessels that I purchased. I tryied to attach this file for you to look at but it is 10MB and wont attach. This is the first site I have come across in the boating community that are, I think, ripping people off as the information supplied from them I already have seen and DOWNLOAD or on CD - YOU CHOOSE DOWNLOAD OR CD. . .ed from other free boat plan sites (Zip file on fishing boats for another example). The information of yours that they sell technically wasnt free and only supplied when your study boat plans are purchased.

They to me are breaching copyright and are making money under false pretenses. I hope I am not wasting your time with this email but I am sure you would like to know of thes people who are clearly re selling yours and others material without prior consent. Best regards, Edward Shiels.

---
Roberts (CAT 35) tour boat version
Dear Bruce, Attached please find your 35 ft catamaran TOUR BOAT -
(CAT 35) in Istanbul. It is unique, without anything even similar. She was very successful at all the tests of the Turkish Lloyd. I would like to thank you for the co-operation and wish you A VERY HAPPY CHRISTMAS and A HAPPY NEW YEAR. Huseyin KURTOGULLARI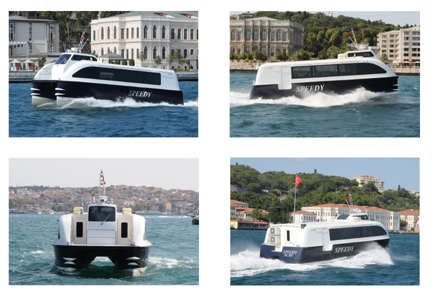 ---
November 2009
Hi Bruce, Today the custom boat plans DOWNLOAD or on CD - YOU CHOOSE DOWNLOAD OR CD. . . TY 470 received to my address. Everything ,even the AutoCAD drawing is easy to open.
You have done a very good job on this drawing. Thank you agene for good service and help so far, Best Regards Knut-Erik Jensen