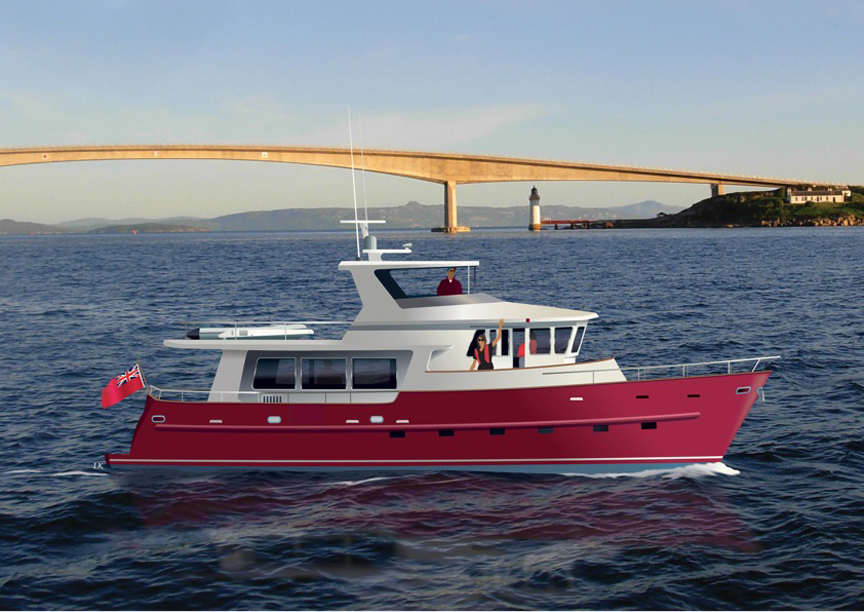 Trawler Yacht 470 showing optional Portuguese Bridge.
Illustration by Ian Kirkwood ian@ik-design.co.uk
These trawlers are designed in accordance with Lloyds for category 1 (unrestricted operating / sailing area), which is much better than the EU and other Classification Societies and the CE-A require. Complete stability calculations to USCG offshore requirements are included in the design package. All calculations are also cross referenced against ABS requirements to ensure that the design meets world-wide standards and specifications.
| | | |
| --- | --- | --- |
| L.O.A. | 14.32 m | 47' -0" |
| L.W.L. | 12.80 m | 42'- 0" |
| BEAM | 4.88 m | 16' - 0" |
| DRAFT | 1.52 m | 5' 00" |
| DRAFT .. SHOAL DRAFT | 1.22 m | 4' 00" |
Trawler Yacht 470

boat plans AND FULL SIZE PATTERNS FOR BUILDING IN FIBERGLASS.

Complete study plan packages are now available for this NEW design. See all the construction drawings and much more.

Study boat plans have lists of materials & equipment etc ... these will be a great help in costing out the completed vessel. Each DOWNLOAD or on CD contains ALL the construction drawings of your choices of ANY THREE STUDY boat plans with up to 25 sheets per plan, Lists of materials, Technical information plus numerous construction photographs.

Trawler Yacht 470
boat plans AND FULL SIZE PATTERNS FOR BUILDING IN FIBERGLASS.

Hi Bruce,
Everything is fine with the construction of TY 47 hull shape makes it very easy to build.

Temperatures in Norway means that there is little building in the winter, but something we get to.

I'm sending what I have pictures and you will see if anything can be used.

Thanks for all contact and service so far.

Best regards Knut-Erik

The study boat plans have many more interior
& exterior photos of Trawler Yacht

Passagemaker Trawler
Trawler Yacht Forward double berth.

Peter & Maggie Mais who built their Bruce Roberts designed Trawler Yacht in Canada arrived in Annapolis yesterday. I went to inspect her. The boat looks Great ! They are probably 90% complete and are heading south to finish her in the warmth. All are pleased with her performance both in terms of speed & handling. With a Cummins B210 they see an honest 7-8 knots at cruising RPM. They are very pleased with the fuel economy they are getting. They report she handles well and feels stabe under all sea and wind conditions..

The engine space is huge, I could stand easily in it!


Passagemaker Trawler 
Mais - Galley layout is varied
to suit their requirements

This is the swim platform shown is 
suitable for all  versions versions of 
these trawlers.
TRAWLER YACHT ... September 2007
Hi Bruce, We have now ready to launch the boat. Everything has gone very well. The kit was great to work with. I have no complains whatsoever. We will try to send you some pictures when we transport it to the quay. Best regards Geir Fossan
BACK TO TRAWLER YACHT KITS INDEX