Waverunner 285 - Fiberglass fast cruiser
This boat has proven very popular and many have been built in fiberglass from our boat plans and full size frame patterns.
On the left we see what a stretched version would look like - this boat can be stretched to say 35 ft + but make sure to contact the designer for a new upgraded laminate schedule. This is a CUSTOM VERSION so EMAIL our office for a quote on this new plan.


Here we see one of the many possible layouts that can be arranged for this versatile family cruising powerboat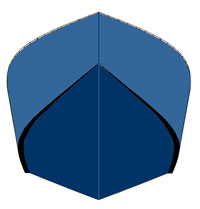 Here we see the under-body of this fast powerboat.
Waverunner 285 - Fiberglass fast cruiser

Here we see the profile of one of the several alternative accommodation boat plans.

THE STUDY PLAN PACKAGE HAS PHOTOS OF BUILDING THE MOLD AND HULL FOR THIS BOAT.

SEE STUDY boat plans FOR PHOTOS.

Hi Guys, I've attached some photos of my project. As I've gone for a stern-drive engine setup, I've modified the transom to suit. Consequently I've redesigned the interior as well. There will be two levels of flooring. The lower flooring will be the 2 cabins and the upper floor the nav deck and goin over the engine compartment to the transom. I also plan to fit an extended board aft of the transom to cover the stern-drive. The project is a one man band affair so it's taking longer than planned but hey !! I'm having fun too. Let me know what you think. Best regards Colin