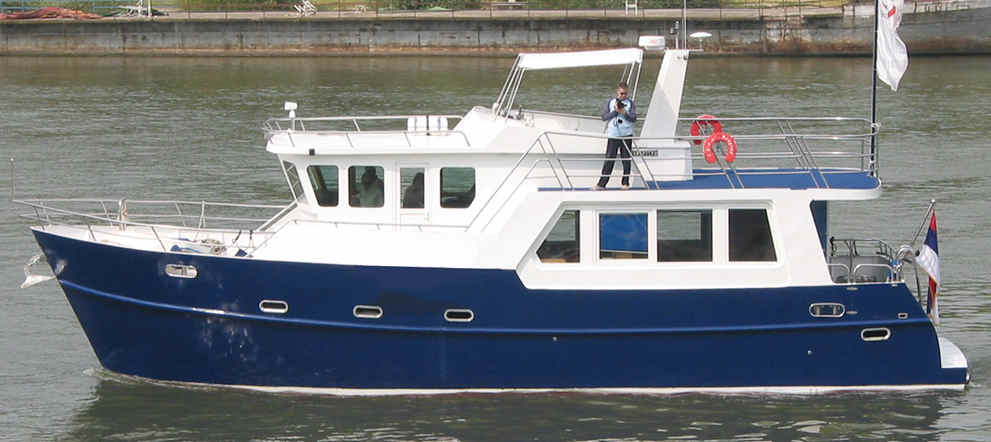 Passagemaker TY 485 built in Belgrade
This is an unbelievable trawler-motor-sailer that has completed an unbelievable journey that most of us just dream about!! This boat was manufactured in Belgrade, Serbia and has sailed through Hungry, Austria, Germany and the Netherlands before entering the English Channel. Sailed around the British Isles and through the locks of Scotland into the North Sea. Sailed to Iceland, Greenland to Canada. Then to the St. Lawrence River through the Great Lakes to Chicago, down the Illinois River, Gulf of Mexico to St. Petersburg, FL. So, you can see that she is a true blue water trawler-motor-sailer!
Accommodations include two forward staterooms with bunk beds, thus sleeping 4, and a Master Stateroom Aft with queen berth. The interior is beautiful teak with salon and full galley and dinette. The Pilothouse electronics include radar, Garmin 3006C GPS/Plotter, Ship to Shore, Garmin fishfinder, and Vetus AutoPilot.
NEW ! SUPER STUDY BOAT PLANS ... Delivered by DOWNLOAD to your computer.
The study plans have lists of materials & equipment etc & these will be useful in costing out the complete boat. Each STUDY PLAN contains ALL the construction drawings for each material - STEEL, ALUMINUM, FIBERGLASS & WOOD EPOXY as applicable to the particular boat plan - with up to 25 sheets per plan! Lists of materials - Technical information - Numerous construction drawings are all included. You can view & print the drawings in full or in sections. BUILDING PHOTOS are included in the study plan package. PLUS you receive a FREE (value 79.95) e-book BUILD YOUR OWN BOAT.
STUDY PLAN all versions TY 470 + TY485 A + B (All versions) us$99.75 - £59.95 - €75.75
Please note that when you receive your credit or debit card statement the amount will be converted to YOUR local currency.
When you order study plans please note that if you order ANY complete set of plans and full size patterns OR Plans with Cutting files , you may deduct the cost of the Study Plans from the purchase price of the complete plans package. Just EMAIL BRUCE to claim your special discount. boatdesigns@gmail.com
STEP BY STEP ASSEMBLY PHOTOS INCLUDED WITH THE STUDY PLANS & COMPLETE PLANS
SPECIAL INTRODUCTORY OFFER: COMPLETE BOAT PLANS & CUTTING FILES or WOOD EPOXY PLANS & FULL SIZE PATTERNS ... Delivered by DOWNLOAD to your computer plus we will send you a USB Memory stick with many extra drawings and photos. The plans have all the information you need to build your own boat.. Each plan contains all the construction drawings & CUTTING FILES for STEEL or ALUMINUM construction or PLANS & FULL SIZE PATTERNS for WOOD EPOXY construction, plus bonus drawings covering electrical, plumbing and engineering, everything you need to build your boat. Plus you will receive a DETAIL FOLIO showing how to make many of your own boat fittings, lists of materials and equipment are all included plus all technical information, numerous construction drawings and written building instructions are all included. You can view & print the drawings in full or in sections. BUILDING PHOTOS are included in the plan package. PLUS you receive a FREE (value 79.95) e-book BUILD YOUR OWN SAILBOAT .. Only available at this price if you order off this page ....
Voyager TY485
Boat plans & CUTTING FILES or WOOD EPOXY boat plans & FSP
'World girdling Trawler Yacht' With it's displacement hull form this design is an ideal long distance cruiser. This is your opportunity to have your own passage making 'Voyager' designed and built at an affordable price. Now you can put those pieces together into one boat that you REALLY like ! Consider customizing one of our new designs. Bring us YOUR ideas. We can offer Steel or Aluminum boat plans and Cutting files, CUT-TO-SIZE KITS or Part-Built or Complete Boats.


These trawlers are designed in accordance with Lloyds for category 1 (unrestricted operating / sailing area), which is much better than the EU and other Classification Societies and the CE-A require. Complete stability calculations to USCG offshore requirements are included in the design package. All calculations are also cross referenced against ABS requirements to ensure that the design meets world-wide standards and specifications.


In the case of KITS, all plate parts belonging to the hull, deck and superstructure that are accurately cut to size are included. The parts are marked with the appropriate part number and engraved matching marking lines to assist in the assembly and location of the part in its position. Cutting method is Plasma / Oxygen, ensuring highest accuracy and smooth edges.

Plate parts are cut from Lloyds approved A Grade Shipbuilding quality STEEL that has been coated with factory applied Sigma weld MC welding primer. We use and recommend steel plate that has the official designation ISO standard 10474 or EN 10204 with 3.1.B certificate.
---
TY 620 - Bruce, I had reply from ROYAL YACHTING ASSOCIATION on the plan evaluations. They have been very quick and say they have no concerns about suitability for Design category A (unlimited offshore). They made a nice compliment on the quality of your plan information.
TY485
STEEL OR W/E
TY485
STEEL OR W/E
L.O.A.
15.89 m
52' 02" Incl. swim
L.O.D
14.94 m
49' 02" Hull only
L.W.L.
14.42 m
47' 04"
BEAM
5.26 m
17' 03"

Cruising off Greenland

Many new interior photos available when you order the study boat plans for this great trawler / motor / sailer.

Trawler 485


Most of our trawlers will accept a sail plan and there are several options you could use including the junk rig. Here we see a small main combined with a flying jib on this TY 485 owned and built by Branko KRESOJEVIC in Belgrade Yugoslavia.

This Trawler 485 was built in Belgrade and has already motor sailed from Yugoslavia via UK, Iceland, Greenland, Canada, USA to South America.

Trawler 485
Bruce Our TY-485 is in the water, & was at the Seattle big boat show.

Performance & handling of this boat has exceeded all of our expectations !!

With the twin Lugger 165hp engines, we are doing hull speed at 2000 rpm

Trawler 485
STEEL OR ALUMINUM
Kit or CUTTING FILES
OR
WOOD EPOXY
BOAT PLANS & FRAME PATTERNS.

Artists impression of the Passagemaker TY 485 As you can see from the photographs the appearance of the boat lives up to this representation.


Trawler 485
STEEL OR ALUMINUM
Kit or CUTTING FILES
OR
WOOD EPOXY
BOAT PLANS & FRAME PATTERNS.

Here we see the standard accommodation plan as designed but of course you can vary the layout to suit you own personal requirements.

---

Hello Bruce, It Vladislav Abramov, which in May bought the project TY485.

Im fine, I hope you are too. First, as I promised, let tell you how I'm doing and send a few photos vessel under construction.

The company from which I build the ship, has already started assembling the deck. We look forward to the end of the year to complete the assembly of the hull.

I am very pleased that it chose to your project. I really like it. What I would like to say a big thank you.

Yours faithfully, Vladislav

Trawler 485
Wood Epoxy version

Here we see the timber this is being used to make the temporary frames that will form the shape of the hull but will later be removed and replaced with bulkheads and laminated webs and perminent frames.

Trawler 485
Wood Epoxy version

Here we see the stringers in place .. there is more than one layer to be laminated in place.

Trawler 485
Wood Epoxy version

Here we see the stringers, deck shelf and stem being installed; there is more than one layer to each stringer which is laminated in place.

Trawler 485
Wood Epoxy version

Here we see the transom knee being fitted before final installation.

Trawler 485
STEEL OR ALUMINUM CUTTING FILES.

The kit that is cut from the cutting files is very quick to assemble and can be ready for plating in just a few short weeks.


ALL STUDY PLAN PACKAGES ON DOWNLOAD or on USB
GIVE ACCESS TO HUNDREDS OF BOAT AND KIT ASSEMBLY PHOTOS ... See details