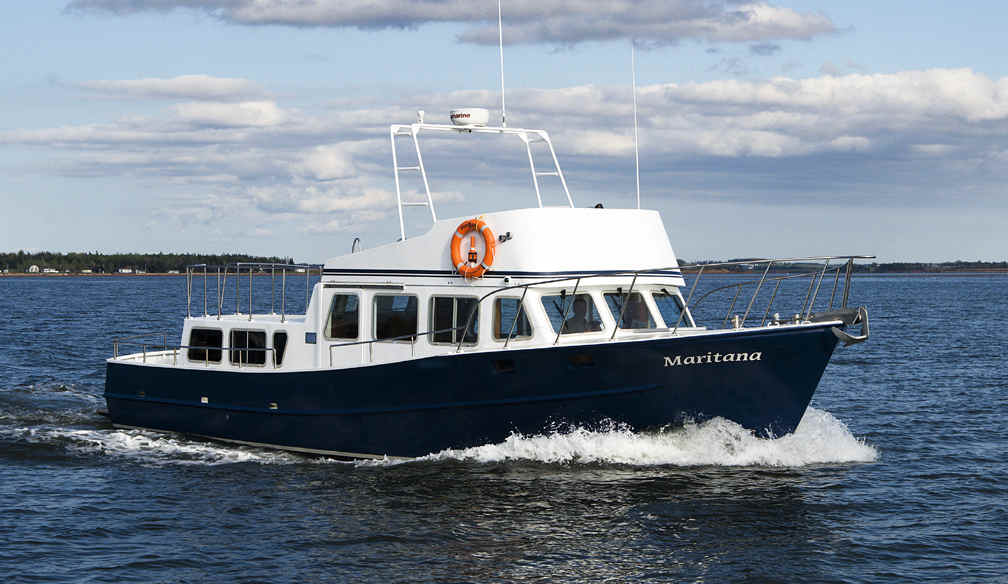 Passagemaker TY 420

NEW ! SUPER STUDY BOAT PLANS ... Delivered by DOWNLOAD to your computer.
The study plans have lists of materials & equipment etc & these will be useful in costing out the complete boat. Each STUDY PLAN contains ALL the construction drawings for each material - STEEL, ALUMINUM, FIBERGLASS & WOOD EPOXY as applicable to the particular boat plan - with up to 25 sheets per plan! Lists of materials - Technical information - Numerous construction drawings are all included. You can view & print the drawings in full or in sections. BUILDING PHOTOS are included in the study plan package. PLUS you receive a FREE (value 79.95) e-book BUILD YOUR OWN BOAT .. STUDY PLAN TY 420 + TY 43 $99.75 - £59.95 - €75.50
Please note that when you receive your credit or debit card statement the amount will be converted to YOUR local currency.
When you order study plans please note that if you order ANY complete set of plans and full size patterns OR Plans with Cutting files , you may deduct the cost of the Study Plans from the purchase price of the complete plans package. Just EMAIL BRUCE to claim your special discount. boatdesigns@gmail.com
SPECIAL INTRODUCTORY OFFER: BOAT PLANS & FULL SIZE FRAME PATTERNS or PLANS & CUTTING FILES... Delivered by DOWNLOAD to your computer within 12 hours of you placing your order.
The plans have all the information you need to build your own boat.. Each plan contains all the construction drawings for STEEL or ALUMINUM construction, plus bonus drawings covering electrical, plumbing and engineering, everything you need to build your boat. Plus you will receive a DETAIL FOLIO showing how to make many of your own boat fittings, lists of materials and equipment are all included plus all technical information, numerous construction drawings and written building instructions are all included. You can view & print the drawings in full or in sections. BUILDING PHOTOS are included in the plan package. PLUS you receive a FREE (value 79.95) e-book BUILD YOUR OWN POWER BOAT .. Only available at this price if you order off this page. PLANS & CUTTING FILES STEEL OR ALUMINUM TY 420 £995 - $1475 - €1295
Passagemaker TRAWLER 420 Steel KIT or Cutting Files.
At last a KIT version of the popular TY 40/42
Over 500 already in service throughout the world.

The build from scratch version of this very popular design has been built in large numbers so we have considerable feed-back on this boat. Ease of construction is a feature of this new kit. If you are considering building a traditional trawler you will love this proven vessel.

The TY 420 lines are based on 'real fishing trawler lines' and this ensures wonderful sea-keeping qualities. Read the comments of one owner who has now covered several thousand miles in the proto-type vessel. The accommodation can be varied to suit your needs and the boat is capable of carrying a auxiliary sail rig if required.

---
Roberts TY40/42 owner reports on his boat:
"I launched this boat in June of '97 at Michigan city, IN. Shakedown cruise got a perfect 10. I just completed a cruise to Florida via the Tenn-Tom to Tampa where I completed the interior. I returned via the Inter-costal, East coast, Hudson, Erie Canal and the Great Lakes.
This vessel performed beyond my wildest expectations ! Fuel economy 10, handling 10, speed 9+ pitch stability 9+
| | | |
| --- | --- | --- |
| LOA. | 12.50 m | 41' 0" |
| L.W.L. | 10.97 m | 36' 0" |
| BEAM over all. | 3.96 m | 13' 0" |
| DRAFT (Draft can easily be reduced to 4 ft / 1.22 m by modifying the keel.) | 1.22 m - 1.37 m | 4' 0" to 4' 6" |
Passagemaker
TRAWLER 420

This is a photo of another early version of the TY 420 - there are over 500 of these so you may have seen one or more at your marina.

Passagemaker
TRAWLER 420

Here we see one possible accommodation layout as well as the engine room and tankage.

Passagemaker
TRAWLER 420

Here are shown just two of the many layouts possible in this hull.




ALL STUDY PLAN PACKAGES ON DOWNLOAD or on USB
GIVE ACCESS TO HUNDREDS OF BOAT & KIT ASSEMBLY PHOTOS

Passagemaker
TRAWLER 420

Prototype - Passagemaker TY 420