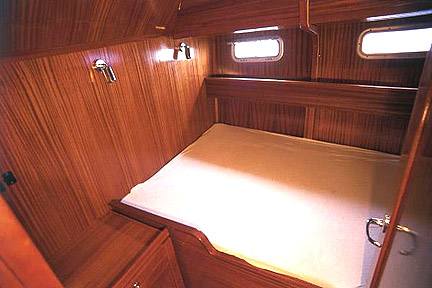 ANOTHER ROBERTS 53 ( R 532) SAILS AROUND THE WORLD - TWICE + SO FAR !
Hello Mr. Roberts, We own a 53' Steel ketch of your design built by Perry Smith of Milwaukee Wisconsin. She started to be built by Mr. Smith, a retired navy welder in 1981
Lisa Marie was renamed "Jump up" and was sailed around the world by John Flannigan an his family . She was then sold to Chuck and Dianne Osgood and was again sailed around the world, completing her second circumnavigation June 2010. They Renamed her "Bear".

We purchased her last October in Maryland and brought her to Florida. We set Sail May 20, f 2010 for Bermuda, then a straight sail to Ireland. Upon arrival, we met John, who built a Spray in the Middle East. He said that you lived locally. Please let me know if you are not to busy to get to get together to show you
"Bear" Thank you. We have a beautifully designed boat of yours. She is really well made. Mark Clarke S/V Bear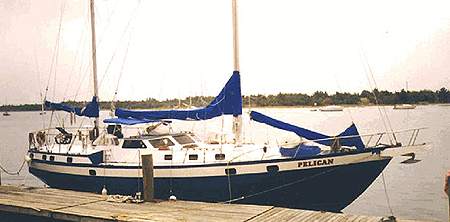 Roberts 53 (R532) "Pelican"

"Bruce, I have a Roberts 53, which has been very well built, of GRP in 1985. I bought it in 1995. We have sailed around most of the coast of Australia and in a couple of long distance races. The 11 day race from Fremantle to Indonesia gave us line honours as well as a handicap trophy.

We recently got back to Australia from a trip through Tonga, Fiji and Vanuatu. I am very pleased with her design, building and performance as a cruising ketch. We have been accepted as an entrant in this years Sydney Hobart Race, cruising section. Regards Gil Waller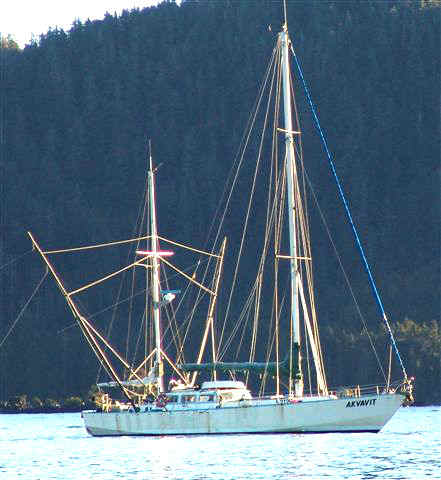 MORE:
Harrison "Smitty" Smith built the AKVAVIT in Stanwood, Washington, with a lot of help from his girlfriend Lori. Smitty taught Lori to weld and apparently she did a lot of the welding on the AKVAVIT. I haven't found any bad welds yet.
Smitty sold the AKVAVIT in about 1997 to a couple of partners who fished the boat for albacore. They fished the west coast and out to Midway and down to Samoa. I bought the boat from them in 2003
.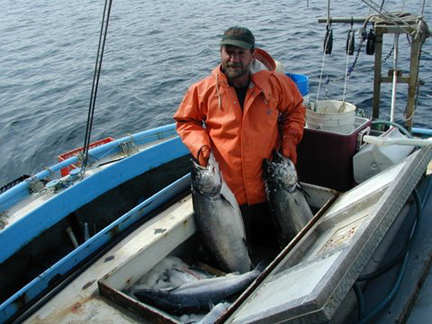 ROBERTS 53 / 532 SUCCESSFUL FISHING BOAT !
Dear Mr. Roberts – Goodson,
I am the current owner of a steel hulled Roberts 53 ( Now R532 ) ketch. It was built in 1985 by a commercial fisherman for commercial salmon and albacore trolling and thus it has a fish hold where there would typically be cabin space. I have owned this boat for five years and I use it for commercial salmon trolling in Alaska. I have owned and worked on dozens of different boats and this Roberts 53 is my favourite of them all. I hope to continue making a living on this boat for as long as I am healthy enough to do it. This is more than a job to me, it is a life that I love.
There are not many sailboat/commercial fishing boat combinations that work well, but this is one of them. I use the sails to get out to, and back from the fishing grounds when the wind is favourable. I use the engine for actual trolling, and for running in no wind or un-favourable wind. The engine (a Detroit Diesel 371) also powers hydraulic fishing and anchor winches. The boat holds 1400 gallons of diesel, and on a typical 5 day fishing trip burns around 120 gallons of fuel.
Sincerely, Frank Murray owner/operator of f/v AKVAVIT
---
WANT TO SEE MANY ROBERTS 53'S ... THESE WERE PROTO-TYPES FOR ROBERTS 532 ?
CLICK HERE
& MORE CLICK HERE