Re: Spray 33 in Kemer/Turkey mentioned to you by Suat Zeybek
S/Y Blue-Belle, British, Bermudan Cutter, Homeport London, build 4mm steel, owned and sailed by Derek and Hulya Leigh.
Dear Bruce,
We arrived at Park Kemer Marina/Turkey in July 2004 after our return trip across the
Atlantic from Florida/USA. My wife is Turkish, and, being one of the few Turkish girls to sail the Atlantic twice, is attracting a lot of media attention here, needless to say so is the boat. Our Spray was featured on national TV in august and created enough interest to warrant a repeat showing. Since then we have been featured in four Yachting Magazines- the Antalya Regional Magazine- and a video of Blue-Belle crossing the Atlantic was shown at the Antalya Boat Show to a very enthusiastic audience. The Turkish Chamber of Shipping have also conducted an interview to be featured in their commercial publiCATAMARANion 'Turkish Shipping World'. We have a constant stream of visitors and Suat Zeybek of the Dive Centre is one of our regulars. He is keen to build a Spray 36 and I believe he has already purchased the boat plans.
Anyway, so much for the present, let me give you a brief history of Blue-Belle to date. In 1987 I was looking for a long distance load carrier, big enough to cross an ocean comfortably, but small enough to be easily maintained. I purchased the boat plans of your Spray 33 and began building on the south coast of England.
Due to working abroad, I didn't launch her until 1992; I would probably estimate that as a full time build project to high standard of finish, she would take 2 to 2, 5 years for one man to complete. She is built in 4 mm steel and is hot metal sprayed with aluminum both inside and out. She is as per your version B boat plans a part from lengthening her to 34 feet on deck, in order to incorporate a double self stowing anchor roller assembly. Upon completion she was then stored ashore for a further four years while I was away earning the cruising fund.
Her maiden voyage was in the autumn of 1996 London to Antalya/Turkey aprx. 3500 miles single handed. I hadn't fitted any self steering as yet, so this first long passage was a good test of the Spray's legendary self steering qualities. If you take care to balance the sails she will steer herself for amazingly long periods of time.
In Antalya my Wife and I were married and we moved on board to begin our full time cruising life style. Now I really did begin to appreciate the Spray's load carrying capability, I have never seen so much stuff poured into just one boat.
We spent two full seasons cruising the Med and in September 2000 departed Portugal for the Cape Verde Islands via the Canary Islands. December the 1st found us leaving Mindelo/Cabo Verde and bound for Barbados. We still didn't have any self steering fitted, but then again neither did Slocum. No problem. Blue-Belle took 16 days to make the 2037 mile crossing, that's an average of 127 miles per day. Her best days run being 147 miles. For a heavily laden cruising boat with a 28 ft water line she could certainly turn in a decent passage time. We were delighted with her. We also found that running downwind she didn't roll as much as other boats I'd sailed under similar conditions.
Maybe the chines have something to do with this. We spent the next 2,5 years cruising the Caribbean, Bahamas and the US Intracoastal Waterways. The Spray's shoal draft was paying dividends. June 2003 and we were on our way back across the Atlantic. We did purchase wind wane steering gear in the states, but were so busy being tourists, we didn't have time to fit it. I think that only the crew of a Spray would contemplate carrying their self steering gear as deck cargo prior to an Atlantic crossing.
Our North Atlantic Passage was the usual mix of gales, calms, and occasionally some decent sailing. However we ate well, slept well and apart from blowing out the genoa suffered no damage. In Spain my wife had to fly home to cover a family emergency. So once again I single handed to Turkey, finally arriving to the fabulous reception mentioned earlier. This winter we intend to haul out and I will finally get round to fitting the Wind vane and steering gear. For as my wife says "It will look so much nicer dear, hanging on the transom".
In conclusion we find the Spray to be a wonderful sea boat, and is a lot faster than she looks. When running in gale force conditions we find that our heavy weather staysail, sheeted flat amidships (a technique used by Slocum in his book) works well. The bow showing no tendency to dig in despite all the weight we carry up forward. One mistake we made in the early years was in reefing her down too early; the boat is very stiff and sails well in heavy weather. In storm conditions when it is more prudent to stop and we either heave to or lie to a parachute anchor streamed from the bow and attached to a bridle led back to a cockpit winch. In this manner we feel safe and secure.
So, would we part with our Spray? Would we change her for something else? No - not ever. After 8 years and 35.000 miles we finally have our ultimate cruiser.
Thanks Bruce, you gave us a great boat.
Kindest regards,

Derek & Hulya
S/Y Blue-Belle
Park Kemer Marina
Kemer Antalya/Turkey
e-mail hd_bluebelle@hotmail.com
FLAMELESS STEEL BOATS By Lin Heath

When Bill Tapia asked me for an article on the above, I knew what would translate into words would be a book if every detail and ramifiCATAMARANion were explored. So what I have attempted to do here is to summarize what has been successful for us and should not be interpreted as hard and fast rules

.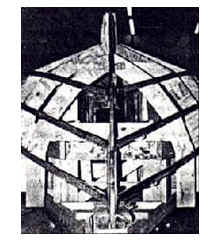 The title of this article wraps up in a nutshell what I believe is the best system for us. Frameless steel yacht construction is the building of a steel boat over a wood or steel mould. Wood is used to keep cost down and also allows quick modification over steel. The ribs are first lofted up, built, and then set on a strong back. Then full size patterns out of hardboard are made up for the steel to be cut from. We have found that by making full size patterns and joining the steel plates on the floor first, dips and bumps can be eliminated. Of course, the full size patterns are checked on the mold first to make sure no changes have occurred in the cutting and joining.
It is important to make sure that the hardboard used is the same thickness as the steel to be used or else gaps will occur. We use a good grade of glue for the joining of the hardboard patterns with a generous amount of overlap. (See fig. 1) We also use an electric staple gun to make sure the patterns do not change in movement. It would be wise to let them set overnight to allow the glue to get hard.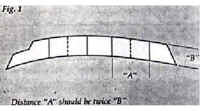 We then assemble all the patterns on the mould to verify exact fit and also the mould, port and starboard side. I cannot see why one side of the boat should be different from the other, if any differences occur this is the time to set it right.
Once the patterns and mould are found to be correct we then start the steel layup. We try to buy our steel in as long a length as possible to cut down the number of joints. This cuts construction time as well as possible distortions. We use a silver opaque marker for outlining the patterns on steel. The trade name is Sanford and we have found this marker easy to see and holds up well to handling and working of the steel.
Now comes the big job of cutting steel. There are just two basic sensible methods of cutting steel, torch and machine. The torch method will be the longest and toughest but will be the cheaper to start with. When heat is applied to steel there will be distortion. Some methods however can be used to keep down distortion and in some cases to eliminate it. If you are cutting steel plate with a torch, use the smallest possible torch tip and the lowest amount of gas flow at the tip possible. Be careful that you do not pick too low of a tip number-wise or gas-wise, as your cutting will be slow. This will keep heat applied too long and distortion will be greater. The idea is to move as fast as possible and with the lowest gas pressure you can get away with. Only trial and error can give you the correct combination, but use scrap for testing.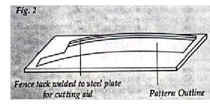 The next greatest help you can get to keep distortion down and is well worth the time and material is to tack weld some quarter inch thick metal to the line to be cut. (See fig 2.) This fence will do two things at one time. One it will give you a straight line, which saves grinding and will keep the metal from distorting. Make sure you keep your tacks for the fence no more than four inches apart. Any greater length will allow distortion between tacks. Any plate torch-cut will have some distortion, so after cutting you must then stress-relieve its edges by hammering the edges. Here again you must be careful not hit past the edge or else dents and distortion will occur. As you can see, torch cutting is the cheapest method to start with but in the long run you will spend much time in keeping down distortion but will not completely eliminate it.
Machine cutting: translate into THE NIBBLER. The nibbler is a hand-held mini puncher. It has a small table and die system through which a small punch comes through and punches out a small half moon piece of metal. This process is repeated many times a minute as it punches its way through the steel plate. This method completely ELIMINATES distortion. You will be left with a nice flat piece of metal. You will still have to grind a very slight sharp serrated edge but nothing like a torched edge with slag. We still employ the fence system not for distortion purposes but for straight lines, which eliminates hours of grinding.
At this point you are probably asking yourself why the long winded wordage on torch. The hitch with the nibbler is cost. But I believe in the long run the cost of gas, grinding pads (which are not cheap) and the additional hours spent with stress-relieving you are way out in front with the nibbler. Not to mention that the end product is first class from the word go with the nibbler. If you spend some time shopping and only buy up to the maximum gauge capacity for your boat you might find the cost of the nibbler is not too great. We bought the biggest nibbler we could find and the cost was about $1400. For one boat this is a high investment for the backyard builder. But bear in mind you will have a tool that will be almost like new when you are finished, hence will have a high resale value after the project.
The construction of a steel boat up to this point has been based on the fact that more than one person is involved with the construction of the yacht. For the backyard builder the lifting of a full length steel plate may seem to be an impossible task. But if you employ some safe lifting devices such as lifting chain and "V" hooks, or eyes welded to the plate or holes drilled to allow bolting of chain to the plate, you can lift some fairly large plates. Understand that as you are lifting some fairly long plates, a strong beam of metal must be used to allow the lifting and clearing of the mold. The beam would of course run the length of the pattern, with the chains attached at various points. A note about chain. Beware that not all chain is suited for lifting of anything. You must buy chain classified lifting chain, and you must be sure it is of sufficient diameter. Lifting chain usually costs more than normal chain.
For those who for whatever reason find this method not feasible, you can join sections of plates on the mold very easily and accurately by using the fence system as described earlier. (See fig.3.) By placing individual sections of plates on the mould and holding them there with some type of jig device, a set of fences can be tack-welded on top of the steel patterns to hold the plates in the correct position. Once all the plates are placed on the mold and held there by tacks, a welding procedure may be started. Caution: this is the time to step back fifty feet and start to use your greatest checking device, your eye
.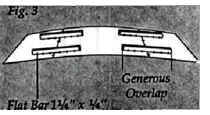 Make sure all joints are good both in the relative depth to each other and alignment to each other plate. If there is a problem, do not weld but go back and cut tacks and readjust, as there is no solution after welding to correct the alignment, or relative depth at joints in relation to other plates. Before welding is started, we make a pass with a grinding wheel on all joints to create a "V". This way we make sure that when we weld the outside of the hull we have at least 95 percent penetration. So when we weld the inside of the hull we can see our welding that took place on the outside. In theory, the welding of a properly welded boat on the inside is overkill. But when someone sails our boat and gets caught in the ultimate type storm, there just isn't enough of overkill when it comes to construction as far as I'm concerned.
A of welding. So a word to the wise, READ, or go take a class at an adult evening eduCATAMARANion centre. You are guaranteed a distorted, ruined project if you ignore the bible of welding. A second most important rule is the length of a weld. If you spread out five fingers over a piece of metal and you weld that distance, you just broke rule No.2. Cut that distance in half and you will be safe. In a brief summary LEARN how to set up your welder, jump around like a flea, and keep the length of any one weld to half the distance of a five finger spread. Do this and you will be pleased with your finished welded project.
A word on grinding of a hull, DON'T OVERGRIND. A good strong well-built hull can be made into a useless pile of steel by overgrinding which basically can cut the steel plates at joints to paper thin and render a good hull into an unsafe hull. Grinding a hull is done to remove only a weld bead, not to correct mistakes in plate alignment or bad welding which produced a bulge in the hull skin. We only grind the welding beads above the water line and not the rabbet line. That line is impossible to grind accurately and safely. Remember the fish don't care about seeing an underground weld on the bottom of the hull. In Sweden it is against the law to grind any bead on the hull. I believe they must have had the first time welder in mind when they made up that law. When grinding a bead you should not see any grinding marks on the plates at all until the bead is completely flat. And then only the mill scale should be touched. I classify grinding a hull as an art. It is not a drone's job, nor is it a friendly neighbor helping out with a beer setting behind him.
A suggestion on grinders. Get yourself two types of grinders, a lightweight one and heavy duty one. On downhand grinding the heavy duty one will do a good job, but on the side of a hull a heavy duty will quickly (like in 5 minutes) reduce your effectiveness and accuracy.
We use MaSTEEL OR ALUMINUM PLANS & CUTTING FILESa grinders, one is Model: 9005B, which turns at 10,000 R.P.M.s and weighs about 4 pounds. This is your work horse. A grinder to be effective and accurate must turn at no less than 8,000 R.P.M.s. The heavy duty one is a MaSTEEL OR ALUMINUM PLANS & CUTTING FILESa Model: 2272E, which weighs about 20 pounds; this is the arm buster. If you have any doubt take 20 pounds of weight and hold your arms straight out for eight hours. I doubt if anyone can last 20 minutes. Remember high R.P.M.s and lightweight will give you a tool you can live with for hours on end. Like I said in the beginning, different strokes for different folks. What I have written here is not a hard and fast rule book but only some of many methods that we have found that work for us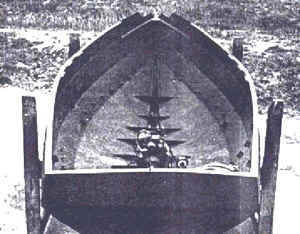 Ocean Voyaging in a R18 Genevieve Desjardins
Yacht "Pere Peinard"
Brisbane, QLD 4000
AUSTRALIA

From Montreal, Canada to Brisbane, Australia 18 "Pere Peinard" has failed miserably to live up to it's designation as a trailer-sailor. But in order to complete the circumnavigation, we will have to fulfil our promise to the Lock-Keeper in Montreal, and trailer the length of the lock since our boat is Officially Undersize by strict regulations governing safe passage through the lock. He let us through the first time, but only because Claude's father kept hissing to Claude to "sit down! Stay low! When you stand up you make the boat look small!" Fortunately, we had no such restrictions in passing the Panama Canal.

Since most would say the main advantage to mini boats is their trailerability, it is perhaps strange to have chosen to build such a boat for offshore cruising over long distances rather than highway mileage. But Claude, at the age of 18, wanted a boat capable of sailing anywhere despite the limitations of budget, so he decided that he could make up for size in sheer quality. This explanation satisfied me until I saw the worksite, his father's garage – the glue droppings left from the cold-moulded construction make a perfect outline on the floor with a few inches to spare… "Pere Peinard was the absolute maximum size permitted by the available space. Still building at home enabled him to continue a carpentry job and college as well as working on the boat for the two years it took till launching.

Guided by the principle "Trop fort, na jamais manquer" (too strong, never miss) and doubtless influenced by the screaming winter winds of Quebec, Claude now feels he overbuilt. Be that as it may, it is undoubtedly the one vessel best able to withstand capsize, pitchpole, dropping off waves or other such untried calamities, with flotation built in watertight bulkheads and blown ( in the form of insulating foam) floatation coating the inside of the hull. No thru-hull fittings, a hollow skeg and a watertight deck keep the integrity of the whole. And then, besides security, comfort was a primary concern. This is simply a "question of organisation" which means that with thoughtful effort, it is possible to be as well, if not better, equipped than many a bigger boat. It also needs a rather ruthless elimination of "stuff", after which you can still carry a full set of power tools, generator, typewriter, library, files, sewing machine, and whatever projects especially amuse you. With nine sails aboard, three anchors/chain/line, two sextants, two SW radios, a UHF radio, a spare windvane, etc. we don't feel that the problem is space at all – our worry is weight rather than room. Being a buoyant stable design, with a fairly flat bottom and twin keels as well as broad beam, the boat sails best with plenty of wind and is not bothered overmuch by sea conditions.

Given a long-term passage, "Pere Peinard" keeps pace with the 25' cruising set with astonishing ease. This may be due to factors obviously other than the 'waterline formula' for speed under sail. Because the rig is comparatively strong, we push the boat to an extreme. Because we are as lazy as the next crew, we get a lot more result out of the same effort spent on sail change aboard a larger boat when more sail is needed… but we are even lazier than the average when it comes to reducing sail. We get a genuine thrill out of surfing at ± 7 knots, and have on occasion been so excessively carried away that the speedometer's stuck at 10 knots. By way of illustration, we made the 900-mile doldrum leg between Panama and the Galapagos in 21 days; bigger boats took longer still during the same period unless using diesel power. But the 3000 miles from the Galapagos to the Marquesas sped by in 26 days – 120 miles a day average. For three consecutive days during the run we averaged 143 miles… we arrived in the Marquesas only two days after our fleet of big-boat friends. So, although we sometimes have the discouraged urge to go Faster, this handicap of slowness has never jeopardized our safety, nor has it slowed us down in the long run.

Nevertheless we continue to lighten the boat as much as possible. In all, there's not much more we could ask of any boat than we are not already given by "Pere "Peinard". Maybe it hasn't been much of a trailer sailer, but as home to us and our CATAMARANs, it has given us all kinds of different scenery out the windows.

Signed

Genevieve Desjardins
Ballina Bar Crossing.
(From an article published in Cruising Helmsman in 1984. The sea's moods haven't changed since then, nor have the line's of the Spray. This story could have been written yesterday.)
Gale warning – Double Island Point to Coolangatta. Strong wind warning south to Coffs Harbour. The forecast had kept us in Ballina for nearly a week, and the Richmond River was in flood. Several boats had been damaged at the wharf, with fenders and barge boards finding it difficult to cope with the pounding. It was not much better out on an anchor, with logs and debris coming downstream. One fellow yachtsman remarked gloomily, as we sat in the RSL Club and watched the mad cavortings of the boats, that last time he had been in Ballina, he had been weathered in for 17 days!
There hadn't been much talk on the 27 meg radio – no one was going anywhere in the trying conditions, but unexpectedly a yacht was heard calling Ballina Coastguard for information on the bar.
Surely no one could be mad enough to attempt it under these conditions! We had had a strong wind warning for three days and there wasn't any improvement in sight.
Listening to the conversation, we gathered that the boat, Derwent Endeavour had been waiting out the storm for two days and had had enough. They wanted to attempt the entrance in the hope of getting some relief from the awful conditions outside.
The Coastguard advised them against making the attempt, but when they insisted they would like to give it a try, he gave them all the help he could. They sounded reasonably confident they could make it, with a long keel and 80hp engine in a 12.5m boat. Appalled we headed for the breakwater to see if we could see the yacht, and to check on the conditions on the bar. We had been down in the morning, and the bar was no better – line after line of breaking waves smashing against the breakwaters and boiling around the rocks.
In driving rain and with waves breaking over the breakwaters, we could just see a pair of masts out at sea. They were swinging wildly as they came into sight between the troughs.
I think every house in Ballina must have a 27 meg radio, or word had spread quickly. Cars from all directions began converging on the scene. In a town that relies a lot on fishing, the locals are very aware of the bar and its dangers and no doubt this wasn't the first potentially dangerous situation they had seen. I admit that in the past I had always looked sourly on people lining breakwaters watching yachts and fishing boats come in over bars, as vultures waiting for an accident, but everyone there was anxious for the safety of the boat and crew.
As the boat came closer to the bar, she began to be picked up by the breakers, and would be thrust forward, her bows cleaving the water before sliding off the back of the waves. By this time we could see she was a Roberts Spray, with the characteristic bluff bow.
As the seas got steeper, we expected her to broach, but her long keel kept her heading in the right direction. With the flat transom the waves were lifting her well and she would surf forward a short way.
Right at the start of the breakwater, an exceptionally large wave picked her up. At that moment the helmsman gave her full throttle. The boat took off like a surfboat, disappearing in a sea of foam, surfing in at an estimated 20 knots for about 100 metres.
It is difficult to estimate speed and distance, and I can hear the expressions of disbelief, but that was the agreed estimate on consultation with others watching.
During the ride her fibreglass dinghy, which was in davits on the stern, filled with water, tearing its stern out, but the boat suffered no damage. A spontaneous cheer and applause broke from the waters, and we all laughed with relief.
We were lucky enough to get some photos – poor quality due to driving rain, spray and bad light.
Anyone who watched the Derwent Endeavour can have no doubt as to her seaworthiness and the skill of her captain. Her bluff bow would not allow her to bury her nose, and the stern lifted exceptionally well in the following sea. My mind balks at the thought of what would have happened to a fine fin keeler. The enthusiasm of one fellow watcher knew no bounds – he had recently launched his own Spray in Sydney, and boy, wouldn't he have something to tell the knockers back home.
AND ON BOARD IT WAS LIKE THIS...
After four and a half years of part-time work and then six months of continuous hard "yakka" I finally completed my 12.20m Roberts Spray at Boyer, close to the beautiful Derwent river in southern Tasmania. She was formed with "C" flex and hand laid up with glass.
The original idea was that when I retired my wife and I would do charter work in Queensland, so I was building under survey. I recall the number of times I cursed (under my breath) when skin fittings had to be changed and extra glass had to be laid up here and there. I thought the original specifications made her an extremely sound vessel and here was this official making a nuisance of himself; at a later date I had cause to bless his thoroughness.
In May 1984 we sailed from Hobart bound for Port Macquarie and nine days later, after an uneventful trip, we tied up at the Marina in Port Macquarie. The craft behaved well, even when we were surprised by some very strong gusts of wind north of Newcastle.
We made Port Macquarie our homeport for some time and I found that when crossing the bar, if I opened up the motor I could surf in. I realise I should have reversed the engine and cleared the broken water as quickly as possible, but the Spray seemed to delight in this, no doubt due to the hull design, the long straight keel and 80hp diesel.
The craft had still not proved herself, but on the second trip to Lord Howe she showed herself in her true colours. My son Chris, two friends and myself left Port Macquarie with a reasonable weather forecast, about 60 miles out the wind veered and increased in force, the seas built up into a confused pattern and we were in the middle of a storm.
This was with us for most of the five days it took us to reach Lord Howe. The only wind gauge I had was a hand –held instrument and totally useless, but the Met office on the island, told us the wind reached 60 knots.
As can be imagined conditions on board were pretty hectic but the boat behaved beautifully, the only damage was a torn main sail.
Port Macquarie to Southport – a piece of cake I thought. Chris and I decided we would get the two members who had crewed to Lord Howe but due to business commitments they were anavailable. Two acquaintences were "signed on" – one was a young male hairdresser with no sea experience at all, the other was an older man who owned a runabout and had operated offshore for a number of years.
It was June 1983 and as we sailed over a turbulent bar at Port Macquarie, the weather report was not really favourable, but as my son and the hairdresser had limited time we intended a quick non-stop trip to Southport.
With all sails up, the motor ticking- over and an easterly wind of about 20 knots we were making good time, although the sky looked threatening. However, Chris who was tidying up some rope foreward found that a seam on the jib sail had started to come apart. The sail was dropped and we continued at reduced speed. It was decided to go into Coffs Harbour to get the sail repaired. Gengraft gave us excellent service, but we did not get under way until about 1.30pm the following day. The sky was overcast and the weather forecast was for rain and northeast winds of 20 to 20 knots.
As soon as we had slipped our mooring the sky opened up and the rain poured down. About an hour outside the protection of the harbour the seas started to build up and the wind backed to northerly and freshened. Under jib, main and mizzen we tacked easterly, fortunately the rain had stopped and under auto pilot the boat was handling the conditions well.
At about 4pm I awoke, the craft was being thrown around, I put my head through the hatch and the young hairdresser, who had been on watch said "she has been going off the clock" and promptly put his head over the side to be sick.
The log read up to 12 knots, the sea was menacing, I remember thinking "I hope it doesn't get worse". Black storm clouds had darkened the skies and the wind was gusting fiercely. Although a lot of spray was coming over the cockpit, little to no sea was coming on board. Dressed in oil skins and attached to the boat with safety lines the crew reduced the sails to a double reef in the main and the mizzen; we all took it in turns to be sick.
Conditions began to deteriorate rapidly. The main was dropped and the mizzen pulled in tight to keep the craft facing the weather. A check with the Satnav showed that we had plenty of sea room, so everything was battened down and we took to our bunks to avoid being thrown around the cabin and to ease the sea sickness; even under these conditions the "new chum"always managed to find one of the heads or sink.
Outside it was pitch black, the wind shrieked, the waves appeared to be massive and the seas pounded and tossed the hull around,some time later, I was in the stern cabin wedged into my bunk when I heard a foreign noise and looking through the transparent hatch in the roof of the cabin I saw the mizzen sail flapping free, I thought the sheets had broken.
With an effort I got out of the bunk,but Chris was already up putting his safety line on and shouting above the noise of the gale to the two others in the foreward cabin to put on their lines and help on deck, the hairdresser was past it, but the other man was game.
On deck it could be seen the sheets had not broken, but two metres of one inch pipe which had been welded between the davits and attached to the sheets had been ripped out and was waving around on the end of the boom.
I started the engine and held her into the wind while Chris and his mate tried to stand on the cabin top and lower the sail. Suddenly Chris lost his balance and ended up against the stern rails, only the safety line and strong nails saved him. Fortunately he was not over seriously injured and the sail and pipe was secured.
I decided to let the craft find her own position and hove-to under bare poles. The boat instead lay beam-on to the sea and as I laid in my bunk I could see through the hatch the waves breaking over the cabin top. The noise of the storm was even louder and above the shrieking wind, it sounded as though someone was hitting the hull with a sledge hammer.
Next, the fridge started to come adrift and we had to wedge it in position with the table turned upside down against the door of the fridge and the end of a bunk.
The next morning after a sleepless night, conditions had improved considerably. There was still a high sea rolling in from the east which was only breaking occasionally, a check with the Satnav showed we were 30 miles due east of Ballina. It was decided to make for Ballina to get some rest and food. A check had shown that the tide would be favourable and with the wind and the sea behind us we reached Ballina in short time. But what a shocking sight greeted us. Due to the volume of rain which had fallen and was still falling, the river was running out at a great rate and breakers were rolling through the entrance. By radio we tried to get permission to go in but there appeared to be some mix up, so after circling round for half an hour, we decided to risk it. We had every confidence in the boat, Chris and I shut the other two below and I tried to wear a life jacket but it was too bulky to wear in the cockpit. I lined up the markers and headed in.
The first one caught us just outside the entrance – I could hear it coming. It lifted the boat, drove us forward and with a rush of white water was past, the second one caught us just past the entrance. Then Chris yelled there was a big one; I could hear it roaring and as it reached us I opened the motor and surfed in with it for about 100 metres and reached clear water. About this time I became aware of the crowd of spectators on the north breakwater, they were applauding.
John Clode of the yacht Caliph who took a series of shots told us that from the breakwater, there were times when he could not see the tops of our masts (14.5m from water level).
We learned later that we had been in a mini cyclone.
Brisbane to Port Moresby in a Roberts Longboat 21
Well, here I am back home forty – six days after leaving Brisbane. My Roberts Longboat "MUTA" has covered 2580 nautical miles in that time and another 960 to date.
The trip up the Queensland coast saw some rough weather, as did the crossing of the Coral Sea from Cairns to Samarai. Several times I was caught by 30 knot winds and it was only the innate design and exceptional strength of "MUTA" that saved the day.
The vessel has far more sea sense than any other boat I have owned and I have no doubt at all that few other boats of this size could have handled the voyage.
As you can see from my log after departing Tingalpa Creek on 30th October 1980,myself and Robin Muir took two days and one night to get to Bundaberg. The lighthouse keeper at Sandy Cape was of great assistance in crossing Break Sea Spit, and VH4-ATT waited up till after midnight with coffee and sandwiches in Bundaberg and also organised a berth for us for the night. People like this are the ones that keep boating safe and a joy to all those with whom they come in contact.
We remained in Bundaberg for a day and then left and got caught in a storm off Gladstone when we had to turn tail and run back to Port Curtis. With the autohelm handling the steering and the "MUTA" handling the seas, we got inside Port Curtis and anchored at midnight. The trip up the "NARROWS" the next day with 3ft of water and 2ft 6ins of draught was a slow one but calm after the previous night.
Roslyn Bay, our next stop, was a pleasant surprise with the canteen selling excellent takeaway food and ice. We were here for three days and met another Roberts Longboat owner who uses his vessel regularly to get out to the Barrier Reef. We were fortunate to be allowed to use the Yacht Club showers and toilets and be generally made to feel at home by the caretakers. After several days, the weather cleared and we moved on up the coast in beautiful conditions passing Shoalwater Bay and moved into the Whitsundays in calm seas and, regretting our lack of time, moved on to Bowen.
In Bowen, Robin Muir left to return to New Guinea as his leave was over and I met typical North Queensland hospitality in the form of Warren and Norma McEwan from Mackay on the yacht "CARELLA". Their big white steel ketch was huge compared to the "MUTA" and the three of us shopped around Bowen and talked boats until the wee hours.
I stayed there for three days and then departed for the first leg of the voyage by myself. I picked a bad day and about nine o'clock the wind started rising and by the time I reached Cape Bowling Green I was looking forward to making a safe anchorage behind Cape Upstart.
Owing to the size of the waves and the low level of one of the fuel tanks, the engine got air in the injector pump and I took almost 45 minutes to change tanks and bleed the engine. Most of the time was spent holding on as "MUTA" was battered by the waves. During this time, only once did I get any water on board, this was the foamy crest of a particularly large wave. Two hours later, when I anchored behind Cape Upstart, I was still shaking.
The next few days were also rough and I passed Townsville and anchored in Pioneer Bay on Orpheus Island and the day after I moved on to Dunk Island. Almost everything on Dunk Island placarded "House Guests Only" and I couldn't buy a cold drink there. From about 2000 hours onwards I was watching a chap on a small 20ft CATAMARAN about a mile off the island. When it got to 1730 hours I decided he may be in trouble although he wasn't showing any signs of distress. I pulled in the anchor and went out and one of his hulls had become detached from the platform at the stern and he was unable to sail it back to Dunk. A tow saw him safely ashore and that was my good deed for the day.
I arrived in Cairns the next afternoon after a long beautiful day but couldn't get ashore because my inflatable dinghy had sprung a leak. However, the next day saw me hitching a ride ashore where I stayed with new found friends for three days. The Buellers looked after me like family and Peter Bueller volunteered to crew for the next leg across the Coral Sea, which is just as well as the first night out of Cairns through Fitzroy Passage saw the autopilot going u/s. We stood three hour shifts for the next 65 hours when by my only good sight and dead reckoning I put myself 6 hours off the New Guinea Coast. We were both very tired and the sea was by now calm for the first time so I put out the sea anchor and drifted for seven hours and had a good sleep. Next morning 25/11/80 at 1100 we sighted land at Amazon Bay and travelled along the New Guinea coastline that afternoon and night to the east, arriving in Samarai at 0800 and took care to anchor downwind from Customs. That afternoon, Peter left on a plane for Port Moresby and on to Cairns and I stayed on in Samarai area for three days and rewatered, refuelled and recovered. Samarai was very friendly and the people at Belesana Slipways provided showers and fresh water at no charge.
On leaving Belesana, the weather continued fine with light south-easterly winds. Over the next three days I travelled north-westerly up the New Guinea Coast, hand-steering now by myself and trying to make a good landfall each afternoon by 2000 hours and departing the next morning at 0600; nine hours nonstop at the wheel through those reef-infested waters is about all I could handle. Every day I saw large schools of porpoises, mackerel, tuna and the odd shark.
Anchoring each night in a supposedly uninhabited area, I was soon surrounded by canoes full of wide-eyed children, who were content to sit and stare at me for several hours. Luckily, in Cairns, I bought up large quantities of sweets for just such occasions and I was able to send the kids back to their villages munching happily. Many of them would not have had lollies before.
On 4/12/80 I entered Tufi Fiords and tied up at the fisheries wharf to meet Trevor Bell, the Fisheries Officer there and his wife Dorothy. I stayed with the Bells for two nights, topped up my tanks and headed off on 7/12/80 for Lae, some 240 miles distant. This leg took four days and I was running before a S.E. swell. Each night I anchored in a coral lagoon and two nights running was kept awake by dugongs cavorting about the boat and bumping it.
On the last day, entering Lae, I was held up for 30 minutes by a large school of whales that I took for pilot whales. They surrounded the boat and I couldn't move for fear of hitting one of them. Many had calves with them, the calves coming up against the hull and rolling against it. Their dorsal fin was black, as was their body, but had a peculiar wart-like growth on the top of the fin. Eventually, they moved off and I continued into Lae where I stayed for three nights becoming a social creature again.
On 13/12/80, I set out for Kimbe on my final leg. The run up to Fincheschaven was uneventful and I anchored in a small bay full of wartime wrecks beside an abandoned airstrip and made ready for the crossing of the Vitiaz Straits. The Vitiaz are renowned for their rough weather and seas caused by strong currents running from the Bismark to the Coral Sea contrary to wind direction.
The day started well but rapidly deteriorated with irregular seas, peaking in all directions. I was battened down and the spray and light rain hampered visibility to the extent that I steered on D-reckoning for four hours for the tiny Nessep Island marking the only navigable passage into the Dampier Straights. Wind speed increased and the white water and foam streaks made reefs invisible.
The vessel thrived in these seas as only a displacement hull can and at 1130 I was abeam Nessup Island and guessed the 200 yard gap in the reef correctly. All through the Dampier Straights the sea continued slightly abated and even when I eventually anchored behind a reef near a village called Sag Sag, the waves were thumping down on the beach. I slept from 2000 to 2100 when I was awakened by a discreet coughing to be told by a young girl that she wanted to "marry" me. Carnal pursuits being fairly well back on the agenda of desires at this time, I sent her off with some lollies to await the next unsuspecting traveller. I was trapped in this area for two nights when the wind eventually dropped and I departed on the afternoon of 16/12/80. But at 2000 that night the winds came up again and I steered nonstop from then till 1220 the next day before able to see. I estimated Cape Holman Lighthouse at 1230 and it appeared at 1235. Much to my relief, on rounding the Cape, the seas dropped and I raised Kimbe Base on 27.91mz directly. They had me on relay through Australian Volunteer Stations for the whole trip so Kimbe knew I was getting close. By 1900 that night I had the end in sight and at 2000 hours I tied up to our wharf, the voyage over. Many people were there and celebrations and tall tales and true were spun far into the night.
In retrospect, it is not a voyage to be lightly undertaken and the planning for it took several months. Obviously, a sound vessel and a reliable motor are essentials but probably the most crucial factor is the ability to recognise your limits and not to carry on regardless in the face of danger. A 21ft vessel has limitations and battleships have been lost in rough seas. The Longboat has had nothing but praise for all who see her and the proof of the pudding was in the eating.
With high regards and many thanks,
Dennis F. Scott.
Downwind Ocean Sailing
At 0600 the next morning we dropped the mooring we'd tied up to and slipped quietly out of the harbour. There was a large High between Tonga and N.Z. and nothing else to influence the weather pattern so we were quite sure of following winds for the whole journey. The wind was still blowing 20 to 25kts as we motored slowly down the long channel that lead from the harbour towards the open sea, readying F.T.as we went. By the time we had reached the end of the channel everything was shipshape and we tucked under a tall cliff and hoisted sails. When coming along the channel we had had a few gusts of over 30kts but under the shelter of the cliff, with the wind only about 3kts, it was no trouble to raise the main, even using only one arm. As it would be difficult to reef the main later we set it with a double reef, moved out from the shelter and took off. Once we had got out of the influence of the land it became obvious that the wind angle was to deep to take on the quarter and that we'd have to pole out the headsail. Not a problem for a two armed chap, quite something else for me. The swell was already starting to wrap around the end of the islands so it had to be done straight away. With a small struggle the pole was set up and about three meters of furler was pulled out. The wind was blowing force 7 (32 to 38 kts) and once out from the lee of the land the swell increased to 2 to 3 meters. Add to that a 1 to 1 ½ meter sea and every so often some very large waves loomed up behind us. Everything was well balanced though, and besides some ugly little seas that ran perpendicular to the main swell every so often, everything was under control. We took 1hr on, 1hr off, as, although it wasn't to hard steering one armed, it was pretty tiring. By that evening, although the wind was up to force 8 (39 to 46kts), the sky was still clear and the barometer still steady so I felt pretty sure that things were not going to alter much. After a few hours of darkness the moon rose up behind us and lit the way for the rest of the night as we closed the distance between us and the passage we were aiming for in the Lau group of islands that would take us into Fijian waters. I had planned to pass through the passage during light on the following morning but with the speed that we were travelling, even with such little sail up, it was more likely that we would reach it before evening tonight. The wind kept up between Force 7 and 8 all day and to my relief at 1700 that evening we spied one of the islands on the north side of the passage. We only had the U.S.A. pilot book aboard which failed to even mention the passage, but once again Jens off Indigo, whom we had kept in contact since leaving Pago Pago, and who was now in Canton, saved the day by quoting from the British Admiralty pilot book which stated that the "passage was 8 miles wide and free from dangers except for a reef enclosing a lagoon in the center of it." Having already sighted the island on one side we ran about 1 mile off its fringing reef until we were completely clear. Over 250 miles ran since yesterday morning and now a pretty clear run to Suva, 118 miles away. Once we had passed through the passage the swell was removed and with the wind finally beginning to moderate we pulled a little more furler out and for quite a while just watched as the log sat on 8 to 8 ½ kts as we kept speeding on. All through the next day the wind remained true. By evening we had Suva in sight. Unfortunately it was dark by the time we reached the passage that led through the reef into Suva harbour and the moon had not yet risen, however, by taking it slowly, negotiating two Taiwanese fishing vessels as we entered the passage, a barge in the passage, and an anchored submarine and broken down tanker inside the harbour itself we finally dropped anchor off the Royal Suva Yacht Club for a peaceful nights sleep. 430nm in 61hrs. An average of 7kts. As good a run as we've ever done, and by a semi seasick lady and a cripple. After arranging with the harbour master to come alongside the main wharf the next morning to complete formalities we dropped off for a well earned sleep.
Cruising the Vava'u Group in a Roberts 43
Well, if you have all kept the previous letter which finished with us stepping ashore at Neiafu, Vava'u, then this one just follows on. I know the last letter finished on a note of everything's OK, but, well, that was not really exactly true. The next morning after taking off the water trap and taking it to the only repair place on the island, Don Coleman's yard, , a search of the premises revealed not one scrape of stainless plate, nor even a scrape of mild steel plate. We only needed a piece about the size of a saucer! But once again the sometimes seemingly bottomless bilge of F.T. came to the rescue when we came up with a piece of stainless that I'd had stowed away 'just in case it came in handy.' That problem solved and leaving Don with all the parts to repair the Ronstan block that had blown apart while tacking up the channel we retired and took the rest off the day off, as, besides the breaking of the block as we tacked up the channel, Liz had dropped a winch handle on her foot which had, possibly due to the walking around town, swollen to twice its normal size. We spent the day quietly hoping that Don could in fact do the repairs as the welding that needed to be done involved 1.6 mm stainless pipe which is pretty fine work for a stick welder working off an indifferent power supply.
That evening we went into happy hour at Ana's Cafe. Ana's Cafe was set up last year by the couple who run the Moorings Charter base in the Vava'u Group. We had heard from many cruisers about Bill & Lisa, everyone who had come into contact with them only had the best things to say about them, and they all turned out to be very true. After cruising for many years in the Pacific and returning time after time to Vava'u they took over the management of the moorings fleet of what appeared to be around twenty or so 35 to 52 ft yachts. As if that wasn't enough they then set about making life more pleasant for the cruisers that visit these islands every year. Ana's Cafe and the best dinghy dock we've come across in the Pacific are just two of the things they've done. They also set up the Port of Refuge Yacht Club of which Liz & I both became lifelong members. They had also built showers for the cruisers and are always ready to answer queries and give advice. Happy Hour they had set up so all the cruisers could get together over a drink between 5 & 6 every weekday evenings for a chat and natter. Because it is the cyclone season there are only about 8 cruising liveaboard yachts here even though this definitely seems to be the best time to cruise these islands owing to the generally lighter winds (not experienced during our stay) and the complete lack of crowds.
The next day was also a lazy day although that evening we went ashore to the Sunset Restaurant whose dinghy dock was directly across from where we were moored. This is a fine Italian restaurant overlooking the anchorage with glorious Italian food served by a absolutely delightful young Italian couple. It was also quite inexpensive as my very filling plate of pasta with anchovies cost $6 with Liz's plate of pasta with mussels $7. We met there an American dentist who had set up clinic on his yacht and travelled the islands taking care of the local's teeth, largely on a voluntary basis. Using an adapted vacuum cleaner as a suction unit and dive bottles as a drier he was performing a really worthwhile service. All the resident yachties swore by him even though, unlike the natives, they were charged. Altogether a very pleasant evening.
The next day was Sunday where, Tonga, being a very religious country, shuts down. The Tongans are not even allowed to go swimming let alone do any work. The radio still broadcasts but there is no talking, just pre-taped classical music. An inter-island container vessel came in one Sunday while we were there and were told to just anchor in the middle of the harbour until 2400 hours when they could then come alongside and tie up, The Lords day of rest is taken very seriously here indeed.
The next morning, Monday, I went to see Don to see how the water trap repair was progressing. Nothing had happened but Don assured me that it would be ready by the following day. While I was checking with Don Liz had gone to have a chat with Lisa who invited us to a traditional Tongan feast which the Moorings puts on for its charter guests. They, of course, could anchor off the village, but we could still attend by a car they would organise as the island where the feast was to be held was connected to the main island by a causeway. It was to be the last one for sometime, as although the Moorings charter boats for all 12 months of the year, February, March & April are very quiet months. Liz, as always, was hot to trot and told Lisa to count us in. The $20 per head feast also included native singing and dancing and there would be all manner of arts and crafts for sale which, we were assured by everyone, would be cheaper than the ones on display in town. That evening a car picked us up and took us across the island and along a long single lane dirt track that finally finished at an attractive cove where tapa cloth, shells, carvings, necklaces, bangles and baskets of all shapes and sizes were laid out. The chief greeted us after which Liz immediately set off to examine the crafts before the charterers on the anchored boats came ashore. Luckily we live on a boat and therefore space is a consideration so her natural buying impulses were restricted to some fruit baskets and some other small woven articles. The baskets are woven using a very strong reed and, with there strong designs, are by far the best baskets in the Pacific. Liz particularly liked a large clothes hamper with lid but sense prevailed, it was far too large for the boat and she left it. Luckily the young couple from the first charter boat that came ashore bought it as I had a feeling that somehow we would have been tripping over it on the boat by evenings end if they hadn't removed the temptation. As the food was cooking we were treated to singing by the elders and dancing by the small girls of the village. The girls were between the ages of 4 and 10 and were, by far, more cute than skilful. By the time they had exhausted themselves the feast was carried in. No wonder the Tongan's are such a solid people. There must have been enough for a whole armada. It was carried in on woven together banana leaves about 3ft wide by about 20ft long by a dozen or so Tongans. Most of it had been cooked in leaves in the ground similar to a hungi and consisted of native salads, fish, pork, vegies, Papaya baked in coconut milk, taro, breadfruit and the list goes on and on. The band played as we ate and a good time was had by all although I do think we all ate more than we really had intended to.
On checking the next day at Dons, the water trap repairs, as promised, had been completed. It didn't look to bad a job and as the only way to test it was to reinstall it we took it back out to the boat. Installed and with the engine running two small pinhole leaks showed up, one on the water in, one on the exhaust out, both on the edge of the fresh welds. Rather than take it out and go through the whole procedure again, with the likelihood of a similar result, we stopped the leak on the water in with rubberweld tape and deemed the exhaust hole small and strong enough to hold up until proper repairs could be done. At least we now had an operational engine that meant that we could have a look around the islands. Having a run around the islands would also give the engine exhaust system a good test before we got too far away. My leg would also get a good try out even though we've nearly resigned ourselves to the fact that a trip around the Horn and into the Atlantic this year is as good as over. It is now the end of January and to leave now would mean we couldn't expect to arrive in Chile until mid March thereby leaving us no time to absorb any Chilean culture or explore the Patagonian Channels before the full force of the Southern Hemisphere winter was upon us. We decided that we'd have to make up our mind on this trip to the outer Vava'u Islands.
The next morning we walked to the local markets and stocked up with some fresh fruit and vegetables. It was a real treat to have a good range at fair prices after being so long in Pago Pago where most 'fresh' produce is shipped from the states and leaves a lot to be desired. We also purchased the Moorings cruising guide book to help us get around, as the problem in these islands is not so much hidden reefs, as finding places shallow enough to anchor in. The whole group of islands are quite compact being only about 25nm N to S and 20nm E to W. They are protected from the S/E tradewinds by a barrier reef that stretches along the entire Eastern side cutting out all swell, just leaving the wind. In other words, a sailors dream. And so it proved to be. Deserted anchorage's, crystal clear water and such easy sailing that for the entire time we didn't even take our mainsail cover off, although we often found F.T. scooting along on a level keel at 7 knots. With only a small tidal range there were no currents of any strength to contend with and every anchorage was safe and calm and insect free. There was a cruisers net on the VHF radio every morning which we would tune into to get the latest weather and any upcoming events. They also had a buy, sell or swap section, a contact section, and an arrivals and departures section all of which we found quite interesting. After 4 days we circled back to town, coming in at another cove on the opposite side from the main harbour and filling up with fresh produce and ice before slipping once more back out to the islands. Nearly all the anchorage's were within 1 hours sail of each other, mostly reaches, and the few times we had to head directly into the wind it was only for a mile or so and we would motor. Not quite purists fair I know but we made up for it at other times where we would sail up to anchor or sail off from the anchor in the always perfect conditions. While most of the islands and coves we anchored in were completely uninhabited we stopped one night in a bay on an island where there was a small Eco resort. The snorkelling was good, the beach white and the fauna dark and green. No one was staying at the resort that consisted of a few native thatched buri's and a small community building with eating facilities so we decided to stay an extra night and explore the interior of the island the next morning. My leg had been feeling good and I was keen to give it a little more of a workout to see how it would go. The next morning all went well as we played Stanley and Livingstone until I stepped slap-bang right in the middle of a hornet's nest. With a yell to Liz to stay put (she told me later that she had absolutely no intention of moving) I took off down the hill. After 50m or so I'd left them behind and stopped to pull the sting barbs out of my ankle. Luckily they weren't a vicious variety, as I would have had to run a fair way to reach the water, if they had been. As it was, my ankle was swelling up which was pretty unusual for me as bites seldom affect me in any way. We thought that it may have something to do with the tablets I'd just recently stopped taking for my other leg. It was pretty painful to put weight on so we rested up the rest of the day and spent one more night it that most beautiful of anchorage's. The next morning as I got up I felt something strange at my elbow. Twisting it to get a good look at it there was a great lump the size of a golf ball sticking out of the joint. Good grief, what now. We decided to head back to town before I ran completely out of limbs and see if we could get any advice on what was happening.
Medical advice for something like this was non-existent. Although the towns doctor stated that it was a Bursa he didn't have any idea what could have caused it, whether the treatment for the leg was a contributing factor, or the hornet sting, or how to treat it. We finally made the decision to give up the Horn for this year and go back to Australia to get some expert medical opinion. I have had no problems with my body for all the years that We'd been cruising and to have three thing in as many months had us wondering if something we didn't know about was causing all this. As the Port of Refuge Yacht Club was holding a Friday the 13th yacht race we decided to wait until then to see how my arm would be after a few days inactivity. If my arm got no worse in the next few day then on the weekend we could take off for Fiji which had now become our next port of call.
The days sped by. Cyclone Ron, that had missed Pago Pago while we had been there, had hit the Tongan Islands just north of here and although the full force had missed here three boats had broken free and had been damaged. One was still on the shore, a sad sight, half filling with water at every high tide and another one had been patched and was floating at a mooring. The third was a Moorings yacht that had suffered superficial scrapping all down one side and needed filling and painting. Bill from the Moorings is also a boatbuilder and could do all the preparation work, but for the final paint job the Moorings flew in an expert from N Z. We met Brian, the painter, at happy hour at Ana's one evening and then went on to have a beautiful meal at Bill & Lisa's home where Brian was staying. Brian and his wife are the couple responsible for that truly picture postcard boatshed that's nestled in jungle across from the Opua wharf in the Bay of Islands. He and his wife are in the final stages of finishing a 49ft steel cutter that they plan to launch this year and hopefully cross the Pacific to Chile and beyond in a few years time. A very nice guy and someone who I feel we'll cross tracks with again someday. Friday came and with my elbow no better, but also no worse, we cleared customs and immigration for an early Saturday morning departure. Between now and then of course was the Friday the 13th race and so, after roping in the Fransesco, the male half of the couple who made dining at the Sunset Restaurant so enjoyable as crew, we were in.
Nine yachts fronted up at the start line of the course that went from the start upwind to one end of the harbour, around a sunken freighter, then downwind to the other end of the harbour, then back to the start. With the wind a steady 20 kts it was expected to be all over in an hour which would give everyone time to get back to Ana's in time for happy hour. Not having a watch we figured that we'd go when we heard the gun. Unfortunately we missed it but upon seeing Bill & Lisa, with Brian as crew, hare off up the course we set off in pursuit, being 5th over the line behind Bill & Lisa, a Beneteau 46, a Valiant 42, another Beneteau and then us, in that order. Halfway down the first leg and looking as if it would be possible to make the first mark on the one tack, we managed to work our way upwind of the first Beneteau. Putting him out of our thoughts we had just watched Bill change over onto starboard tack when out of the corner of my eye I could see the Beneteau coming straight for us. They had accidentally tacked over and were less than a boatlenght away heading straight for a collision amidships. Fortunately their jib sheet had got caught and as a result slowed them down enough for us to scoot in front, with them crossing a few yards behind our stern. With Bill & Lisa now heading off at right angles to us, and our hearts still palpitating, we figured that we'd just keep on the Beneteau 46's track. We felt if he could make the mark, so could we. They rounded the mark about 5 boatlenghts ahead of us with Rhodora, the Valiant 42, some 2 to 3 boatlenghts behind us. The next mark was only about 100meters ahead being the far marking buoy for the sunken freighter of which the buoy we had just rounded marked the other end. Just as we were about to round this buoy the Beneteau, after having rounded the buoy and starting to settle down to the next leg, suddenly did a 118 degree turn and started to head back to the mark. At first we thought that they had missed the mark but a figure frantically swimming towards them soon told the story. They'd lost a man overboard as they had rounded the mark. We easily avoided them and the swimmer and looked ahead to see no boats. No boats at all. We were in the lead with Rhodora now 6 to 8 boatlenghts behind as she struggled to round the hapless swimmer and the Beneteau, which had overshot the fellow and was again tacking around to try and get to him. By now he looked more interested in avoiding the onrush of the rest of the fleet than being picked up. Off we went on the downwind ride expecting any moment for the lighter boats to come charging past us. It was not to be though. By the time we were halfway down the harbour we not only were holding our own but also putting more meters between them and us all the time. Liz, who up to now had been calling the shots, could just stare out over the stern, mouth agape, saying over and over in an incredulous voice, "I don't believe it. I don't believe it." We rounded the bottom mark and in three tacks, with Francesco winching like a man possessed, crossed the line a easy winner. Later that night we accepted our first prize of a 6-pack of Tongan beer and thanked everyone for making our stay so pleasant, Especially Bill & Lisa, who besides organising the race, had made us feel so welcome. Cheers till next time, Phil & Liz. Feburary 1998