NEW ! SUPER STUDY BOAT PLANS ... Delivered by DOWNLOAD to your computer within 12 hours of you placing your order. The study plans have lists of materials & equipment etc & these will be useful in costing out the complete boat.
Each STUDY PLAN contains ALL the construction drawings for each material - STEEL & ALUMINUM, as applicable to the particular boat plan - with up to 25 sheets per plan! Lists of materials - Technical information - Numerous construction drawings are all included.
You can view & print the drawings in full or in sections. BUILDING PHOTOS are included in the study plan package. PLUS you receive a FREE ( VALUE £69.00 ) e-book BUILD YOUR OWN TRAWLER
Please note that when you receive your credit or debit card statement the amount will be converted to YOUR local currency.
---
STEEL, ALUMINUM

£69.00

-

$85.00 - €79.

00



To order STUDY PLANS go to SPECIALS PAGE

and click on

€79.00

BUY NOW BUTTON
SPECIAL OFFER - ANY THREE STUDY PLANS FOR

£99.00 - $125-00 - €114.oo


CLICK HERE TO LEARN MORE
STEP BY STEP ASSEMBLY PHOTOS INCLUDED WITH ALL STUDY PLANS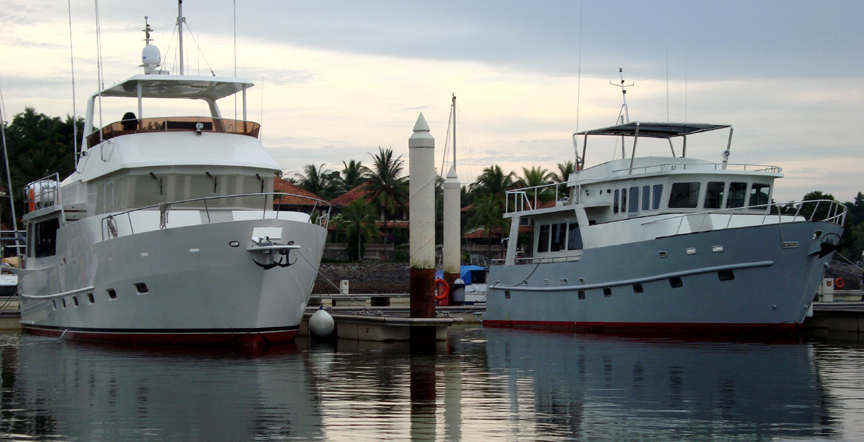 Another TY 620 plus TY 520 moored in Singapore.
Hi Bruce, we have just had a great New Years in Singapore. We had a party with TY620 and TY520 rafted up. Another TY520 also in the bay. Roberts designs well represented here in Singapore. Our Ty520 cruises at 7 knots with a 267Hp John Deere single engine at 1500 rpm and using 10 litres/hr. Rod Steele's TY620 when it matches our boat at 7knots with twin 230 Hp John Deere at 1200 rpm and using 15 litres/hr (bigger boat and twins)
I have found with our boat that the engine/gearbox/prop have worked out really well. We can get full revs and a good performance so they are all nicely matched. Mel and I are really enjoying life on our TY520. It is a great size for two to live on and everything we had dreamed of. Regards Al and Mel Dow
---
2017- Hi Bruce, just finished a refit of the Saloon and Galley on our TY520.
Close to 8 years living on board now and loving the lifestyle!
Merry Xmas to you and Yours from Al and Mel.
2020 - Hi Bruce, last couple of years we have cruised out to the Anambas Islands in the South China Sea. Here are a couple of pics. Our boat is going great.
10 years living onboard now.Warm regards from Al and Mel
Voyager TY 520
STEEL OR ALUMINUM PLANS & CUTTING FILES
Developed from our proven Trawler range - This STEEL OR ALUMINUM PLANS & CUTTING FILES is for the serious cruiser or 'live-aboard'. The displacement hull is capable of cruising at around 8 to 14 kts depending on horsepower of the engine(s). This design is well suited for extended cruising in luxury. The standard version has side decks however we can arrange other versions with either single side deck or with full wide-body salon.

These trawlers are designed in accordance with Lloyds for category 1 (unrestricted operating / sailing area), which is much better than the EU and other Classification Societies and the CE-A require. Complete stability calculations to USCG offshore requirements are included in the design package. All calculations are also cross referenced against ABS requirements to ensure that the design meets world-wide standards and specifications.

In the case of STEEL OR ALUMINUM PLANS & CUTTING FILES, all plate parts belonging to the hull, deck and superstructure that are accurately cut to size are included. The parts are marked with the appropriate part number and engraved matching marking lines to assist in the assembly and location of the part in its position. Cutting method is Plasma / Oxygen, ensuring highest accuracy and smooth edges.
Plate parts are cut from Lloyds approved A Grade Shipbuilding quality STEEL that has been coated with factory applied Sigma weld MC welding primer. We use and recommend steel plate that has the official designation ISO standard 10474 or EN 10204 with 3.1.B certificate.
TY 620 - Bruce, I had reply from ROYAL YACHTING ASSOCIATION on the plan evaluations. They have been very quick and say they have no concerns about suitability for Design category A (unlimited offshore). The ROYAL YACHTING ASSOCIATION made a nice compliment on the quality of your plan information.
| | | |
| --- | --- | --- |
| LOD (Length on deck) | 52' 00" | 15.85 m |
| LWL (Length on waterline) | 50' 03" | 15.32 m |
| BEAM | 18' 00" | 5.49 m |
| DRAFT | 5' 06" | 1.676 m |
| Displacement | 100.850 lbs | 45,745 kg |
Voyager TY 520 STEEL OR ALUMINUM PLANS & CUTTING FILES

Dear Bruce, we have lived aboard our TY520 for over two years now and have travelled around 3000 miles around Singapore, Thailand, Malaysia and Indonesia. We have a single engine John Deere 6068SFM50 rated at M4 2600rpm and 267Hp. In good conditions we have reached just over 10 knots max but our cruising speed for comfort and economy is 6-7 knots. At 1200 rpm we can achieve 5 knots and burn around 6 ltrs/hour At 1500 rpm we can achieve 6 knots and burn around 12 ltrs/hour At 1180 rpm we can achieve 7 knots and burn around 24 ltrs/hour

We have the capacity to hold 8000 ltrs. Had I realized how economical the John Deere was I would have cut capacity back to say 6000ltrs.

The engine room on the TY520 is fantastic. Sea Crest Marine in Bangkok did a great job in designing the layout. We have 2 x 2000 ltr tanks on either side and down the centre line there is the John Deere/twin disc gearbox, 17.5 Kva Onan Genset and a large Coltri Sub Dive compressor. Beside the compressor at the rear of the engine room there is a 50Hp Yanmar for Hydraulics. This runs the bow and stern thrusters and anchor windlass. There is a separate hydraulic pump on the John Deere for auto pilot and power steering.

There is plenty of space to walk around the John Deere and Genset with about 1.75 m headroom throughout the entire engine-room. Six 200amp house batteries plus starting batteries for John Deere, Yanmar and Genset are all under the checkerplate flooring in Sea Crest Marine custom made ventilated battery boxes. We have a 24v system. In the lazarette we have washer/drier, chest freezer and a workbench with lots of storage for tools and dive gear.

We have found that the TY520 is about the perfect size for our lifestyle. There is a huge amount of space on the top deck for entertainment and barbecues. The pilot house is enormous with 2.3 mtr ceiling. The 3 cabin 2 head layout is ideal for trips and friends staying in the Marina.

Very happy with our choice of boat and thank you for the support and help over the years. Always happy to help/advise potential builders in this part of the world. Warm regards Al and Mel Dow (Singapore)

This is what we wanted our TY 520 to look like !



AT LAST THE REAL THING !

Voyager TY 520 STEEL OR ALUMINUM PLANS & CUTTING FILES

DEAR BRUCE, IT'S BEEN A LONG TIME SINCE OUR LAST COMMUNICATAMARANION. WELL IT HAS BEEN VERY BUSY INDEED BUT FINALLY OUR TY 520 "ANEMONE" JOINED THE SEAS ON 28TH OF AUGUST AND WE SAILED DOWN TO BODRUM FM ISTANBUL IMMEDIATELY. WE HAVE BEEN ENJOYING HER EVER SINCE, WE ALREADY HAVE MORE THAN 2000 MILES ON OUR LOG!

SHE IS A FANTASTIC BOAT, STEADY, WELL BALANCED, VERY COMFORTABLE , SEAWORTHY AND BEAUTIFUL. EVERYWHERE WE GO PEOPLE COME AND EXPRESS THEIR ADMIRATION.

"ANEMONE" IS A GREAT TRAWLER, FIRST OF ALL SHE IS A REAL TRAWLER; EVERYWHERE WE GO PEOPLE COME AND ADMIRE HER, ASK FOR OUR PERMISSION TO TAKE PHOTOS.

SHE IS NOT ONLY BEAUTIFUL BUT ALSO A VERY TRUSTWORTHY BOAT IN ALL RESPECTS. WE WENT INTO FORCE 7 WINDS AND SEAS, NO PROBLEM SHE CAN HANDLE MUCH MORE VERY EASILY. WE EXTENDED THE FLY BRIDGE PRO RATA WHICH ENABLED US TO PARK OUR TENDER ( 4,30 MTRS ) AND A VERY COMFORTABLE SITTING CORNER FOR MORE THAN 6 PEOPLE.

I PLACED A VERY SUFFICIENT STEEL OR ALUMINUM PLANS & CUTTING FILESCHEN ON THE BRIDGE THUS THE LIVING BECAME ENORMOUS, NEARLY 20 SQM. I ALSO ADDED A HUGE STORAGE BOX ON THE FORE DECK, IN FRONT OF THE PORTUGUESE BRIDGE WHICH IS ALSO A VERY COMFORTABLE SETTEE. UNDER THE DECK WE MANAGED TO PLACE 1 MASTER CABIN AND 2 REASONABLE GUEST CABINS ALL WITH ENSUITE HEADS AND SHOWERS.

THE FIRST PLATE WAS TACK WELDED ON AUGUST 3, 2006 AND WE SLID HER DOWN TO THE SEA ON THE 18TH OF AUGUST 2007. SO IT TOOK US 1 FULL YEAR TO FINISH HER COMPLETELY I.E. ALL SYSTEMS INSTALLED, ALL FINISHING DONE.

THANKS ONCE MORE FOR YOUR SUPPORT AND BEING SUCH A GREAT DESIGNER. KIND REGARDS, ALI

2023:

Hello Bruce,

Happy New Year to you and Yours! Mel and I have just cruised Phi Phi Island, Koh Haa, where these two pictures were taken, and Ko Lanta. All in Krabi Province, Thailand. Our TY520 has been fantastic over the last 13 years now.

Must say the quality of the steel in the TY520 kitset you sent us from Holland is amazing.

It occurred to me the other day that I first subscribed to your paperback book of boat plans when I lived in Mt Hagen,OMG the time has flown. We are inspired to do many more cruises on our boat!

Warm Regards, Al Dow SINGAPORE

Voyager TY 520
STEEL OR ALUMINUM PLANS & CUTTING FILES

Hi Bruce, Thought it was time to send an update. The TY 520 is a week away from completion of the major welding and still looks quite fair....we have followed your instructions to the letter!

NOTE: FROM BRUCE ROBERTS -

ALL THESE STEP BY STEP PHOTOS OF THE ASSEMBLY OF THIS STEEL OR ALUMINUM PLANS & CUTTING FILES ARE INCLUDED IN THE STUDY PLAN PACKAGE ON DOWNLOAD or on USB . . .SEE DETAILS

NOTE: FROM BRUCE ROBERTS - ALL THESE STEP BY STEP PHOTOS OF THE ASSEMBLY OF THIS STEEL OR ALUMINUM PLANS & CUTTING FILES ARE INCLUDED IN THE STUDY PLAN PACKAGE ON DOWNLOAD or on USB. SEE DETAILS

Voyager TY 520 STEEL OR ALUMINUM PLANS & CUTTING FILES ... Letter from Ali Cayirlioglu in Turkey.

DEAR BRUCE, THE CONSTRUCTION OF OUR TY 520 "ANEMONE" IS PROGRESSING AT FULL SPEED. WE HAVE STARTED AND IT IS AMAZING TO SEE HOW FAST IT GOES.

I AM ENCLOSING SOME PICTURES SHOWING THE SITUATION AS OF THIS WEEK. ( I WILL ALSO MAIL YOU SOME PHOTOS OF THE EARLIER STAGES )

I MUST THANK YOU ONCE MORE FOR THE PRECISION OF YOUR boat plans AND CUTTING FILES. THEY WORK JUST LIKE A "SWISS WATCH". EACH PIECE IS FITTING EXACTLY.

EACH PIECE IS TACK WELDED AS YOU SUGGESTED. WE EXPECT TO START THE FINAL WELDING NEXT WEEK AND THE YARD PROMISED TO COMPETE THE JOB BY 20TH NOVEMBER. WE HOPE TO GET HER IN THE WATER BEFORE SUMMER 2007 .. YOU ARE INVITED TO BE OUR GUEST OF HONOR. I WILL KEEP YOU INFORMED ALL ALONG ... KINDEST REGARDS ALI.

CONSIDERING THAT WE STARTED ASSEMBLING THE JIG ON 1ST OF AUGUST 2006.AS OF TODAY THE WELDING IS COMPLETELY FINISHED , ENGINES, SHAFTS, RUDDER, GENERATOR, ALL TANKS ETC. ARE INSTALLED. WE ARE ACTUALLY WORKING ON THE ELECTRICAL SYSTEMS AND ALL OTHER MECHANICAL WORKS. THE PAINTING IS EXPECTED TO BEGIN IN 2 WEEKS. THANKS FOR THE PERFECT CUTTING FILES.

SHE IS A FANTASTIC BOAT. KIND REGARDS, ALI

FROM BUILDER:

Hi Bruce,

By the way, the TY 620 - 62 foot trawler yacht of Bruce's design that we are currently building is coming along very well.

The quality of the STEEL OR ALUMINUM PLANS & CUTTING FILES parts are the best we have ever seen, and as a result, we are saving time in the build. At present, we have 9 welders/fitters working on the boat in three teams. We have almost all of the plate hung in place and tacked up.

We anticipate the seam welding will start within a few weeks as there are some details to attend to.

But we must say again, that we are very happy with the STEEL OR ALUMINUM PLANS & CUTTING FILES quality. Hope to hear from you soon ....Brian

Bruce,

Sorry for not having been in touch for so long it has been a very busy year for Tina and I. Anyway our boat is moving along really well and your cuttings files work perfectly the builder had no problems at all, we are now at the outfitting stage so in the next week they plan to move her out of the building shed to blast and paint the hull and superstructure, internally the insulation is now complete and they are installing the first of the woodwork

T

he carpenters employed by boats and Boats are all ex Grand Banks people who where laid off when they closed in Singapore so the quality of the workmanship is first class, they also have their own in house design team so it has been great to see our ideas turned into reality.

If all goes well we are still on schedule to complete the boat around March and if we can complete the inclination and sea trials in time we may try and get the boat into the Singapore boat show. Mainly of the main systems such as the steering , hydraulic thruster are all class approved commercial systems which have actually worked out more or less the same price as the yacht equivalents anyway, Dave and Tina Anderson.
Voyager TY 520 STEEL OR ALUMINUM PLANS & CUTTING FILES
TY 520 - BUILT FOR AL & Mel Dow - now based in Singapore
Hi Bruce, SeaCrest Marine in Bangkok were excellent to deal with. When we left Bangkok we had a sharp 2 metre wave right on the bow for the first 36 hours, quite the opposite from the big following seas that we experienced bringing Rod Steel's Trawler Yacht 620 down from Korea. The TY520 handled the waves very well indeed. We had a problem with the Auto Pilot hydraulics and had to hand steer for the whole 36 hours so we would have known if the boat was not performing !
Towards the end of the 36 hours as we closed in on the Malaysia / Thai border the seas swung around about 30 degrees from head on and we were still handling things pretty well. No doubt the boat would be improved with Stabilizers but we always felt safe.
We have power steering and the boat really responds well. I am very happy with the way it manoeuvres. Stats wise we have….Single John Deere 267 Hp and we were cruising at 7+ knots using around 15 litres an hour at 1500 rpm. Very economical. Twin Disc Gearbox and 4 blade prop, Onan 17.5 KVA Gen set, 8000 litres of Fuel giving us arrange of around 3000 miles, Yanmar 40Hp for hydraulics. We have stern and bow thrusters and Lewmar windlass all hydraulic, Raymarine Radar and electronics, 2000 litres fresh water, Coltri Sub Dive compressor,
I have attached some pictures of the Sea Crest Pilot House and Engine room. They did an excellent job. We arrived in Singapore just as they were having their National Day celebrations so we got some good pictures! Very Happy to be back in Singapore and Very Happy with the boat Bruce.
Regards Al Dow
SPECIAL INTRODUCTORY OFFER: BOAT PLANS & CUTTING FILES... Delivered by DOWNLOAD to your computer within 12 hours of you placing your order. The plans have all the information you need to build your own boat.. Each plan contains all the construction drawings for STEEL or ALUMINUM construction, plus bonus drawings covering electrical, plumbing and engineering, everything you need to build your boat.
Plus you will receive a DETAIL FOLIO showing how to make many of your own boat fittings, lists of materials and equipment are all included plus all technical information, numerous construction drawings and written building instructions are all included. You can view & print the drawings in full or in sections. BUILDING PHOTOS are included in the plan package. PLUS you receive a FREE ( VALUE £69.00 ) e-book BUILD YOUR OWN POWER BOAT .. Only available at this price if you order off this page.
---
PLANS & CUTTING FILES STEEL OR ALUMINUM TY 520
£795 -
€995 - $995

To order the PLANS & CUTTING FILES go to SPECIALS PAGE

and click on €995.00 BUY NOW BUTTON

Your plans and CUTTING FILES will be sent to you by

DOWNLOAD to your computer.
BACK TO TRAWLER YACHT STEEL OR ALUMINUM PLANS & CUTTING FILES INDEX