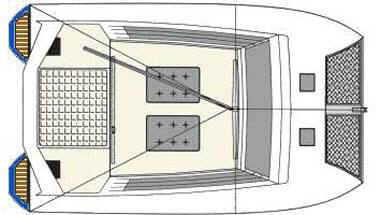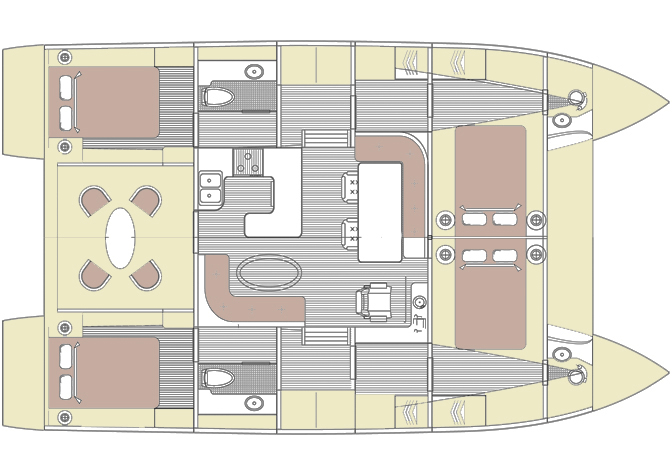 BOTH POWER & SAIL VERSIONS INCLUDED.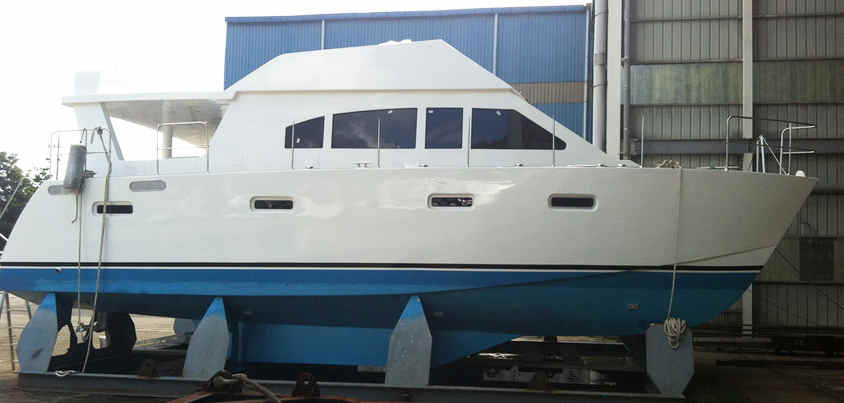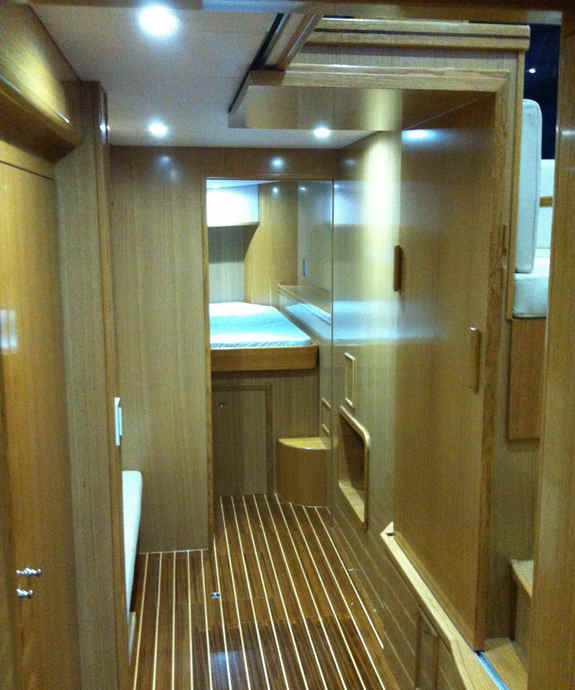 Cat 400 being built in South Korea in aluminum
by GHI YACHTS our Cutting files and plans.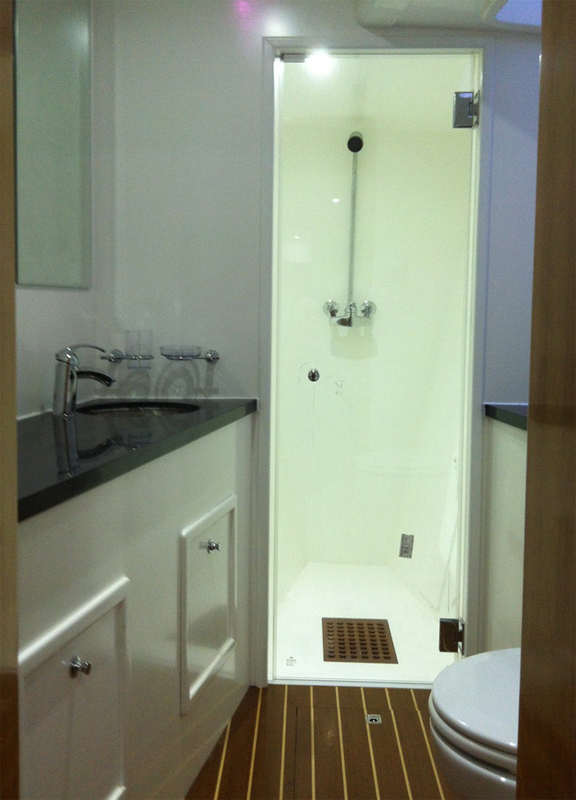 Additional photos are included with the Cat 400
STUDY PLAN package.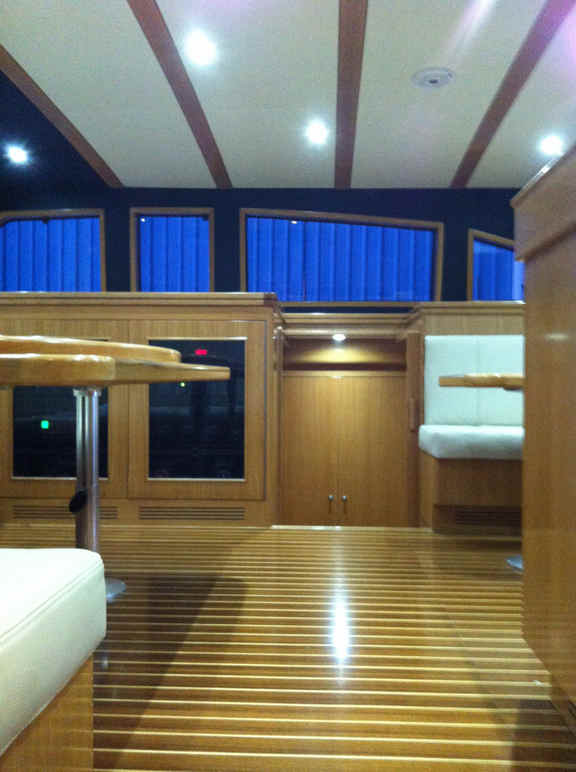 NEW - 39 ft FG HIGH SPEED CAT PASSENGER FERRY - EMAIL BRUCE FOR DETAILS
CATAMARAN 395
/ Cat 400
FIBERGLASS OR ALUMINUM POWER SAILER
Lots of deck area make this an ideal boat for taking out parties who want to enjoy the sunshine.

The accommodation plan may be varied to suit your requirements - this is an easy boat to build and the STUDY boat plans on DOWNLOAD or on USB
- Or the Complete boat plans and frame patterns make the construction easy to understand and execute.
CATAMARAN 395
/ Cat 400

FIBERGLASS OR ALUMINUM POWER SAILER
This boat is a true power CATAMARAN & by adding the sail plan we have created a power sailer which will suit those who want a boat that will perform well under both sail and power. Of course you can build this boat as a pure Power CAT simply omitting the rig.
Aluminum Cat 400 built by GHI Yachts
HOBIN KIM Purchasing Manager
GHI YACHTS CO.,LTD
Address) 35, Daebulsandan 8-ro 1-gil, Samho-eup, Yeongam-gun, Jeollanam-do, South Korea
Phone) +82-61-464-0900
Fax) +82-61-464-0790
C.P.) +82-10-9041-6348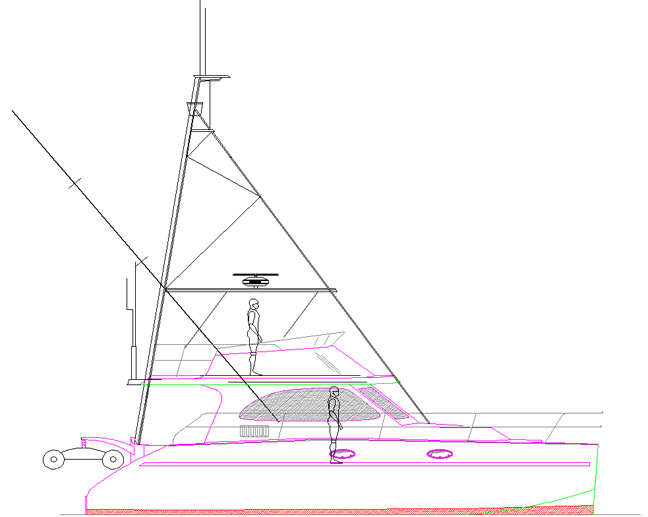 CATAMARAN 395
/ Cat 400
Sport Fisher.
Several of our power cat designs are suitable for use as Sport Fisherman. The Cat 35 (Fiberglass), Cat 39 (fiberglass or aluminum) Cat 46 (Fiberglass) are all suitable for this use.
Email Bruce for additional information.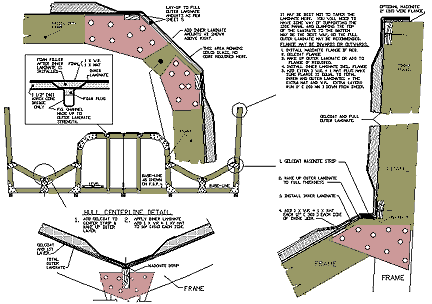 FIBERGLASS METHODS SHOWN ABOVE - TO SEE ALL ALUMINUM & FIBERGLASS METHODS - ORDER THE STUDY boat plans FOR INFORMATION AS TO HOW THIS BOAT CAN BE BUILT BY YOU !
CATAMARAN 395
FIBERGLASS POWER SAILER

SETTING UP FOR PANEL CONSTRUCTION:


See the way that frames are erected to receive the pre-laminated panels. These drawings are from our Power CAT boat plans. The boat plans have considerable detail on setting up the building frames etc.