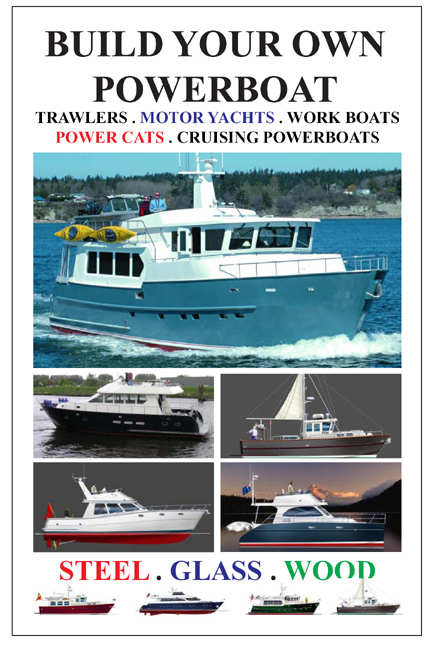 BUILD YOUR OWN CRUISING
POWERBOAT or TRAWLER
by R. Bruce Roberts-Goodson
This 1,400 page e-BOOK covers everything you will want to know about custom building a trawler or other cruising powerboat to suit YOUR requirements. No need to accept "Off the shelf" solutions to your cruising aspirations. Glass, wood & steel building methods are all covered. See below for more details.
What is an e-book ? An e-book is a book on DOWNLOAD or on USB - YOU CHOOSE DOWNLOAD OR USB . . ... MOSTLY ALL COLOR .. Can be much larger than a regular book ... You can print out any special parts you want ... easy to read ... Can be UPDATED ... Costs less to produce, we can give you MORE ... Try one, you will like it !
Chapter 1. GETTING STARTED
My boat or a family boat. Where and how will you use the boat? Where will you keep it? How much boat do you need? Using the boat to generate income. What speed RANGE do you want? What can you afford? How much will it cost? Keeping within your budget. Where to look, new or second-hand or build? Dealing with a broker. Surveys. Taxes. Chartering your boat. Trailerable Trawler Yachts & Cruisers Fishermen types.
Chapter 2. CHOOSING THE HULL TYPE
Semi-displacement or full-displacement hull types. Planing. Planing strakes. Chine or round bilge. Power CATAMARAN. Formulas and technical terms and what they mean. Displacement length ratios. Hull construction materials.
Chapter 3. PASSAGEMAKERS
History. Hull Design. Engineering. Number of engines. Fuel management. Sail assistance. Stabilizing methods and equipment. Special charts and graphs.
Chapter 4. ACCOMMODATION
Accommodation; number of berths. Cabin soles. How many heads? Designing and equipping a galley. Various fuels for your stove (gas, diesel, alcohol, paraffin). Placement of sink and stowage of food and other stores. Showers, hot water and pressure water. Water tankage. Waste tanks. Comfortable seating; measurements and suggestions. Chart table. Sail stowage. Refrigerators and ice boxes. Lighting. Ventilation. Heating. Air conditioning
Chapter 5. OUTSIDE LIVING
Decks. Deck Surfaces. Fly bridges, Cockpits, Outside seating. Deck areas for lounging. Swim platforms. Life rails .Pulpits and bowsprits. Handrails. Deck wash pumps and their many uses. Awnings. Hatch covers. Bimini covers. Windage.
Chapter 6. ENGINES AND ASSOCIATED GEAR
Single or twin. Cruising range. Diesel or petrol (gas). Single or twin. Inboard, Stern gear. Propellers. Stern drive or outboard. Other propulsion arrangements. Engineroom layout. Engine compartments - Accessibility. Engine room insulation. Engine bearers and beds. Engine mountings, Stuffing boxes and bearings. Exhaust Systems. Understanding horsepower. Powering your motor cruiser. Powering displacement hulls. Powering semi-displacement hulls. Powering planing hulls. Hydraulic-v- mechanical steering. autopilots. navigation systems. alarms for all systems. fire control. active stabilizers. passive stabilizing systems. fuel tanks. filtration systems. water tanks. waste tanks. systems for larger vessels-reuse of lubriCATAMARANing oil. spare parts. cruising tool STEEL OR ALUMINUM PLANS & CUTTING FILES.
Chapter 7. MARINE ELECTRICS
Glossary. Electrical Installations. AC and DC systems. Managing you electrical supply - v - usage. Domestic batteries. Engine starting batteries. Battery chargers. Generating sets. Testing.
Chapter 8 OTHER EQUIPMENT
Radar. radios and other communiCATAMARANions. dinghy. inflatable tenders. rigid dinghies. davits. anchors and chain. anchor winch. cleats and bitts. fenders. mooring lines.
Chapter 9. SAFETY EQUIPMENT
Lightening protection, bonding, fire extinguishers, smoke alarms, life jackets and life vests, harnesses and safety lines, man overboard, emergency steering, air bags, through hulls and sea cocks. radar reflectors, life rafts. epirb. safe sun. guns. things to stay away from, drugs, smuggling, pornographic literature, carrying books or videos that may offend other cultures. dress code.
Chapter 10. CHOOSING THE BUILDING SITE
location and size of space required, Building tents, Temporary or permanent buildings, access, power supply arrangements, security and material storage
Chapter 11. BUILDING IN FIBERGLASS - MATERIALS & TOOLS
Fiberglass materials, chopped strand mat, continuous roving, woven roving, resin types, core materials, balsa, foam cores, polyester resins, epoxy resins, carbon fiber, gel coats, respirators and breathing masks, acetone, release agents, barrier & cleansing creams, fiberglass – safety equipment, ear and hearing protection, paint scrapers, disk sanders, mohair, rollers, other sanding devices, fire retardant resin.
Chapter 12. BUILDING IN FIBERGLASS – BUILDING THE HULL
Building a male mold, laying out the patterns, making the frames, setting up the frames, the battens, adding fairing strips, finishing the mold, open form versus solid form molds, fiberglass - installing the core, non-cored areas of the hull, single skin over a male mold, laminating with a team, finishing the hull, finishing techniques
Chapter 13. BUILDING IN FIBERGLASS – DECKS, TANKS & APPENDANGES
Stern tubes, marking out the bulkheads, hardboard in-place, deck mold, applying the deck laminate, installing the deck core, teak-decks, bonding the bulkheads, sandwich decks and cabin, master deck mold, female molded and panel decks and superstructures, bonding the deck, bulwark stiffeners, hull deck joins, production molds, vacuum bagging, camber patterns, suggested joinery dimensions, interior joinery
Chapter 14. BUILDING IN TIMBER
cold molding, strip planking – wood epoxy, building the frames, assembling the basic hull structure, installing the planking round bilge hulls, trimming the panels, planking the hull, choice of adhesive, selecting the fastenings, fairing and finishing the hull, turning the hull, solid floors – web floors, traditional and not so traditional planking, ballast keels on wooden boats, interior framing, deck beams, plywood decking sheathing plywood decks and superstructure
Chapter 20. CUSTOM BUILDING IN STEEL OR ALUMINUM - PRE-CUT STEEL OR ALUMINUM PLANS & CUTTING FILES
Creating the design, making the calculations and preparing the cutting files. CNC Cutting, assembling the hull deck and superstructure. Several Roberts designed powerboats will be used to illustrate all of the steps in designing and building from a pre-cut steel or aluminium hull deck and superstructure package.
APPENDICES - ADDITIONAL INFORMATION OF INTEREST.