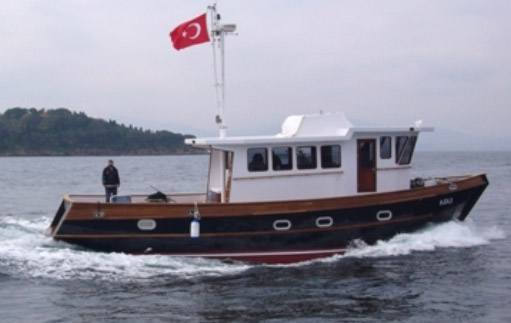 SPRAY 475 TRAWLER ... Built in Turkey... Latest email July 2008
Attached are the latest of KARA1. I'm not sure whether they qualify for your e-book but they sure will qualify for the purpose she was built for. Thank you again on behalf of my friends. They appreciate every minute of their time spent on KARA1. They keep telling me '' THE BEST BOAT ON EARTH IS THE BOAT OF A FRIEND '' Best Regards Erhan KUM
SPRAY 475

Passage-making Trawler ( Modified version )
The way the kit this boat is designed it is possible to loCATAMARANe the superstructure in several different locations - As you Erhan wanted a large aft deck area so he moved the pilot house and deck salon forward towards the bow.
LETTER FROM SPRAY TY 475 BUILDER THIS ONE IN TURKEY
Hi Bruce Yesterday we baptised KARA and set her free. Attached are just a few pics and the DOWNLOAD or on USB
- YOU CHOOSE DOWNLOAD OR USB
. . .
will follow. I just can not express the joy and happiness. Thank you. Which address should I send the DOWNLOAD or on USB
- YOU CHOOSE DOWNLOAD OR USB
. . .
. Erhan KUM
Hi BRUCE,
I am really sorry I could not inform you about the maiden voyage we made with KARA. On the 18th of May at 08:00 we took off from istanbul-Burgazada and headed to Sarkoy which is right accross tha Marmara and about 92 Nm.
We sailed with 2000 Rpm and averaged 9 Nm/hour. Second day as we went through the Dardanels and to the open sea ( Agean ) the weather and the seas got rough but who cares. She dances over the the first wave like a ballerina and having the 420 hps behind dives straight into the coming wave.
We have not dropped or broken any glassware all thorough the trip. The third and the fourth days were calm and we tested her on various aspects. The whole trip was 300 Nms and we clicked 37 engine ours and 800 litres of fuel. I think when everything gets into gear we will be able to sail her on 16 to 18 litres per hour with an 8 Nm. speed.
By the way under 2300 Rpms she registered 14.5 Nms ( About 11 knots which is the expected hull speed ) Right now we are still working on her and as she will be ready for sailing I will send you some interior pics as well. Attached are just some more pics of her and son.
Regards KUM