Written for those who are interested in building in Steel & Aluminum. The benefits and disadvantages of the different metals are explained in detail. Discusses the right tools and equipment and welding techniques and how they apply to various metals. The differences between the various hull shapes is explained in detail plus selecting the correct engine(s) and equipment. Other subjects include electrolytic protection, building skegs. keels and pilot houses, in fact everything you need to know about metal boats is covered between the pages of this book.


NEW chapters on building from a KIT ... many kit assembly photos etc etc. Special offer available for those that already have purchased the previous Metal Boats book ... contact Bruce for details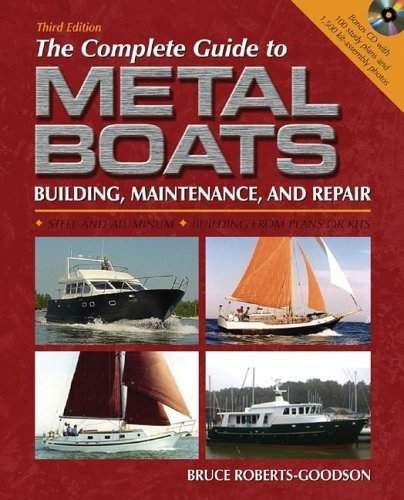 £47.50 - us$79.95 - €58
ORDER CODE
METAL-BOATS-BOOK
Order this book & Email Bruce to claim a
FREE STUDY PLAN OF YOUR CHOICE
REVIEWS:
Comments from Brian Fox who is building a Centennial Spray 38.
You are to be congratulated for the content of your book Metal Boats, it provides an excellent reference book which covers many areas of interest to the amateur builder which other marine writers with their "how and what to do books" have neglected, I am very satisfied with my purchase of it. I have also enjoyed tremendously your book about Joshua Slocum's "Spray"; again, there is plenty of useful information for "Spray" owners and builders to think about....BRIAN FOX

Hi Bruce,
Greetings from Reno Nevada. I just received your CATAMARANalog today, thank you for your promptness.
I read and thoroughly enjoyed your book "Metal Boats" and like the idea of steel construction. My wife and I are contemplating having a boat built. Initially it would be used in Lake Tahoe as a weekend hideout but ultimately for coastal travel and passagemaking. Yours Carl Staub.

HI BRUCE,
JUST FINISHED YOUR "COMPLETE GUIDE TO METAL BOATS" I COULDN'T PUT IT DOWN. WE HAVE A FAMILY RUN METAL FAB. WORK SHOP IN DONEGAL AND DO A LOT OF PLATE ROLLING AND FORMING ETC. WE ALWAYS KEEP A BOAT OF SOME SORT FOR PLEASURE. I AM VERY VERY INTERESTED IN BUILDING ONE OF YOUR SAIL BOATS APPROX 10M.
ALL THE BEST NOEL

Hallo.
Ive received your book Metalboats and studyplanes of Spray 28 and Tom Tumb 26. That book is a goldmine for metal boatbuilders.Well I dicide for the Tom Tumb. Thanks fore one of the best and eduCATAMARANing internet sites on the web. Best regards from north of Sweden ....Lennart Broman

Bruce, Your book "Metal Boats" is packed to the brim with very useable information. I would recommend it to anyone building a boat in ANY material.Thanks for your time ..Scott A.Ochocki

AUTOR'S REVIEW
As The "Complete Guide to METAL BOATS" is about to be re-printed I thought this a good time to write an 'Author's review'. Over the past few months I have received hundreds of emails from customers expressing favourable comment on my book. When an author writes a book much of the content is usually 'researched' material ... In this case most of what you read in MB came out of my personal knowledge and experiance in designing and building metal boats. I personally find MB a great reference for the the researched material and the many pieces of information that occasionally 'slips ones mind' If you are planning to build or own a metal boat I can recommend this book without reservation. MB will NOT teach you how to weld but it WILL teach a welder how to build and maintain a metal boat. Regards, Bruce Roberts-Goodson
CONTENTS:
. Why Metal
. Getting Started
. The materials
. Hull shapes and Choosing design
. Tools and Safety Equipment
. Welding Equipment and welding
. Starting Construction - all materials
. Plating the hull
. Decks and superstructure
. Painting a metal boat
. Engineering for metal boats
. Corrosion prevention
. Metal boat interiors
. Electrical systems for metal boats
. Appendages, fittings and alterations
. Copper-Nickel
. Sail designs for metal
. Powerboat designs for metal
. BIG chapter on building from a KIT
Appendices: 1, 2, 3,
Very thorough. Covers all the angles.
After acquiring a pretty vast library of boat building literature- this is still the most used to reference back to. It is definitely tailored to their processes but these too should be used as models of how the boat plans should be done also. Cheers
An excellent update to an already great book!
I waited with interest for the new edition as was advertised on www.bruceroberts.com website, and talked with the folks at Bruce Roberts who explained that the whole book was being updated. They were quite helpful, and quite correct.
The book explains the "mysteries" and answers most questions regarding building a metal boat whether building from scratch and boat plans or from a computer cut kit. It explains the differences in the various materials with no great bias and plainly spells out the pluses & minuses of each. Welding techniques and materials are outlined as are methods for fitting out and installing systems.
Mr. Roberts-Goodson's writing style is down-to-earth, explaining items in plain English which makes it very easy to understand. I would heartily recommend this book to anyone considering building or buying a metal boat. Additionally metal boats owners would enjoy this book and would use it as a resource for repair and maintenance.