Bruce Roberts-Goodson
EMAIL

Illustrated Custom Boatbuilding. We recommend that you read this hardcover book - Order now and we will pay the postage.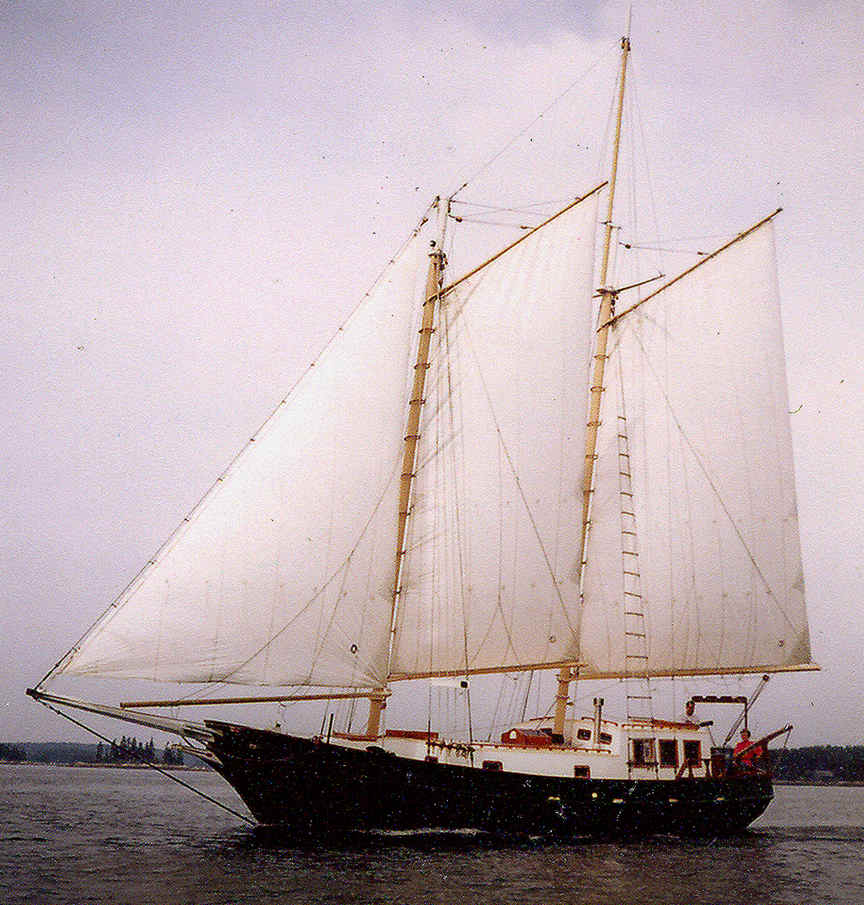 SPRAY 40 Gaff Schooner built by Kenneth Latham in the USA
boat plans include Gaff rig . Bermudian rig . Junk rig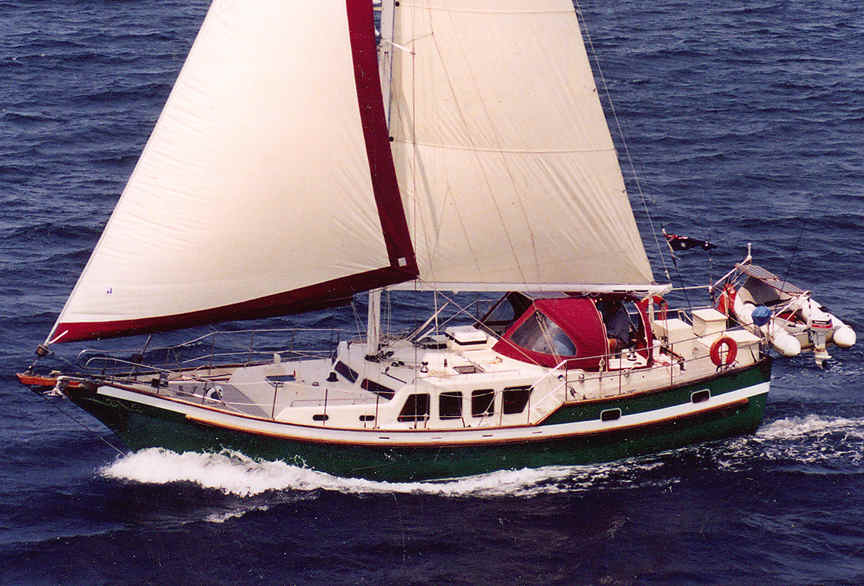 Spray 40 'Florissant' sailing off Australian coast.
NEW ! SUPER STUDY BOAT PLANS ... Delivered by DOWNLOAD to your computer. The study plans have lists of materials & equipment etc & these will be useful in costing out the complete boat.
Each STUDY PLAN contains ALL the construction drawings for each material - STEEL, ALUMINUM, FIBERGLASS & WOOD EPOXY as applicable to the particular boat plan - with up to 25 sheets per plan! Lists of materials - Technical information - Numerous construction drawings are all included.
You can view & print the drawings in full or in sections. BUILDING PHOTOS are included in the study plan package. PLUS you receive a FREE ( VALUE £69.00 ) e-book BUILD YOUR OWN BOAT. When you use your credit or debit card you will be charged at the correct exchange rate in your own currency.

---
STUDY PLANS PACKAGE
SPRAY 40 - ALL VERSIONS
FIBERGLASS
£69.00 - $85.
00 - €79.

00

To order STUDY PLANS go to SPECIALS PAGE and
click on €79.oo BUY NOW BUTTON
Steel or Fiberglass - Boat plans & Frame patterns
OR
Steel or Aluminum - Plans & CUTTING FILES
There are over 4,000 Bruce Roberts' Spray's already sailing worldwide plus another 1000 currently being built. We have been willing to listen to every combination of idea's about this wonderful boat and several layouts have been drawn.
Many of these features are interchangeable between the various versions. You can choose to build this design in multi chine steel or aluminum. Many of these Sprays have completed complete circumnavigations some more than once & usually with crews consisting only of two persons !
| | | |
| --- | --- | --- |
| L.O.D. | 12.19 m | 40' 0" |
| L.W.L. | 9.73 m | 31' 11" |
| BEAM | 4.37 m | 14' 4" |
| DRAFT | 1.27 m | 4' 2" |
| DISPLACEMENT. | 16,257 kg | 35,840 lb |
| BALLAST | 6,804 kg | 20,000 lb |
| AUX POWER | | 50 to 70 hp |
Spray 40 A
Steel or Fiberglass Bmu. Ketch shown. Gaff Cutter & Junk rig etc.

Hi Bruce, we just sold (a bitter-sweet moment) our Bruce Roberts designed Spray 40 in a slightly modified Spray 42' (LOD) that was built by a South-African German naval engineer O.L. Silvester in the mid 70s and launched in 1984 (see picture attached).

Heritage was built using the C-Flex method, and I must say, even in tough weather, we never so much as experienced a shudder from her.

W

e absolutely love the design, especially the hull shape, and very stable sailing properties, but sold her mainly because we are looking to up-size to accommodate a family of 4.

We really like the Spray 40 design and looks, and are wondering if it is possible to duplicate our former Spray 42, which was based on your boat plans, into an appropriately proportioned Spray 50 or 52 (LOD) while still retaining the same forward hull shape (see picture), without diminishing her overall characteristics. Michael Klautky

The deck layout for the Spray 400 A; a small 'dog house'over the companionway is an option. Suggested accommodation layout that with small modifications will suit either the A or C versions.

The study boat plans and the boat plans that come with the STEEL OR ALUMINUM PLANS & CUTTING FILES or cutting files have other optional layouts.

SPRAY 40 SURVIVES HURRICANE - 2018

Just letting you know the Spray 40 I purchased last year survived the hurricane here in Panama City Florida. My mast are down but no other real damage. It's a good boat. Regards Tom

Spray 40 A
Steel or Fiberglass

Charlie Jupp built the first fiberglass Spray 40 from a hull molded at the Bruce Roberts Marine Park in Brisbane Australia.

Charlie sailed from Brisbane, Australia &soon after we received the first of several letters: Charlie sailed his Spray to England and and back to Australia mostly single handed as he preferred it that way !

'I left Brisbane for Mauritius, a voyage of 4500 miles and about

2000 miles off the Australian coast I had trouble with my appendix. I lay in my bunk for five days with all sail up, with a rising wind;

Spray

steered herself.

---

Hi Bruce, I sailed on the first 'Spray' you designed built by Charlie Jupp across the Pacific years ago.

A cyclone done its best to pull the boat apart and loosing the rudder back-sliding down waves didn't help. Still, Spray did get us to land safely for which I hold the boat in high esteem.

I have since owned several boats myself and sailed many oceans but never experienced anything such as what Charlie and I went through on that one particular leg.

Kind Regards Rick Ganly

SPRAY 40

- "SALTY SPRAY"

Howie Franklin writes:

'On 14 August, we were out sailing on Lake Simcoe, which is just north of Toronto. It was a warm and pleasant day, but I was concerned about the possibility of thunderstorms.

About 1630 and on our way home, the sky darkened and it was obvious we were going to be hit by a storm.

Since there was little wind, I had decided to sail on jib-staysail and mizzen. The main was down and stowed. Soon the rain became heavy, and visibility was down to 50ft [15.25m]

Things were still OK,

until all of a sudden the wind velocity increased from 10 knots to about 80 knots in less than 15 seconds,

and

Salty Spray

was knocked down.

The storm was part thunderstorm, part tornado, and we didn't have the time to release sheets. It all happened so quickly

I am telling you this story because I want you and your customers to know of the incredible integrity of the Spray.

In our knockdown, I think the masthead touched the sea, and yet she rolled back up with no damage done, except to the captain's pride.

Spray 40 C Steel or Fiberglass

"Castlegate Spray"
This steel Spray 40 was built as a training vessel for disabled youngsters and forms part of the exhibit at Castlegate Quay at Stockton on Tees UK

NOTE:

We now have an excellent set of construction photos plus many photos of completed Sprays that are available with the STUDY PLAN PACKAGES.

Spray 40 C
Steel or Fiberglass

The junk schooner rig is ideally suited to the Spray 400 - the boat plans that come with the STEEL OR ALUMINUM PLANS & CUTTING FILES or cutting files show several alternate rigs including Cutter, Ketch, Junk rig etc.

Hi Bruce, Thanks for the quick reply. I enclose pictures of my Spray and some editorial that the local paper ran after I brought her back from Copenhagen earlier this year.

She is out of the water at the moment as there are a number of modifications that I want to make. We are due to re launch in April of this year.

I have found her to be very comfortable on the trips that I have made so far with my limited knowledge of sailing as all of my previous boats have been Motorboats.

I find her to be ideally suited for two to live aboard and she gives the impression of immense strength, and well able to look after the crew as I found out in the North Sea! Kind regards Mick Taylor.

'Florissant'
This Spray 40 was built in Australia & has been used in the charter trade.

---

Hi Andrew & Bruce,
As we spoke about on the phone. I bought plans for the 40 ft multi chine spray in 1979 and built her in steel in our back garden in Mandurah W A . We launched her (Yaminga) in Fremantle in 1985 and sailed her around Australia and the Pacific until we sold her in Townsville in 2015.
Malcolm Bocock

'Peggotty'
This Spray 40 cruised extensively including a long trip to Antarctica.

Mirouanga
This boat was built in Germany & currently cruising around the world

'ID'
This Spray 40 was built in Australia and cruised world-wide.

SPRAY 40

Beam: 14'

Draught: 4'3" ( Bilge Keels fitted )

All Steel:

Displacement 19.6 Tons.

Mast: 32' Timber ( Mounted in deck tabanacle

Equipment carried to lower and raise as required)

Boom and Gaff.

Sails: Jib, Staysail, and Main all Jim Laurance Essex UK . VGC. Various others.

8' Fiberglass Dingy Hand windlass +3 Deck Winches.

Engine: 84 HP Ford Waterscout. Approx 1000 Hrs.

Borg Warner 3/1 Gbox

3 Blade Prop+Spurs Rope and weed Cutter.

Fuel SS Tank 300 Gall , OB Fixed Diesel Gen set 4.5 KVA. Air Cooled.

240 v Air Comp, 240 V Hoover 240 Washer High Pressure 240 V de Humidifier.

12 v Washing Machine 12 v /240 Inverters 600w & 35 W 12 v TV /Radio/VCR/CD.

12v Fridge.

Navigation Equipment. Full Lights etc 12v and Oil. Radar, Auto Pilots by 2. Depth Sounder

Navtex VHF GPS By 2. Chart table etc Sextant LPG Equipment.

Water heating via Instant boiler. Cooking. Heating.

Squirral Solid Fuel stove. Maintenance, Dedicated walk in work shop[. Host of spares& Tools.

Safety Equipment,

Life Rafts by 2 , (Out of date service certs) Flares. Life rings etc .
SPECIAL INTRODUCTORY OFFER: COMPLETE BOAT PLANS & FULL SIZE FRAME PATTERNS ... Delivered by DOWNLOAD to your computer within 12 hours of you placing your order. The plans have all the information you need to build your own boat..
Each plan contains all the construction drawings for FIBERGLASS, STEEL or ALUMINUM construction, plus bonus drawings covering electrical, plumbing and engineering, everything you need to build your boat.
Plus you will receive a DETAIL FOLIO showing how to make many of your own boat fittings, lists of materials and equipment are all included plus all technical information, numerous construction drawings and written building instructions are all included.
You can view & print the drawings in full or in sections. BUILDING PHOTOS are included in the plan package. PLUS you receive a FREE ( VALUE £69.00 ) e-book BUILD YOUR OWN SAILBOAT .. Only available at this price if you order off this page.
---
---
PLANS

& CUTTING FILES

SPRAY 400




£595.00 - €695.00 - $795.00
To order the PLANS & CUTTING FILES go to SPECIALS PAGE

and click on €695.00 BUY NOW BUTTON

Your plans and CUTTING FILES will be sent to you by

DOWNLOAD to your computer.