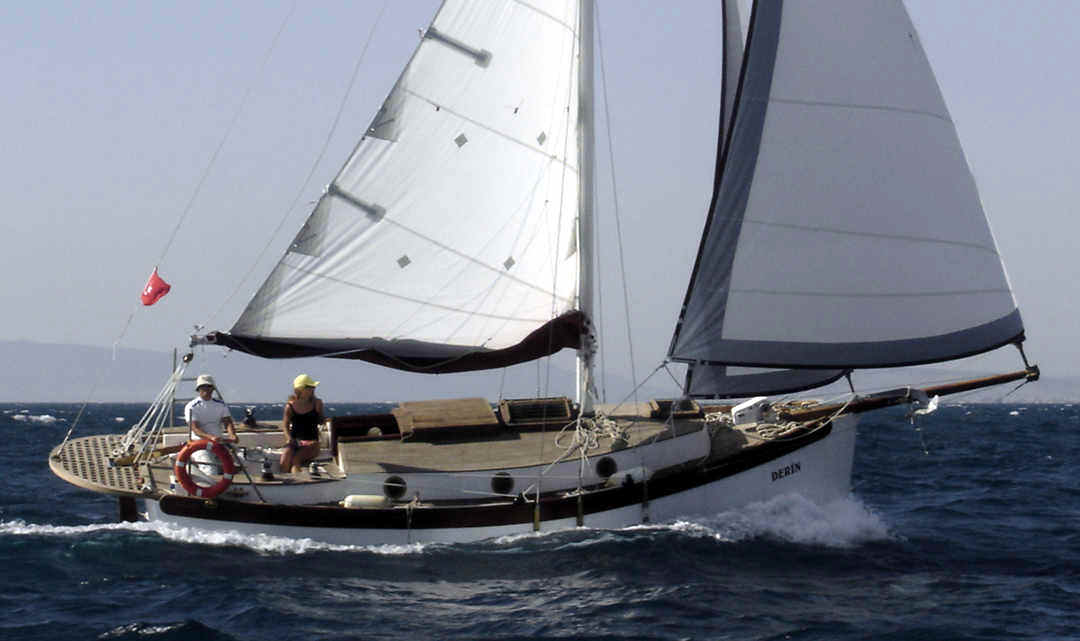 TOM THUMB 26
Dear Bruce, I built a tom thumb 26 as you can see the photo attached. I would like to thank you for this perfect design. I add a boomkin and a long bow also cutter rig. And I add additional 250 kg in keel because of larger sail area. Round shape and teak deck and mahogany works for traditional boat appearance.
She is cruising perfect and she can reach 6 - 7 knot easily in between 3-7 beufort with sails. I also change the accommodation according to my requirements with mahogany work. I cruised over 1000 miles in this summer with her & I am totally satisfied & I am proud of her. I strongly recommend this perfect design for all the sailors that want to built their boat by themselves. Thanks and best Regards, Hakan GOKMEN
NEW ! SUPER STUDY BOAT PLANS ... Delivered by DOWNLOAD to your computer within 12 hours of you placing your order.
The study plans have lists of materials & equipment etc & these will be useful in costing out the complete boat.
Each STUDY PLAN contains ALL the construction drawings for each material - STEEL, ALUMINUM, FIBERGLASS & WOOD EPOXY as applicable to the particular boat plan - with up to 25 sheets per plan!
Lists of materials - Technical information - Numerous construction drawings are all included. You can view & print the drawings in full or in sections. BUILDING PHOTOS are included in the study plan package. PLUS you receive a FREE ( VALUE £69.00 ) e-book BUILD YOUR OWN BOAT.
---
STUDY PLANS TT24-T26-28-305-330

STEEL, ALUMINUM
€79.00 - £69.00 - us$95.00 - A$130 - A$129

To order STUDY PLANS go to SPECIALS PAGE
and click on €79.00 BUY NOW BUTTON

SPECIAL OFFER - ANY THREE STUDY PLANS FOR

£99.85 - us$134.95 - €109.00 - A$189
CLICK HERE TO LEARN MORE
STEP BY STEP ASSEMBLY PHOTOS INCLUDED WITH ALL STUDY PLANS
Roberts TOM THUMB 26 or 28 or 305 or 330
Study boat plans cover all four versions.
This is one of my favourite designs. Long waterline length, enough displacement so that it won't be thrown around by waves and swell, shoal draft, strong and very economical to build. No wonder it is so popular. It can be built utilising frameless steel construction techniques, the object being to provide the undoubted strength of steel while allowing the construction to be kept relatively light. The boat plans for the Tom Thumb are only available for multi-chine steel or aluminium construction.
With a beam of 3.20 meters and headroom of 1.9 meters the interior is very large for a vessel this size. Her hull speed is a fraction over 6 knots. This vessel will take you anywhere you are capable of taking her. The large scale boat plans include full size frame patterns and you will find this boat an ideal first steel boatbuilding project.
ALL TOM THUMB VERSIONS SHOWN IN ONE STUDY PLAN PACKAGE.
TOM THUMB 24

TOM THUMB 26

TOM THUMB 28
TOM THUMB 305
TOM THUMB 330
L.O.A
7.32 m
23' 10"

7.92 m
25' 11"

8.53 m
28' 0"
9.25 m
30' 4"
10.13 m
33'-8"
L.W.L.
6.71 m
22' 0"

7.24 m
23' 9"

7.47 m
24' 6"
8.53 m
28' 0"
9.60 m
31'-6"
BEAM
2.92m
9' 6"

3.20 m
10' 4"

3.05 m
10'-0"
3.35 m
11'-0"
3.73 m
12'-3"
DRAFT
1.22 m
4' 0"

1.22 m
4' 0"

1.37 m
4' 6"
1.37 m
4' 6"
1.51 m
4' 10"
DISPLACEMENT

3,590 kg
7,900 lb

4,082 kg
9,000 lb

5,103 kg
11,250 lb
6,010kg
13,350 lb
6,690kg
14,750 lb
BALLAST

1,200 kg
2,645 lb

1,360 kg
3,000 lb

1,700 kg
3,550 lb
1,800 kg
3,968 lb
2,000 kg
4,409 lb
TOM THUMB 24

Tony Fountain, ( former owner of Spray 33 and founder of Australian Spray Society ) recently purchased a Roberts Tom Thumb steel cutter called "Striking Viking"

Now re-named "Seerauber" Tony writes about his Tom Thumb She is fantastic sea boat- we certainly tried her out she handled like a dream and at one stage we were thumping along at 8.5 knots under reefed main and headsail. 5 knots came up easily and consistently-not bad for a little ship eh?

TOM THUMB 24
Some history about Tony's Tom Thumb 24

She was built in Lakes Entrance (Victoria) in 1996 and the gentleman I purchased her from, Mr Don Modra, sailed her back from there to Adelaide with his son. He was telling me that on the passage home, they had up to 25' waves (the coastline from Geelong to Warrnambool is not called "the wreck coast for nothing!) and she took them all in her stride.

As I said earlier, a great little sea boat and correspondence I have had recently with Tom Thumb owners in Europe and America bear this out time and time again.

On the 6th May 2005, she had her sails run up in Sydney waters for the first time and she is now moored contentedly in Burraneer Bay, in the beautiful Port Hacking region of southern Sydney.

Tony is now setting off on some offshore voyaging in his Tom Thumb and we will keep you posted on his travels.

TOM THUMB 26

Here we see the interior of the Tom Thumb 26 built by Hakan GOKMEN

TOM THUMB 26

Several other sail & accommodation boat plans included with study boat plans and boat plans and patterns.

TOM THUMB 26

Tom Thumb 24 & 26 interior layout.

Tom Thumb 28 interior layout.

Tom Thumb 305 interior layout.

Tom Thumb 330 interior layout.

Hi Bruce,

Attached is a picture of "Margarita" crewed by my nephews, headed south again ...This shot is on Indian River in Cocoa Fla...They are headed for Bahamas and Turks...I launched this boat in 1990 and she looks like a newborn 20 yrs. later...and even better...Someday I might get her back but in the meantime she is turning heads....Please use the pictures and script as you wish...Regards. John Larkum

Here is a picture of my Tom Thumb.
She is a delightful boat! Thanks again, John Larkum

Hi Bruce,
I just wanted to write a quick note regarding my Margarita, a Tom Thumb design built by my uncle; John Larkum. I sailed her for over 5000 miles last year including Mexico, the Bay Islands of Honduras, the Rio Dulce in Guatemala (where the attached picture was taken), as well as Belize and the east coast of the states from virginia to the Florida Keys. What a trip!!

I was gone for a little over 8 months. I am currently in the eastern Caribbean on another boat, but have definite boat plans to get back to Virginia, where Margarita is hauled out awaiting my attention.

You have two pictures of her already on your website, so I thought maybe we could add one more. Cheers from St. Barths. Richard Larkum


Another Tom Thumb hull almost ready for launching.

Tom Thumb 26 September 2009

Hi Bruce, I am the proud owner of a Tom Thumb built by Mike Hornsey in the UK. It's a fantastic little boat and has already got me safely and without fuss through some serious weather and all the mistakes a learner can make.

I am now ready to move to something bigger and I think the Voyager Ds 440 in steel is the one for me. Is the anywhere I can get some idea of cost without labour to complete the build. I realise it's a pretty dumb question and will depend on the quality of the fit out and standard of equipment but any help you can give with this would be greatly appreciated. Regards, Barry Murphy


Tom Thumb "ARION"

Tom Thumb "Sisu" sailing on Lake Champlain

Australian built Tom Thumb "ARION"

Dear Bruce, A friend took the photo in October 1996 sailing in Queensland waters just south of Gladstone. The hull and deck were professionally built there for a friend who could not finish it so I bought it and fitted it out myself with the very best of everything. It is a fantastic little sea-boat.

I sail alone most of the time and never steer. The fully battened main and other sails from a top racing loft helps performance too.

However, I like alternative rigs - I have a friend with a junk rigged Tom Thumb, \"Minke\", and have sailed in company for hundreds of miles, comparing the rigs.

I walk away from \"Minke\" in light head-winds and smooth seas. In boisterous open sea conditions to windward I always fall off onto a very close reach (45 degrees apparent) and then there is very little in it.

Downwind we are evenly matched. I can creep away at times because I have no inboard engine and do not drag a propeller, but if we have to throw in a gybe or two to clear a reef etc, "Minke" gets ahead while I am running around changing headsail poles from one side to the other and resetting guys etc.

If you want to direct Australian clients to have a look at "Arion" you would be welcome, I keep the boat at the Breakwater Marina, Townsville, and won't be off cruising again for a couple of years or so. Graham Cox Townsville QLD 4810 Australia, Cheers Graham Cox
SPECIAL INTRODUCTORY OFFER: COMPLETE BOAT PLANS & FULL SIZE FRAME PATTERNS ... Delivered by DOWNLOAD to your computer within 12 hours of you placing your order.
The plans have all the information you need to build your own boat..
Each plan contains all the construction drawings for either STEEL or ALUMINUM construction, plus bonus drawings covering electrical, plumbing and engineering, everything you need to build your boat.
Plus you will receive a DETAIL FOLIO showing how to make many of your own boat fittings, lists of materials and equipment are all included plus all technical information, numerous construction drawings and written building instructions are all included. You can view & print the drawings in full or in sections.
BUILDING PHOTOS are included in the plan package. PLUS you receive a FREE ( VALUE £69.00 ) e-book BUILD YOUR OWN SAILBOAT .. Only available at this price if you order off this page .... ( Email BRUCE which Tom Thumb plan you want to order )

---
PLANS & PATTERNS TT26 or TT28 or TT305 or TT330..

£695 - us$895 - €795 - A$895



TO ORDER PLANS & PATTERNS EMAILBRUCE FOR



TODAY'S SPECIAL OFFER & PAYMENT INFORMATION