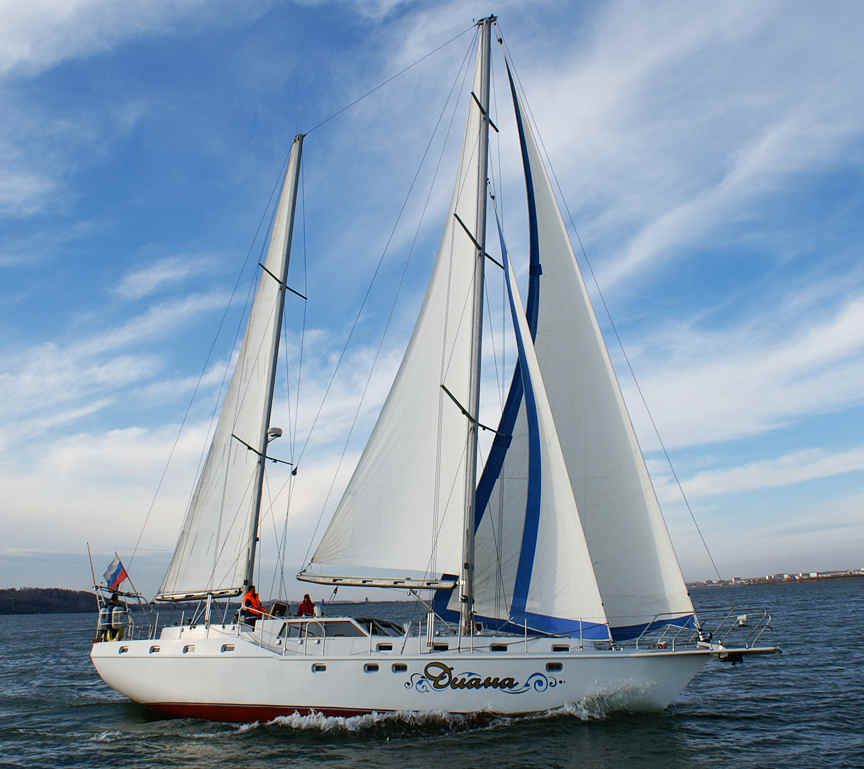 ROBERTS 58
Duana - Creaming along under full sail !
NOVEMBER 2013 Good day, Bruce., Thank you for your attention, care and interest. Now we finished our boatbuilding project and received all legal documents in state structures. The yacht is beauty. We called her "Duana". Regulary, we take part in yacht competitions, and win in most of them.

Also the yacht accomplish cruises along famous place of Baikal. Our guests take possibility to know how is wonderful Baikal and yachting and also receive unforgettable emotions, during swimming etc. With kind regards Anna Belozerova
February 2014 - Good afternoon, Bruce. How are you? It is fulfilled the 10th anniversary of our yacht project in this year. A project, which started from an idea and ended with the construction of the remarkable yacht called "Diana". Today she is a jewel of Baikal and Irkutsk yacht club. The yacht takes an active part in competitions held as Baikal, both the Irkutsk. We plan to celebrate a tenth birthday of our yacht in the beginning of June 2014. With kind regards to you and your family Anna Belozerova Irkutsk
| | |
| --- | --- |
| | |
| | |
NEW ! SUPER STUDY BOAT PLANS Delivered by DOWNLOAD to your computer within 12 hours of you placing your order. The study plans have lists of materials & equipment etc & these will be useful in costing out the complete boat.
Each STUDY PLAN contains ALL the construction drawings for each material STEEL or FIBERGLASS as applicable to the particular boat plan - with up to 25 sheets per plan! Lists of materials - Technical information - Numerous construction drawings are all included.
You can view & print the drawings in full or in sections. BUILDING PHOTOS are included in the study plan package. PLUS you receive a FREE (value 79.95) e-book BUILD YOUR OWN BOAT. When you use your credit or debit card you will be charged at the correct exchange rate in your own currency.

---
STUDY PLANS PACKAGE R58 ALL VERSIONS.
STEEL, ALUMINUM, FIBERGLASS

£69.00 - us$99.00 - €79.00

To order STUDY PLANS go to SPECIALS PAGE and click on £69.00 PAY NOW BUTTON

---
SPECIAL OFFER - ANY THREE STUDY PLANS FOR
£99.85, us$128.95, €114.95
STEP BY STEP ASSEMBLY PHOTOS INCLUDED WITH ALL STUDY PLANS
SPECIAL INTRODUCTORY OFFER: COMPLETE BOAT PLANS & FULL SIZE FRAME PATTERNS ... Delivered by DOWNLOAD to your computer within 12 hours of you placing your order. The plans have all the information you need to build your own boat.
Each plan contains all the construction drawings for FIBERGLASS, ALUMINUM OR STEEL construction, plus bonus drawings covering electrical, plumbing and engineering, everything you need to build your boat.
Plus you will receive a DETAIL FOLIO showing how to make many of your own boat fittings, lists of materials and equipment are all included plus all technical information, numerous construction drawings and written building instructions are all included. You can view & print the drawings in full or in sections.
BUILDING PHOTOS are included in the plan package. PLUS you receive a FREE (value 79.95) e-book BUILD YOUR OWN SAILBOAT Only available at this price if you order off this page

---

COMPLETE PLANS & PATTERNS ROBERTS 58


£995 - us$1,275 - €1,125

To order COMPLETE PLANS go to SPECIALS PAGE & click on £

995 PAY NOW BUTTON
ROBERTS 58 - Radius Chine Steel or Aluminum or Fiberglass
NEW TOTALLY REVISED boat plans !

Several Roberts 58's have already been completed and have made extensive voyages including many crossings of Atlantic and Pacific oceans. The standard version of this design has a draft of 7'0" but this could be reduced by using a modified shoal keel. Custom keels and sail boat plans are available, as are custom interior layouts. The standard sail plan is a ketch rig and the layout as drawn has a spacious aft cabin.
You can build the Roberts 58 in either Round Bilge Fibreglass or Radius Chine Steel or Aluminium. The complete boat plans and Full Size Patterns include many sheets of large-scale drawings, plus full-size patterns for the hull, deck and cabin top beams, etc.
| | | |
| --- | --- | --- |
| L.O.A. | 17.83 m | 58' 6" |
| L.W.L. | 14.71 m | 48' 4" |
| BEAM | 5.02 m | 16' 6" |
| DRAFT | 1.68 to 2.1 m | 5' 6" to 7' 0" |
| DISPLACEMENT | 27,216 kg | 60,000 lb |
| BALLAST | 9,072 kg | 20,000 lb |



ROBERTS 58

The boat plans & Full Size frame patterns include a choice of sail boat plans including cutter headed ketch (shown) and cutter. This boat can will also accept a variety of other rigs.

ROBERTS 58

The accommodation plan can be varied to suit your requirements - other version are shown in the Study boat plans on DOWNLOAD or on USB
- YOU CHOOSE DOWNLOAD OR USB
. . .
package.

ROBERTS 58

ROBERTS 58 Amor Fati is a proven cruiser that has both been there and come back again. Designed by Bruce Roberts, she is outfitted for the serious cruiser. Once again, she is on the high seas on her way from Rome to San Diego. She left in late October 2005, will depart the Canaries in late November to cross the Atlantic and arrive in Barbados before Christmas. Her sail plan then calls for stops in Martinique, St. Lucia, St. Vincent and Grenada before the New Year.

In January, she will see Curacao, Bonair, Aruba, Cartagena, San Blas, Puerto Bello, and Colon Panama. She is expected to transit the Panama Canal in the third week of January and then head for the West Coast and San Diego.

ROBERTS 58
Another fine example of the Roberts 58 design

Hello Bruce,
We are currently the owners of a Roberts 58 steel ketch, very happy with it, and are considering building a large CATAMARANamaran, such as yours. Cheers Richard Taylor

ROBERTS 58
ROBERTS 58
ROBERTS 58
ROBERTS 58
ROBERTS 58 Radius Chine Steel

Built in Russia by André who writes "We bought the project in 1993. We built yacht with little changes and called it Faith (VERA). Vera sails on Lake Baykal in Siberia. Now we are building second boat also a Roberts 58 this Yacht - IS GOOD. Regards André

UPDATE:

Dear Mr. Roberts, First of all let me express my deep respect towards you & your work. I am ordering the boat plans - for the CATAMARAN 60 A. If You remember there is a photo of my R58 built according to Your boat plans still on Your site ( See at left ). Sincerely Yours Andrei

SHEIKIN

Ru

ssia

ROBERTS 58

Roberts 58 Built by Put Veini in Latvia - No the gentleman is not a midget - this is one big sailboat !
Hello,
My lovely ex wife told me to check out your web site and I found pictures of the Roberts 58' my father built when I was 12. I am now 42 and purchased the boat from my father a few months ago and am now taking her from Seattle to St Croix USVI where I live. The first leg of the trip went from Seattle to San Diego and the next leg will leave around the 30th of this month and go onto Panama then to St Croix. I do believe that the Roberts boat my father and I built may be the finest Roberts boat ever completed and I am proud to have been apart of the process of building her and now getting her to the warm Caribbean waters. Feel free to use any pictures of my boat newly renamed the S/V Parrothead. You can see many more pictures of the boat on my website www.viescape.com and go to the sailing page and click on the Parrothead logo.
Cheers, Captain David

Hard-cover book
DETAILS
£59.95 Post paid

Order this book & Email Bruce to claim a
FREE STUDY PLAN OF YOUR CHOICE


e-book download

DETAILS £47.50

Order this book & Email Bruce to claim a
FREE STUDY PLAN OF YOUR CHOICE


Hard-cover book
DETAILS

£47.50 post paid

Order this book & Email Bruce to claim a
FREE STUDY PLAN OF YOUR CHOICE

ORDER CODE CHOOSING