We like to send you pictures from my fiberglass Roberts 43 SY DASI. The white one was from 2000 in Skagerak and the others was 2008 in Minden / Weser & we have sailed now 28,000 Miles. Greetings Ulli Lanzke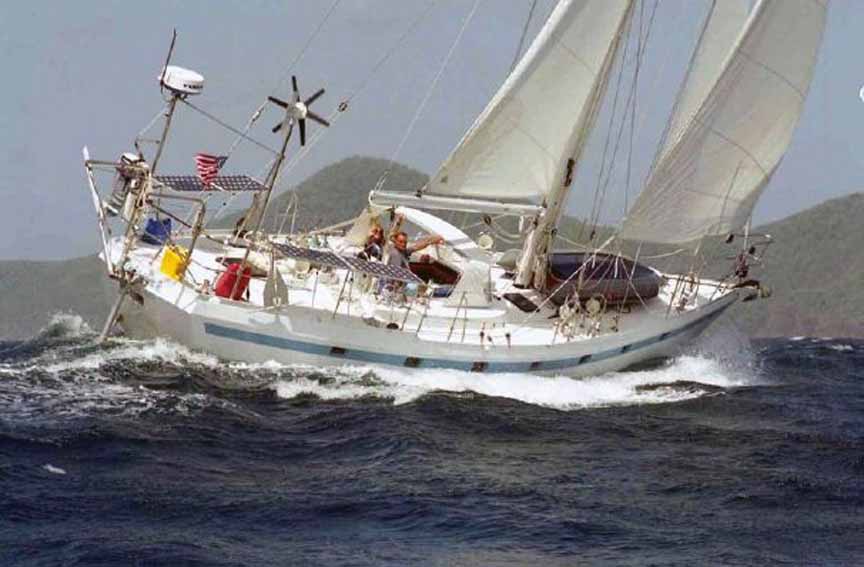 CUSTOMIZED ROBERTS 43
NEW ! SUPER STUDY BOAT PLANS ... Delivered by DOWNLOAD to your computer within 12 hours of you placing your order. The study plans have lists of materials & equipment etc & these will be useful in costing out the complete boat.
Each STUDY PLAN contains ALL the construction drawings for each material - STEEL, ALUMINUM as applicable to the particular boat plan - with up to 25 sheets per plan!
Lists of materials - Technical information - Numerous construction drawings are all included. You can view & print the drawings in full or in sections. BUILDING PHOTOS are included in the study plan package. PLUS you receive a FREE ( VALUE £69.00 ) e-book BUILD YOUR OWN BOAT. STEP BY STEP ASSEMBLY PHOTOS INCLUDED WITH THE STUDY PLANS & COMPLETE PLANS

---
43

STEEL, ALUMINUM, FIBERGLASS


£99.oo, us$128.95, €114.oo

- A$179.00

To order STUDY PLANS go to SPECIALS PAGE

and click on €114.oo

BUY NOW BUTTON


SPECIAL OFFER - ANY THREE STUDY PLANS FOR



£99.oo, us$128.95, €114.95 - A$179.00


STEP BY STEP ASSEMBLY PHOTOS INCLUDED WITH ALL STUDY PLANS
ROBERTS 43 - FIBERGLASS, STEEL OR ALUMINUM CONSTRUCTION
This design has appealed to many serious cruising sailors, and is a timeless example of a well found cruising yacht. There are countless numbers of this design throughout the world and ever since we first designed her in the late seventies it has been a favourite with cruising folk.
If you are in the market for boat plans for a cruising boat that is strong, safe, comfortable, good to live aboard then this design deserves your serious consideration. Good cruising designs don't date. This is one of them. The boat can be built as either a Cutter, Sloop or Ketch rig and has a low profile aft cockpit or Centre cockpit arrangements.

| | | |
| --- | --- | --- |
| L.O.A. | 13.62 m | 44' 4" |
| L.W.L. | 10.00 m | 32' 11" |
| BEAM | 3.89 m | 12' 9" |
| DlSPL. | 12,192 kg | 26,800 lb |
| BALLAST | 3,629 kg | 8,000 lb |
| AUX.POWER | | 33 - 60 hp |


ROBERTS 43


Roberts 43
boat plans & Full Size frame patterns for steel or fiberglass.

Sailed by Kjell and Berit from their home in Sweden, this boat showed up in the Burnett River to clear for Australia after spending the summer in Australian waters. Their boat plans are to return home via the Suez Canal, alter the accommodation area below, fit some new sails and take off again. Another happy sailing couple fulfilling their dreams

This Roberts 43 sailed around the world from the UK.
I met the owner at a wonderful "Boat Jumble" in the UK.

LATER : 2006 Hi Bruce, I was browsing through your website looking to see whether you designed the 43ft "Fisher/trawler" motor sailer we are about to have a look at when this jumped out at me! Thought you would like an update on Suleika, the yacht in the photo.

She has just completed her second successful circumnavigation, 7 or 8 years I think, with her "new" owners, the folk who bought her from us in 1995. We are now based in NZ and for several months Suleika was based in an adjacent marina berth, quite a coincidence.

I recall our encounter at the Beaulieu Boat Jumble, Hampshire England in 1995, hope you are doing well, best wishes Sally Gillet.

Roberts 43

LEFT: This Roberts 43 Pilot House version was built in about 1970 and is still going strong.

Hi folks, I was looking through your website as I am considering buying another of your designs which was recently built here in Perth , a current model aft cockpit 43. After looking at many other options, I have come to the conclusion that the 43 ,value for money, safety and performance ,you can't beat it.

Its interesting to see that the photo you are using for the pilot house version is an original photo of a boat named "Mellisylou", shown in the early publicaton of "Build for Less", built for a guy in Sydney in the mid 70's.

I owned the boat for 4 years and sold her in 94,after re-naming her "Pavanne" She has been sold 3 times since and I saw her yesterday at Fremantle Sailing Club. I'm tempted to buy her back . However and more to the point, she's stylish and the design looks as good to-day as it did when it was drawn probably 30 years ago. Good on you Bruce , you're a legend. Kind Regards, Mike Capelle

This Pilot House R43 can be rigged as a cutter, sloop or ketch as well as a variety of other sail boat plans.
SPECIAL INTRODUCTORY OFFER: COMPLETE BOAT PLANS & FULL SIZE FRAME PATTERNS ... Delivered by DOWNLOAD to your computer within 12 hours of you placing your order. The plans have or all the information you need to build your own boat.. Each plan contains all the construction drawings for
FIBERGLASS
construction, plus bonus drawings covering electrical, plumbing and engineering, everything you need to build your boat.
Plus you will receive a DETAIL FOLIO showing how to make many of your own boat fittings, lists of materials and equipment are all included plus all technical information, numerous construction drawings and written building instructions are all included.
You can view & print the drawings in full or in sections. BUILDING PHOTOS are included in the plan package. PLUS you receive a FREE ( VALUE £69.00 ) e-book BUILD YOUR OWN SAILBOAT .. Only available at this price if you order off this web site.

---
COMPLETE PLANS &
PATTERNS ROBERTS 4
3
FIBERGLASS

£695 - €795 - us$895 - A$895
PLANS & PATTERNS EMAILBRUCE TODAY'S
SPECIAL OFFER & PAYMENT INFO.
Hi Bruce, I love my M43 ketch and I wish the technology had been around 25 years ago to easily build a steel hull. I built it alone on shoestring in 12 years. Then I had to teach myself to sail. It is an easy boat to handle and given to no sudden or nasty tricks. A most forgiving design. Often on the bay , I meet other boats of the same size that are heeled strongly while the M43 remains adamantly upright. I'm making the same speed so I guess I'm doing something right. The Mauritius 43is very forgiving and very stable. Only for a person who never skippered anything but a canoe God was she massive! regards RF
---
Hello Bruce. Just a short message regarding one of your completed designs. My father, Charles Bonds, built a Norfolk 43 centre cockpit, flush deck, ketch rigged sailboat named KANGATOO from your designs in our backyard in Mississauga, a suburb of Toronto (Canada). He started building it approximately in 1981 and launched it in 1989. He set sail for Florida and retired there. Unfortunately he passed away this year but he had many years of live-aboard enjoyment. The boat is up for sale now, but I thought you might like to see a couple of pictures. Kelly Bonds
---
FROM THE DRAFTING TABLE
Design Close Up by Robert H. Perry
Without a doubt, Bruce Roberts is the king of the stock plan designers. There are a number of reasons for this. Roberts' designs are always beautifully presented by the draughtsman. They are profusely detailed and leave very little for the amateur builder's imagination. This is definitely a positive statement. Lastly, Roberts' boat plans cover a wide variety of sizes and types of yachts. There is something for everyone.
The Roberts 44 was intended as a fast cruising yacht that could be built by an amateur. The lines reveal a relatively short waterline of 32' 10", rather full ends, longish overhangs and a gentle, sweeping sheer. The displacement to length ratio of the yacht is 339.
The interior of the Roberts 44 will appeal to all of us who have thought about living aboard at one time or another. The designer has provided large open areas with careful attention to the galley and after stateroom. Roberts has also been considerate enough to provide two excellent sea berths. One is a pilot berth in the main cabin, the other a quarter berth located in the passageway. The forward head is quite large, and it seams that a separate stall shower would be rather easy to design into this arrangement.
Having worked in an office which specialised in stock plan designs myself, I am very aware of the quantity and complexity of problems facing the home builder. I feel some designers have exploited this market and have led many naive home builders down the garden path into debt and frustration.
Indeed, the best way to avoid this pitfall is to deal with a designer, like Roberts, who has extensive experience in this field. He has established his credentials and gained a wide following. Some home builders projects turn out "children" that only a mother could love. It is therefore wise to choose stock boat plans from a designer who has answered all the frequently asked questions many times. The art-science of designing yachts for amateur builders is as demanding, if not more demanding, as designing yachts for the buyer of the finest custom yacht. Bruce Roberts has my endorsement.