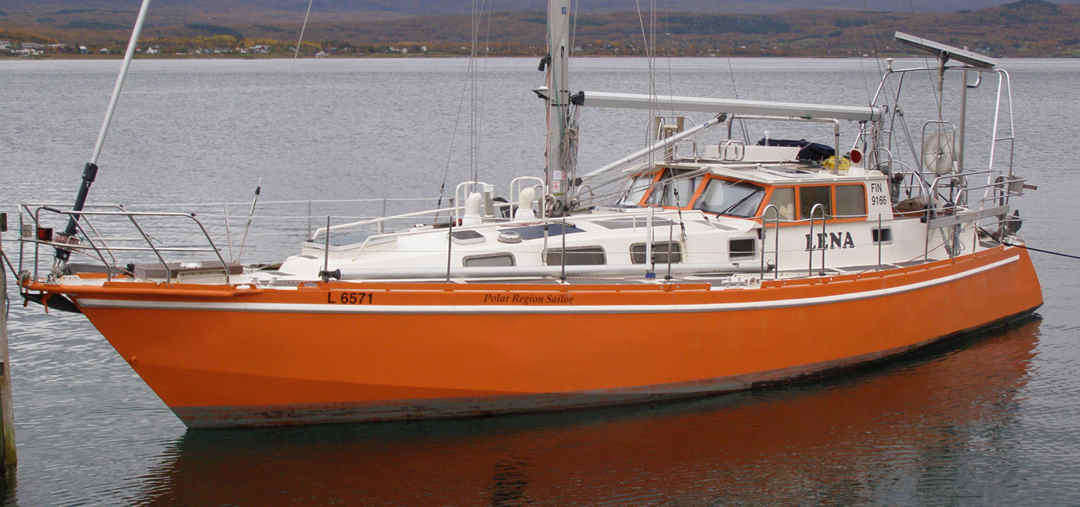 ROBERTS 370 - MULTI CHINE version built in FINLAND.
This boat has cruised the NORTH WEST PASSAGE - NO MEAN FEAT !!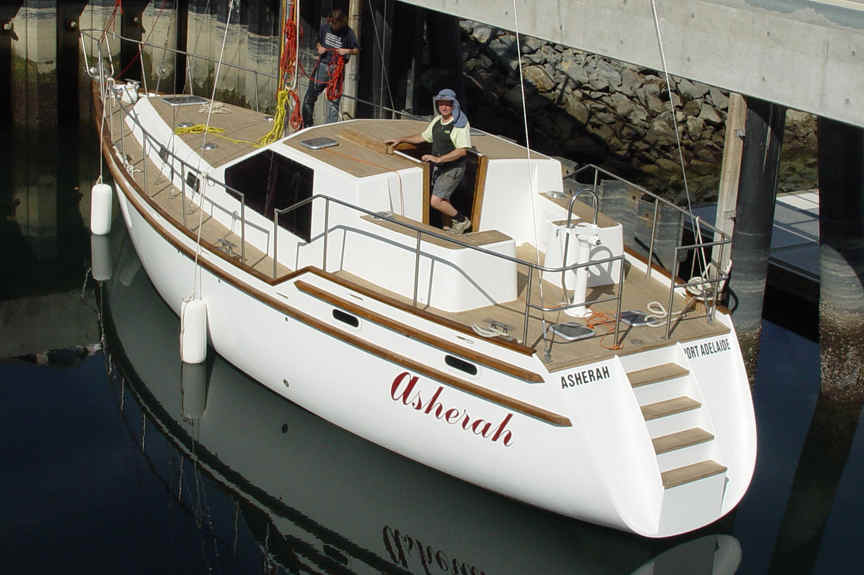 ROBERTS 370 - WOOD EPOXY built in South Australia.
Hi Bruce, Firstly the boat has given us a great deal of pleasure and yes she sails very well. Our first real shake down cruise was a trip accross the gulf in conditions which were forcast to be 25 to 30 knots. we very soon after found that the conditions were not as to be expected. the majority of the trip was in conditions of 35 to 40 knots blowing from the SE on our port stern quarter.
She really powered along with no vices at all. The depth soon shallowed as expected so were surfing 2.5 to 3 mtr waves. when we reached our destination it was just to risky to attempt to anchor in the haven we wanted so went back to sea and spent the night riding it out. Her performance was very impressive. Thank you for a great boat, Graham and Shirley.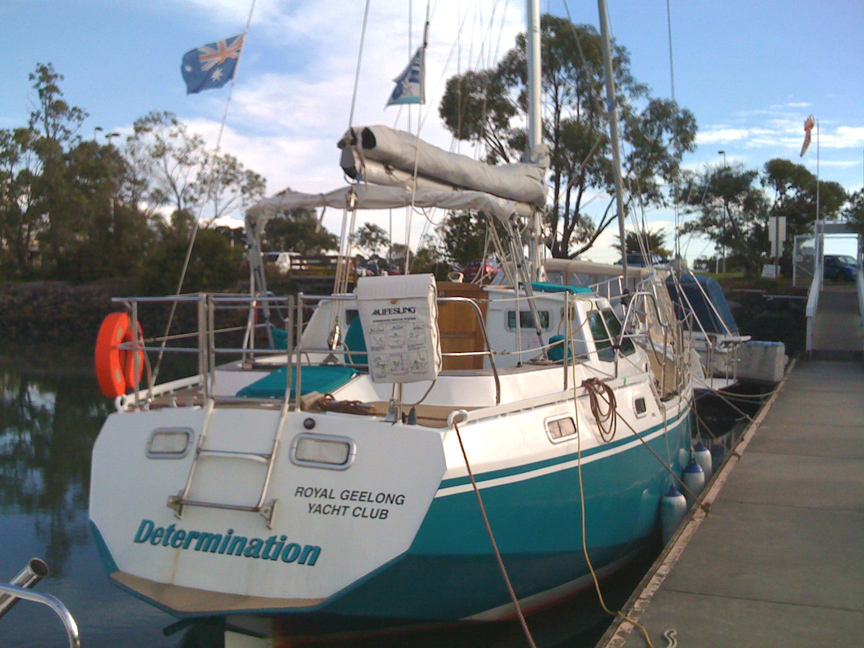 ROBERTS 370 - STEEL built in Victoria Australia.
NEW ! SUPER STUDY BOAT PLANS ... Delivered by DOWNLOAD to your computer within 12 hours of you placing your order. The study plans have lists of materials & equipment etc & these will be useful in costing out the complete boat.
Each STUDY PLAN contains ALL the construction drawings for each material - STEEL, ALUMINUM, FIBERGLASS & WOOD EPOXY as applicable to the particular boat plan - with up to 25 sheets per plan!
Lists of materials - Technical information - Numerous construction drawings are all included. You can view & print the drawings in full or in sections. BUILDING PHOTOS are included in the study plan package. PLUS you receive a FREE ( VALUE £69.00 ) e-book BUILD YOUR OWN BOAT. STEP BY STEP ASSEMBLY PHOTOS INCLUDED WITH THE STUDY PLANS & COMPLETE PLANS

---
ROBERTS 370 Fiberglass - Steel - Aluminum -Wood / Epoxy
Such has been the response to this design that boat plans for it's construction are available in steel, aluminum, FIBREGLASS and Wood Epoxy. There is also the choice of constructing the hull in either radius chine, multi chine or round bilge.
Designed as a performance cruiser, this boat has proven itself both in club racing and long distance cruising. Over 500 Roberts 370's have already been completed and several have sailed around the world.
There are several versions of this design as you will notice below. Besides giving you the choice of building this design in either an aft cockpit, center cockpit or pilot house configuration you may also chose between a cutter, sloop or ketch rig. She has proven to perform well with either sailplan. There are several shoal draft and deep keel options to choose from as well.
L.O.A
11.32 m
37' 2"
L.W.L
9.66 m
31' 8"
BEAM
3.76 m
12' 4"
DRAFT
Shallow
1.45 m
4' 9"
Deep
1.98 m
6' 6"
DISPLACEMENT
8,512 kg
18,750 lb
BALLAST
3,632kg
8,000 lb
AUX. PWR
20 TO 33 hp
ROBERTS 370

This boat was built in Turkey and you can see that the builder did a nice job of building from our boat plans and frame patterns.

---

Dear Bruce, Mr

Veli Kärkkäinen

from Finland got plans of

Coaster 36

from you about 5 – 6 years ago.

The construction works have been interrupted for some years, because Kärkkäinen circumnavigated the North Pole during the years 2011-14 with his sailing yacht "Lena" ( a Bruce Roberts 370 off cpourse). The situation of today is on the photo annexed

.

ROBERTS 370

Another view of this boat built in Turkey

ROBERTS 370

Accommodation plan of the boat shown above

ROBERTS 370 C

There are several alternate sail boat plans including sloop (shown) or ketch or cutter etc.

ROBERTS 370

One of several possible layouts is shown here; all layouts are shown in the boat plans and study boat plans.

ROBERTS 370 C

You probably have enough of this model but thought I would offer your design Roberts 370. My name is Oddvar Anfinset. The photo was taken in Gothenburg Harbour Sweden.

ROBERTS 370

Will Smith Custom Roberts 370 - Dinette in Pilot house

Roberts 370 version - Inspired by our customer Will Smith - STEEL OR ALUMINUM PLANS & CUTTING FILES can be customized too !

ROBERTS 370 C

Here is one of Your 370Cs near the Adriatic coast (Croatia). Since You were so nice to re-send me "The metal boats", I decided to Thank You with the picture I really like. She has a registered top speed of 12 kts, and has been built in Zagreb, Croatia eight years ago. Best regards, J. Palcic


---

Dear Bruce, I am glad to communicate you in case of the 20-th anniversary of my HELIOS – Robert's 370 launching - June 22, 1993. It was a great adventure to build myself such a boat, and it is still a great pleasure to sail it. In the past 20 years we had lot of traveling at Adriatic sea and Mediterranean, but didn't realized my initial goal – around the world trip, due to the crazy war in Croatia.

Your design is really GREAT, and I would reccomend it to anyone dreaming to sail !

Included are some photos – from the beginning, up to present days. Would be very glad to offer you a sailing trip around Dalmatiam coast. Many thanks & best wishes to you - on the land and at the sea ! Sincerely : Konstantin Kostov, sculptor Sibenska 9j, 23000 Zadar Croatia

ROBERTS 370 D

This pilot house version also available as a pre-cut STEEL OR ALUMINUM PLANS & CUTTING FILES

ROBERTS 370 D

Note the different keel options shown in the drawing on left.
NEW CUSTOM FEATURE:

SAFETY SKEG IS AVAILABLE ON THIS BOAT.
The Roberts safety skeg is designed to take the best features from the LONG FIN / SKEG combination and add a SAFETY FACTOR.

Many of you may be aware that skegs in general are vulnerable to damage so here is our answer to this problem. EMAIL Bruce to more details of this development.

ROBERTS 370 A

A

ccommodation plan of the boat shown above

Roberts 370 E

This Radius Chine, Aluminum Roberts 370 E was built in Australia
SPECIAL INTRODUCTORY OFFER: COMPLETE BOAT PLANS & FULL SIZE FRAME PATTERNS ... Delivered by DOWNLOAD to your computer within 12 hours of you placing your order. The plans have or all the information you need to build your own boat.. Each plan contains all the construction drawings for STEEL & ALUMINUM or WOOD EPOXY or FIBERGLASS construction, plus bonus drawings covering electrical, plumbing and engineering, everything you need to build your boat.
Plus you will receive a DETAIL FOLIO showing how to make many of your own boat fittings, lists of materials and equipment are all included plus all technical information, numerous construction drawings and written building instructions are all included.
You can view & print the drawings in full or in sections. BUILDING PHOTOS are included in the plan package. PLUS you receive a FREE ( VALUE £69.00 ) e-book BUILD YOUR OWN SAILBOAT .. Only available at this price if you order off this web site.

---
C
0
MPLETE PLANS & PATTERNS
ROBERTS 370
STEEL, ALUMINUM, FIBERGLASS. WOOD EPOXY
€295

To order the PLANS & PATTERNS go to SPECIALS PAGE
and click on €295.00 BUY NOW BUTTON
Your plans and PATTERNS will be sent to you by
DOWNLOAD to your computer.