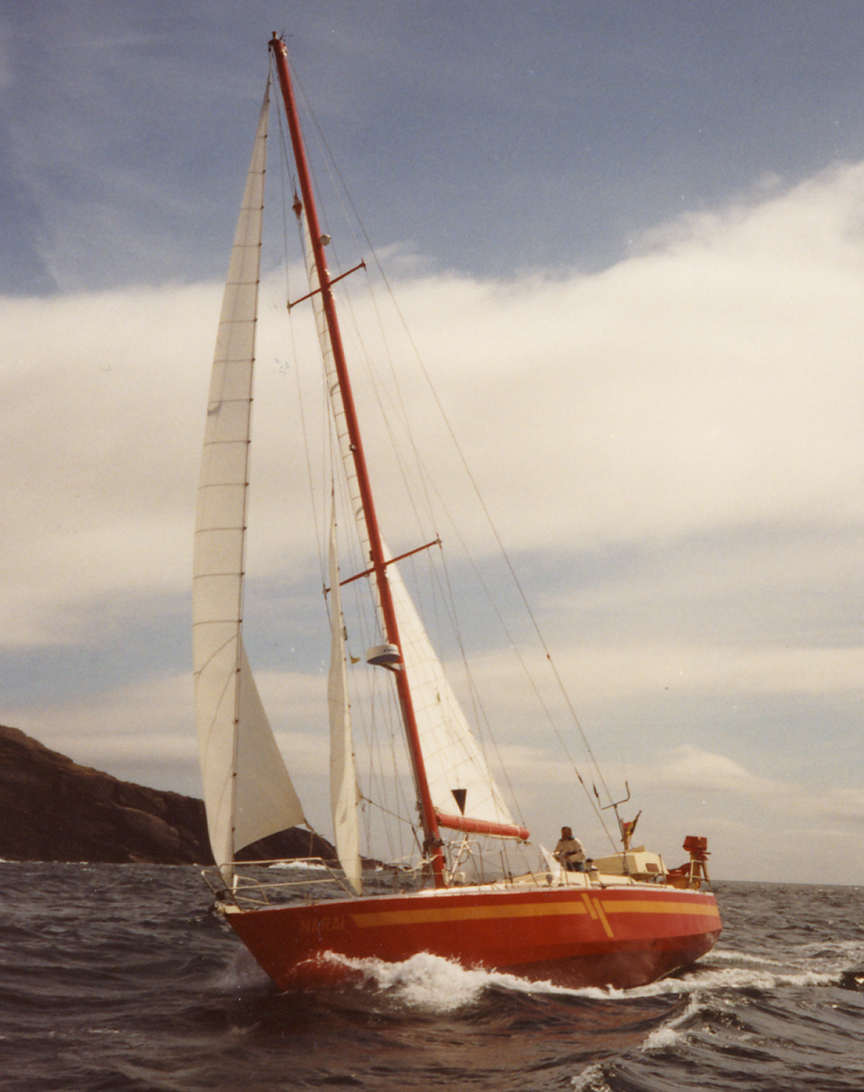 Roberts 345 One of several cruising world wide !
| | |
| --- | --- |
| | |
| | |
NEW ! SUPER STUDY BOAT PLANS Delivered by DOWNLOAD to your computer within 12 hours of you placing your order. The study plans have lists of materials & equipment etc & these will be useful in costing out the complete boat.
Each STUDY PLAN contains ALL the construction drawings for each material STEEL or FIBERGLASS as applicable to the particular boat plan - with up to 25 sheets per plan! Lists of materials - Technical information - Numerous construction drawings are all included.
You can view & print the drawings in full or in sections. BUILDING PHOTOS are included in the study plan package. PLUS you receive a FREE ( VALUE £69.00 ) e-book BUILD YOUR OWN BOAT. When you use your credit or debit card you will be charged at the correct exchange rate in your own currency.

---
STUDY PLANS - ROBERTS 345
FIBERGLASS - ALUMINUM - STEEL - WOOD EPOXY
£69.00

-

$85.00 - €79.

00



To order STUDY PLANS go to SPECIALS PAGE

and click on €79.00 BUY NOW BUTTON

SPECIAL OFFER - ANY THREE STUDY PLANS FOR


€114.00 - $125.00 - £95.00
STEP BY STEP ASSEMBLY PHOTOS INCLUDED WITH ALL STUDY PLANS
Roberts 345
Multi Chine Steel or Aluminum, R/C Steel or Aluminum , Fiberglass or Wood Epoxy

Originally this was designed for lightweight frameless multi-chine steel construction and met with such success that, due to demand, the range was expanded to include radius-chine steel or aluminium construction along with full boat plans to build in fibreglass or wood epoxy. The boat can be rigged as either a Sloop or Ketch and has a choice of either a shoal keel or a fin keel.
Several examples of the Roberts 345 have now made extensive ocean crossings including several long distance passages. One boat which we have visited ourselves has made the trip from England UK to Australia without incident ... all these voyages successfully completed by the Roberts 345 have proven its worth as a safe long distance cruising sailboat.
| | | |
| --- | --- | --- |
| L.O.D. | 10.50 m | 34' 5" |
| L.W.L. | 8.76 m | 28' 9" |
| BEAM | 3.52 m | 11' 7" |
| DRAFT | 1.30 m | 4' 3" |
| DRAFT | 1.75 m | 5' 9" |
| DISPLACEMENT ( Fiberglass / Wood / Aluminum ) | 4,762 kg | 10,500 lb |
| BALLAST ( Fiberglass / Wood version / Aluminum ) | 2,200 kg | 4,850 lb |
| DISPLACEMENT ( Steel versions ) | 8,050 kg | 17,746 lb |
| BALLAST (Steel version - includes keel structure) | 2,800 kg | 6,172 lb |
| AUX. PWR | | 20 - 33 hp |
ROBERTS 345

What beautiful hull ! Many already sailing including one that cruised from UK to Australia

Hello Bruce, I am Luis Herrador (from Gipuzkoa, Spain), who built a steel R-345 in 1989-1992 (I send a photo of the boat).

The boat have give me very good service, I sold her last year, and the new owner is very satisfied too.

For my next boat I have been thinking some time is is to be 53 ft, the R532, to be build in steel radius chine. Now I have decided for the R532. Sincerely, Luis Herrador

ROBERTS 345

There are several alternate sail boat plans including sloop (shown) or ketch or cutter etc.

Hello Bruce –

My girlfriend and I just purchased a used Roberts 345; it is going to be our home for a circumnavigation.

On the delivery from Boston to New York, we encountered some rather rough conditions, and had to bring our dinghy aboard while hove-to in steep 6-8 foot seas, and let me just say, she performed wonderfully.

We felt completely safe, and comfortable – which I never would have aboard my former boat – a Swan 39! J. Anton Elmquist Information Technology, etc.

ROBERTS 345 - ADVENTURE !
Dear Bruce, An acquaintance who sailed to the Antarctic (from Tasmania Australia) in a steel Roberts 345. In our local paper "The Mercury" it was reported that the family had returned from their adventure safe and sound.
A rather extraordinary testament to the design I should think!

"Ice caps off family's Antarctic adventure"
The Mercury, SAILING to one of the coldest places on earth in a 10.3m yacht might not be everyone's idea of a fun holiday, but for three members of the Tucker family it was the adventure of a lifetime. ``I've always had this idea to travel down to Antarctica,''

Matt Tucker was a lecturer at the Australian Maritime College in Launceston. He sailed with his brother and father, I believe it was a 6 week voyage with no unexpected mishaps. Brave fellas!

The same week those guys came home the Aurora Australis returned from a 10 week voyage. I was sailing on the Derwent at the time and had to get out of it's way. Looking up at that big red ship gave me a little perspective on what you would normally go to the Antarctic in and some sense of what the Tuckers had done. Kind Regards, Aidan Bindoff

TWICE AROUND THE WORLD.

PLUS UK YACHTSMAN OF THE YEAR !

Leslie Powles letter

Dear Mr Roberts, I last corresponded with you during March 77 from Gladstone Australia, having sailed single-handed half way around the world in my Roberts 34. The voyage was completed on 1st May 1978, when I sailed into Lymington Harbour, the total distance 34,000 miles.

No big problems, my engine gave out in Darwin and a few of the Islands I'd intended visiting had to be missed. I sailed non stop Darwin to Durban 6,000 miles in 56 days, when I would have preferred to call at Cocos and Christmas Islands. The odd gale on the way home but nothing to worry about.

I found Solitaire very easy to sail and completed the trip single-handed.

The only work I have to carry out is to paint, and to fit extra fuel and water tanks for my next voyage, which I'm hoping to make of a longer duration after the shake down cruise.

However, I have been on BBC radio and TV; some very good film was taken of the yacht for this programme. Perhaps you could acquire copies by contacting the BBC. Many thanks for a first class boat.

Sincerely, Leslie T. Powles

ROBERTS 345

Profile view of the standard accommodation plan; several other layouts are possible in this versatile design.

Plan view of the standard accommodation plan; several other layouts are possible in this versatile design.

Hello Bruce

From the year 2000 to 2005 I built this marvellous boat singlehanded. She is the 4mm steel fin / sloop, exceptionally strong and a powerful sailing vessel.

She has looked after me and 1000's of Royal Yachting Association candidates learning their skills aboard. Strong can be quantified as there have been two incidents.

The first was an anchor dragging that had her hitting a rock reef and going broadside over the top as the tide rose in a force 7-8, heeled at 30+ degrees. Fortunately no significant sea and the result on inspection was paint damage.

The other incident was sailing at 5 knots directly at solid rock with an instant stop. This bent the floor frame at the aft of the keel and put a golf ball dent in the toe of the keel.

Straight forward to replace the bent frame and touch up the keel. There was no need to curtail the sailing season.

No I don't make a habit of bashing into things but these prove that over 350 weeks of heavy use as a training boat she is ideal as a comfortable strong and much admired boat that takes everything but extreme weather in her stride.

I don't know how many have been built but there must be many happy owners out there of this class act, well done. Regards Robert Kincaid www.obanseaschool.co.uk

NEW CUSTOM FEATURE:

SAFETY SKEG IS AVAILABLE ON THIS BOAT.
The Roberts safety skeg is designed to take the best features from the LONG FIN / SKEG combination and add a SAFETY FACTOR.

Many of you may be aware that skegs in general are vulnerable to damage so here is our answer to this problem. EMAIL Bruce to more details of this development.

ROBERTS 345 Pilot

This accommodation plan may be varied to suit your own personal and family needs.





ROBERTS 345 Pilot
The low profile cutter sail plan was superimposed over PH version by a client who likes the idea.
SPECIAL INTRODUCTORY OFFER:
COMPLETE BOAT PLANS & FULL SIZE FRAME PATTERNS ... Delivered by DOWNLOAD to your computer within 12 hours of you placing your order. The plans have all the information you need to build your own boat.. Each plan contains all the construction drawings for STEEL or FIBERGLASS construction, plus bonus drawings covering electrical, plumbing and engineering, everything you need to build your boat.
Plus you will receive a DETAIL FOLIO showing how to make many of your own boat fittings, lists of materials and equipment are all included plus all technical information, numerous construction drawings and written building instructions are all included. You can view & print the drawings in full or in sections. BUILDING PHOTOS are included in the plan package.
PLUS you receive a FREE ( VALUE £69.00 ) e-book BUILD YOUR OWN SAILBOAT .. Only available at this price if you order off this page.

---
COMPLETE PLANS & PATTERNS

STEEL, ALUMINUM, FIBERGLASS. WOOD EPOXY

ROBERTS 345

€295

To order the PLANS & PATTERNS go to SPECIALS PAGE
and click on €295.00 BUY NOW BUTTON
Your plans and PATTERNS will be sent to you by
DOWNLOAD to your computer.