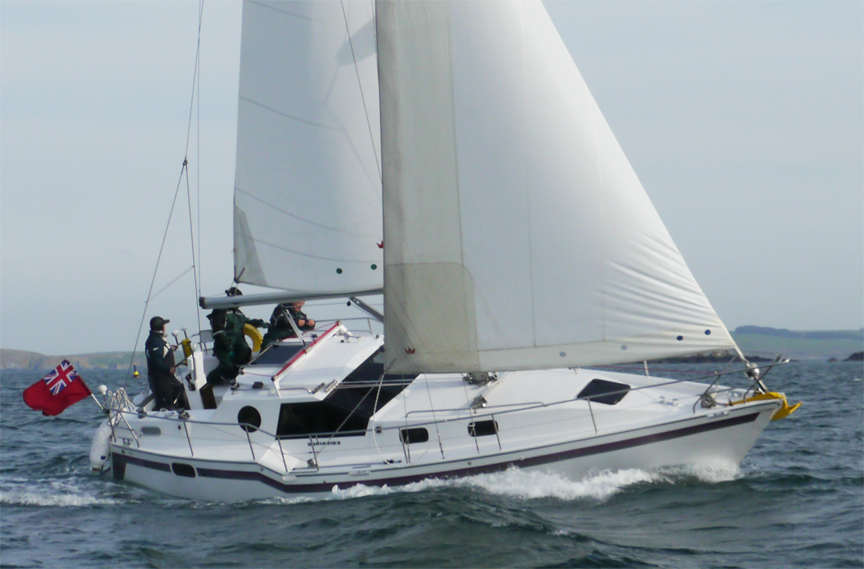 Roberts 310 Pilot House version built by Duncan & Jill Mason - at 8.5 knots
Bruce, I have purchased Steel Dawn, the Roberts 310 Pilothouse featured on your website and built by Duncan Mason. Duncan spent over a decade building and fitting the boat to an amazing standard with everything you can imagine onboard, only to find he does not have the time to use it.
As a shake down cruise a couple of us took the boat across the Irish Sea to Dublin.
Whilst we expected force 5 winds, we did not expect to arrive in Ireland in a Force 9 and in the dark. The boat was fantastic, safe, secure and dry in the deep cockpit despite waves over the bow reaching the deck saloon windows on occasion!
I have great plans for travelling in the boat, Iceland and Greenland being near the top of my wish list, and I look forward to many voyages in Steel Dawn. If anyone in the UK contacts you regarding building a 310 I would be delighted to talk to them and show them Steel Dawn, Duncan is also very approachable with any technical and build advice. Regards David Newman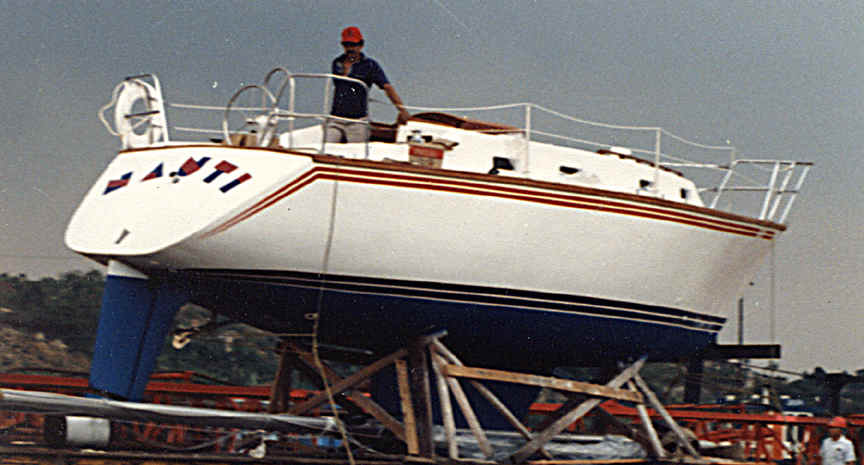 Roberts 310 Version A
NEW ! SUPER STUDY BOAT PLANS ... Delivered by DOWNLOAD to your computer within 12 hours of you placing your order. The study plans have lists of materials & equipment etc & these will be useful in costing out the complete boat.
Each STUDY PLAN contains ALL the construction drawings for each material - STEEL, ALUMINUM, FIBERGLASS & WOOD EPOXY as applicable to the particular boat plan - with up to 25 sheets per plan!
Lists of materials - Technical information - Numerous construction drawings are all included. You can view & print the drawings in full or in sections. BUILDING PHOTOS are included in the study plan package. PLUS you receive a FREE ( VALUE £69.00 ) e-book BUILD YOUR OWN BOAT. STEP BY STEP ASSEMBLY PHOTOS INCLUDED WITH THE STUDY PLANS & COMPLETE PLANS

---
310
STEEL, ALUMINUM, FIBERGLASS. WOOD EPOXY


€79.00 - £69.00 - us$95.00 - A$130

To order STUDY PLANS go to SPECIALS PAGE
and click on €79.00 BUY NOW BUTTON

SPECIAL OFFER - ANY THREE STUDY PLANS FOR

£99.00, us$128.95, €109.00, A$89.00

STEP BY STEP ASSEMBLY PHOTOS INCLUDED WITH ALL STUDY PLANS
ROBERTS 310 - R/C Steel, Fiberglass or Wood / Epoxy
This design may be built with either a regular trunk cabin or a pilot house. It is a pleasant, speedy little cruiser that has found many admirers. It is also an economically sized yacht to build and this vessel is quite capable in terms of strength and comfort of sailing around the world.
You can build the Roberts 310 with a round bilge hull out of fibreglass or wood epoxy or in a multi-chine or radius-chine hull using steel or aluminium as your building material. The complete boat plans include many sheets of large-scale drawings, plus full-size patterns for the hull frames, deck and cabin top beams, etc.
---
Hi Bruce, as promised some time ago that I'll let you know when we have one of your 310's, she is on twin fins as per your drawings and rig as per boat plans. Sailing performance is superb, better than expected. We had the pleasure for 2 days of sailing here with Dick Durham (Yachting monthly news editor). She is to be featured in August issue. We managed to sustain 8.5 kts running beam to wind in 17 kts of wind. I think this proves that you know how to design an excellent smallish steel yacht. Jill and myself and Duncan Mason would just like to say thanks for an excellent design.
She is a great talking piece in our local marina in Cearnarfon north Wales. Ive enclosed a pic of here under sail on the test day. If you would like any other pics please let me know and ill send some. Best regards Duncan & Jill. We think that the magazine feature will put it in better words than we ever can. (SEE PHOTO ABOVE OF R310 - PILOT HOUSE)
L.O.A.
9.45 m
31' 0"
L.W.L.
7.77 m
25' 6"
BEAM
3.2 m
10' 6"
DRAFT
shoal
1.07 m
3' 6"
deep
1.68 m
5' 6"
DISPL.
4316 kg
9,669 lb
BALLAST
2009 kg
4,500 lb
AUX. PWR.
20 TO 33 hp
ROBERTS 310
Version A Trunk Cabin Version

Hello Bruce, I got boat plans OK today! Thank you VERY MUCH!!!!! I reviewed boat plans and I'm very pleased with their completeness and detail! I didn't expect to get that amount of drawings for the money I paid for them! I have found everything I need to build the boat! So, once again - Thank you Very Much, Bruce!!! Yours Alex.

ROBERTS 310
Version A Trunk Cabin Version

NEW CUSTOM FEATURE:

SAFETY SKEG IS AVAILABLE ON THIS BOAT.
The Roberts safety skeg is designed to take the best features from the LONG FIN / SKEG combination and add a SAFETY FACTOR.

Many of you may be aware that skegs in general are vulnerable to damage so here is our answer to this problem. EMAIL Bruce to more details of this development.

ROBERTS 310
Version A Trunk Cabin Version

This Roberts 310 was built in the UK

ROBERTS 310
Version B Pilot House Version
Here we see the construction of the hull male mold which consists of frames cut using the full size patterns supplied with the boat plans plus the addition of timber battens, C-flex fiberglass and shows the first layers of fiberglass laminate.

STUDY PLAN PACKAGES ON DOWNLOAD GIVE INSTANT ACCESS TO MANY STEP BY STEP BOAT CONSTRUCTION PHOTOS + PHOTOS OF COMPLETED BOATS ETC.

On the left we see the Fiberglass being installed on a hull mold as described above. Similar methods are used to install core material such as Corecell or Airex foam.

On the left we see hull rolled over to the upright position and then the mold is lifted out of the hull shell. The mold is sometimes removed in one piece as shown here or in parts depending on the shape of the hull and the method used to laminate the hull.

Roberts Dinghy
Build in Fiberglass, Plywood or Aluminum

FREE with every set of boat plans and frame patterns you will receive boat plans and full size patterns for the Roberts Dinghy that you can build in fiberglass, plywood or aluminum as shown below.
SPECIAL INTRODUCTORY OFFER:
COMPLETE BOAT PLANS & FULL SIZE FRAME PATTERNS ... Delivered by DOWNLOAD to your computer within 12 hours of you placing your order.
The plans have or all the information you need to build your own boat..
Each plan contains all the construction drawings for
STEEL & ALUMINUM or WOOD EPOXY or FIBERGLASS
construction, plus bonus drawings covering electrical, plumbing and engineering, everything you need to build your boat.
Plus you will receive a DETAIL FOLIO showing how to make many of your own boat fittings, lists of materials and equipment are all included plus all technical information, numerous construction drawings and written building instructions are all included.
You can view & print the drawings in full or in sections.
BUILDING PHOTOS are included in the plan package.
PLUS you receive a FREE ( VALUE £69.00 ) e-book
BUILD YOUR OWN SAILBOAT.
---
COMPLETE PLANS & PATTERNS

ROBERTS 310

FIBERGLASS - STEEL - ALUMINUM - WOOD EPOXY
£695 - €795 - us$895 - A$
895
PLANS & PATTERNS EMAILBRUCE TODAY'S
SPECIAL OFFER & PAYMENT INFO.

SAILBOAT DESIGNS POWERBOAT DESIGNS