BRUCE ROBERTS YACHT DESIGN

Bruce Roberts-Goodson
EMAIL BRUCE
---
These sailboat plans feature simple & easy to follow STEP by STEP CONSTRUCTION for STEEL, ALUMINUM, FIBERGLASS & WOOD EPOXY building methods. These sailboats can be built by any person with welding skills (Steel or Aluminum) or general handyman skills (Fiberglass or Wood Epoxy).
NO previous boat building skills are needed ... all you need is to follow the plans and you will be able to build a beautiful STEEL, ALUMINUM, FIBERGLASS & WOOD EPOXY sailboat for yourself and your family's happy days on the water.
1. ALL BOAT PLANS & FULL SIZE PATTERNS: Package Includes latest sail boat plans, SAILBOAT building plan updates & revisions, PLUS direct contact with the designer EMAIL BRUCE & come with a BONUS PLANS - placement of anodes, how to build a sea hood, how to build fuel & water tanks, engine installation, electrical schematic & plumbing; all included to assist you to build your boat. All the plans are sent by DOWNLOAD directly to your computer. The plans also include the 1,800 PAGE e-book BUILD YOUR OWN SAILBOAT

2. All BOAT PLANS & patterns come with a special DETAIL FOLIO on how to make some of your own fittings. All BOAT PLANS are have both metric & imperial measurements. All BOAT PLANS include FULL SIZE frame patterns at no extra charge.
3. Where FIBERGLASS is mentioned as a material this means Balsa sandwich / Foam sandwich, Single skin as the boat building material. Most WOOD / EPOXY designs can be built using either molded ply or strip plank or a combination of the two methods. Many STEEL designs can be built in ALUMINUM; please seek the designers advice first.
4. We personally check the BOAT PLANS for updates to make sure you receive the latest version; we are constantly updating all of our BOAT PLANS. PLUS you have direct contact with the designer Bruce Roberts-Goodson.
EMAIL BRUCE
---
ROBERTS 310
Steel, Fiberglass or Wood / Epoxy
The Roberts 310 may be built with either a regular trunk cabin or a pilot house. It is a pleasant, speedy little cruiser that has found many admirers. It is also an economically sized yacht to build and this vessel is quite capable in terms of strength and comfort of sailing around the world.
L.O.A.
9.45 m
31' 0"
L.W.L.
7.77 m
25' 6"
BEAM
3.2 m
10' 6"
DRAFT
shoal
1.07 m
3' 6"
deep
1.68 m
5' 6"
DISPL.
4316 kg
9,669 lb
BALLAST
2009 kg
4,500 lb
AUX. PWR.
20 TO 33 hp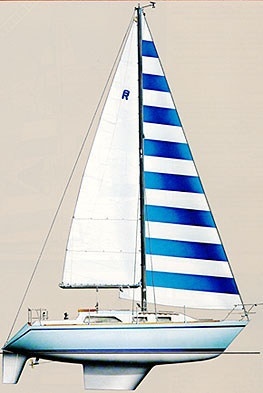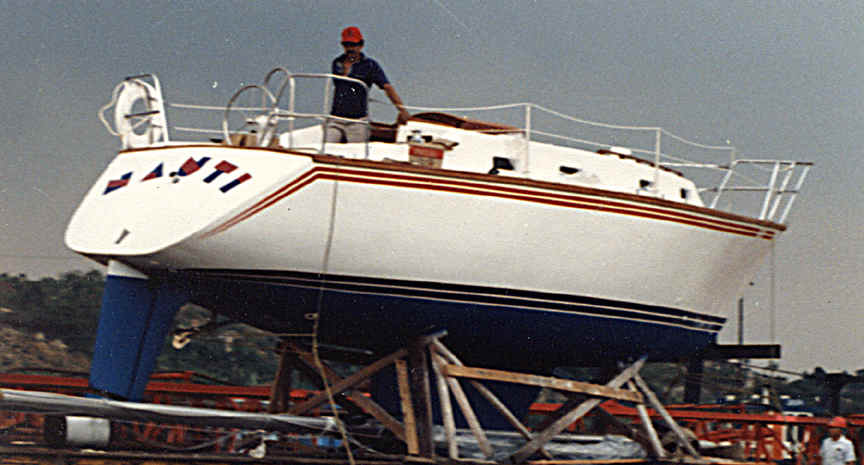 Roberts 310 Version A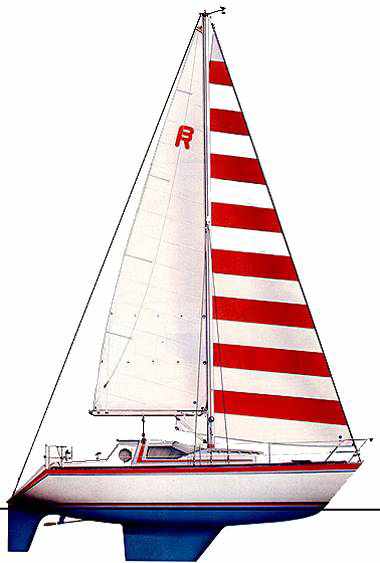 ROBERTS 310 Version B Pilot House Version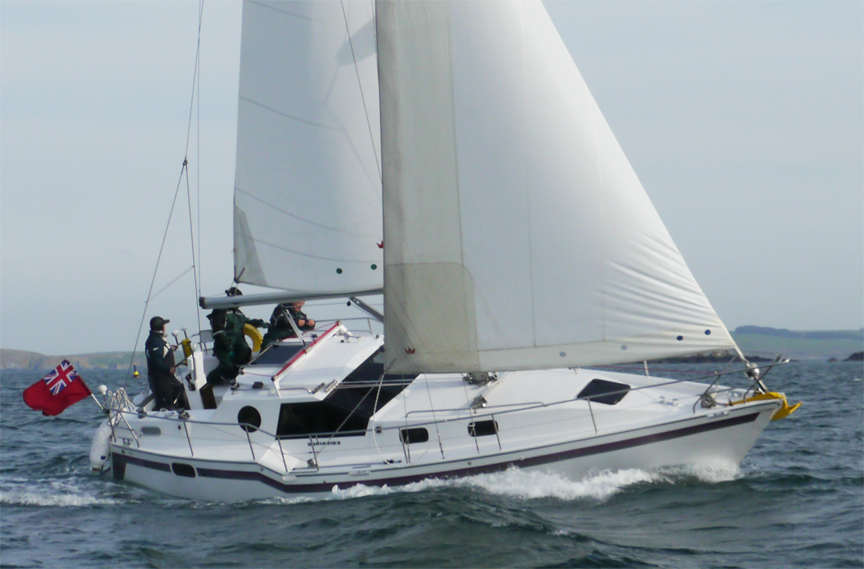 Roberts 310 Pilot House version built by Duncan & Jill Mason - at 8.5 knots
Bruce, I have purchased Steel Dawn, the Roberts 310 Pilothouse featured on your website and built by Duncan Mason. Duncan spent his spare time building and fitting the boat to an amazing standard with everything you can imagine onboard.
As a shake down cruise a couple of us took the boat across the Irish Sea to Dublin. Whilst we expected force 5 winds, we did not expect to arrive in Ireland in a Force 9 and in the dark. The boat was fantastic, safe, secure and dry in the deep cockpit despite waves over the bow reaching the deck saloon windows on occasion! Regards David Newman
Hi Bruce, as promised some time ago that I'll let you know when we have one of your 310's, she is on twin fins as per your drawings and rig as per boat plans. Sailing performance is superb, better than expected. We had the pleasure for 2 days of sailing here with Dick Durham (Yachting monthly news editor). She is to be featured in August issue. We managed to sustain 8.5 kts running beam to wind in 17 kts of wind. I think this proves that you know how to design an excellent smallish steel yacht. Jill and myself and Duncan Mason would just like to say thanks for an excellent design.
She is a great talking piece in our local marina in Cearnarfon north Wales. Ive enclosed a pic of here under sail on the test day. If you would like any other pics please let me know and ill send some. Best regards Duncan & Jill. We think that the magazine feature will put it in better words than we ever can.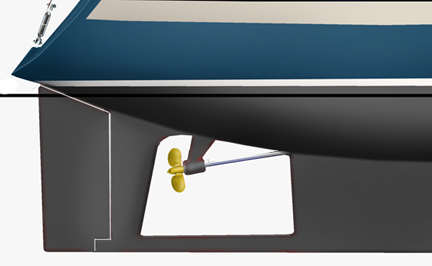 SAFETY SKEG IS AVAILABLE ON THIS BOAT. The Roberts safety skeg is designed to take the best features from the LONG FIN / SKEG combination and add a SAFETY FACTOR.
Many of you may be aware that skegs in general are vulnerable to damage so here is our answer to this problem. EMAIL Bruce to more details of this development.