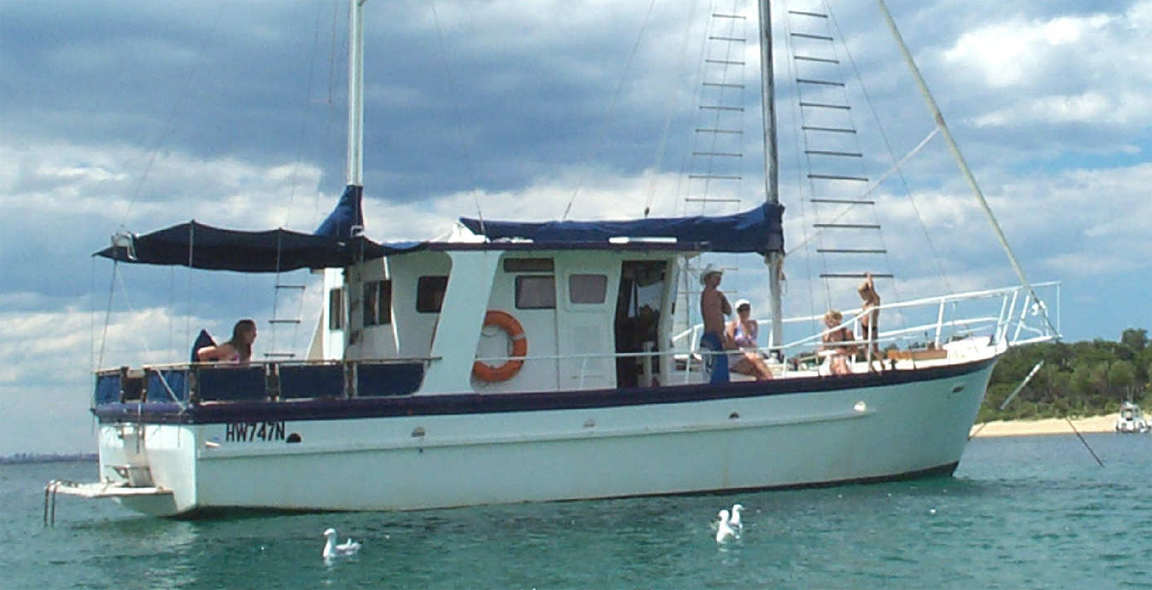 Another of the many PCF 40's that have been completed from
our boat plans and are now in service worldwide.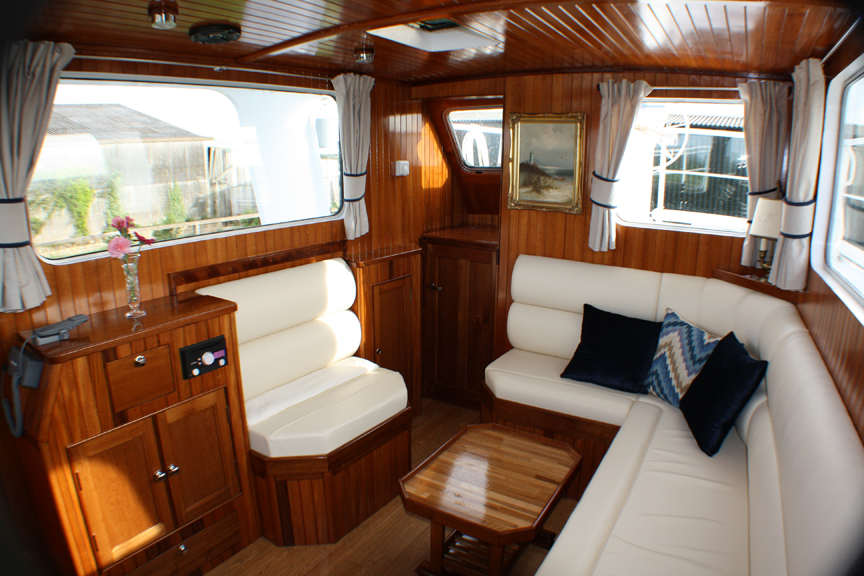 ABOVE & BELOW: These are two different PCF 40's ... Similar layout !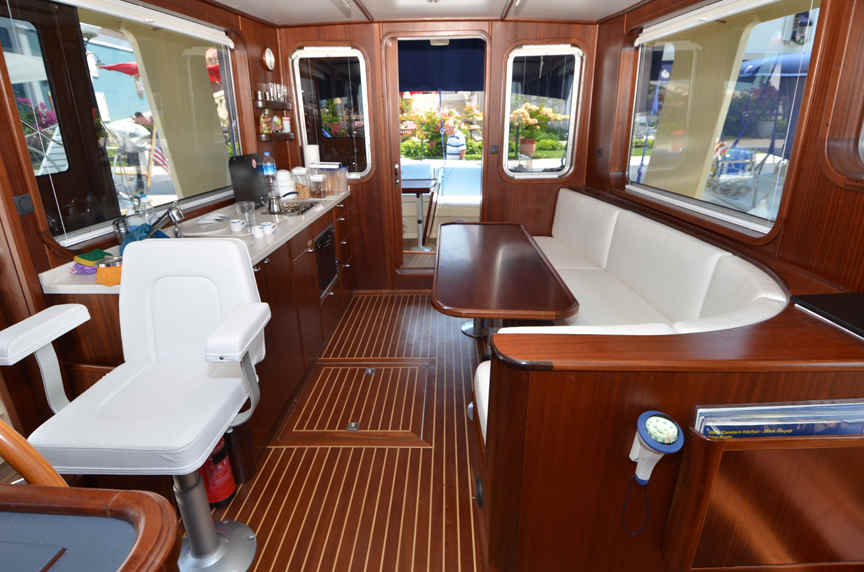 Interior of the PCF 40 built for Berke Kardes in Turkey.
Down below are two sleeping cabins plus shower and head.
BUILDER: Kaya Cakar Asboat Yacht Building Ltd İzmir, Turkey + 902323274006

PCF 40 - There are over 200 built and in service world-wide. This design may be built as a motor sailer for family use, or, by adjusting the wheelhouse position, by the professional for fishing or trawling. It has a large fuel and water capacity plus space for a deep freezer. Being of full displacement it is also an economical passage maker and is quite capable of crossing oceans safely and surely. It can be built in either steel or fiberglass .... One PCF 40 recently motor sailed from Australia to UK and on to Ireland !
---
Hello Bruce, Just to keep you posted.
We are the proud new owners since early September 2015 of the PCF 40 of Claude Charland that you show on your site. The boat is in steel, and was built in Quebec in 1979. The Engine was is a new John Deer 80 HP installed in 2002, with very few hours to date.
I owe a big respect to Claude Charland the previous owner who sold it to us for the fantastic restauration work that he did by himself. Here attached are some pictures showing the beautifull quality of work. Pictures 2 and 3 is the way she was 3 years ago. All the other pictures is the way she looked went we bought her. We plan to take her on part of the American Great Loop, starting this June.
We are so happy, beautiful Design that we have searching for years. Flavio Patuelli
| | |
| --- | --- |
| | |
NEW ! SUPER STUDY BOAT PLANS ... Delivered by DOWNLOAD to your computer. The study plans have lists of materials & equipment etc & these will be useful in costing out the complete boat. Each STUDY PLAN contains ALL the construction drawings for each material - STEEL, ALUMINUM, FIBERGLASS & WOOD EPOXY as applicable to the particular boat plan - with up to 25 sheets per plan!
Lists of materials - Technical information - Numerous construction drawings are all included. You can view & print the drawings in full or in sections. BUILDING PHOTOS are included in the study plan package.
PLUS you receive a FREE (value 79.95) e-book BUILD YOUR OWN BOAT .. Please note that when you receive your credit or debit card statement the amount will be converted to YOUR local currency. ( NOTE: The study plans include many more photos of this design.)

---

STUDY PLANS PCF40 (ALL VERSIONS)

STEEL, ALUMINUM, FIBERGLASS

£69.00 - us$89.00 - €79.00
To order STUDY PLANS go to SPECIALS PAGE and click on £69.00 PAY NOW BUTTON

---
SPECIAL OFFER - ANY THREE STUDY PLANS FOR
£99.85, us$128.95, €114.95
STEP BY STEP ASSEMBLY PHOTOS INCLUDED WITH ALL STUDY PLANS
SPECIAL INTRODUCTORY OFFER: COMPLETE BOAT PLANS & FULL SIZE FRAME PATTERNS OR CUTTING FILES Delivered by DOWNLOAD to your computer within 12 hours of you placing your order. The plans have all the information you need to build your own boat..
Each plan contains all the construction drawings for STEEL or ALUMINUM ( Cutting files ) or ( Plans and Full size frame patterns FIBERGLASS ) construction, plus bonus drawings covering electrical, plumbing and engineering, everything you need to build your boat.
Plus you will receive a DETAIL FOLIO showing how to make many of your own boat fittings, lists of materials and equipment are all included plus all technical information, numerous construction drawings and written building instructions are all included.
You can view & print the drawings in full or in sections. BUILDING PHOTOS are included in the plan package. PLUS you receive a FREE (value 79.95) e-book BUILD YOUR OWN SAILBOAT .. Only available at this price if you order off this page.

---
PLANS & PATTERNS
(FIBERGLASS)
PCF 40


£595- $768 - €675

To order COMPLETE PLANS go to SPECIALS PAGE
& click on
£595
PAY NOW BUTTON

---
PLANS & CUTTING FILES PCF 40 (Steel or Aluminum)


£795- $995 - €885
To order COMPLETE PLANS go to SPECIALS PAGE & click on £795 PAY NOW BUTTON

| | | |
| --- | --- | --- |
| L.O.A. | 12.19 m | 40' 0" |
| L.W.L. | 10.67 m | 35' 0" |
| BEAM | 3.97 m | 13' 0" |
| DRAFT | 1.30 m | 4' 3" |
| DISPLACEMENT | 14,061 kg | 31,000 lb |



Roberts PCF. 40

Boat Plans for Fiberglass construction

or
Steel or Aluminum cutting files and boat plans.

The PCF 40 is one of my favourite boats and makes an ideal family motor sailer. The hull is based on a trawler design that we built in the 1970's and as with all well designed trawler hulls - this is a great sea boat.


Note that the PCF 40 will accept a variety of rigs. This is a well proven trawler hull that can cross oceans !

PCF CUTTING FILES AND PLANS.

Dear Bruce, you are great and so fast!

Whenever we will put the keel and start, you will be receiving pictures immediately. My builder has a Web cam system at his site, and i Will be able to watch 7/24...Best regards, Berke Kardeş

Berke's PCF 40 is now completed and you can see many photos of this fine example when you order the STUDY PLANS for this design.

Roberts PCF. 40

Boat Plans for fiberglass or Steel or Aluminum cutting files and boat plans.

This is the original accommodation plan.

Roberts PCF. 40

Boat Plans for fiberglass or Steel or Aluminum cutting files and boat plans.

This is the accommodation plan we have prepared for the new steel KIT version. You can vary the layout to suit yourself.

Roberts PCF. 40

Boat Plans for fiberglass or Steel or Aluminum cutting files and boat plans.

This is an optional aft cabin added to the original accommodation plan.

HI Bruce,
I would like to say that as a total amateur I found the whole experience a very rewarding project with result that is a boat at a fraction of what she would have cost built by others. Hopefully she will also give my wife and I many years of happy boating. The professional help was limited to a minimum but what was done professionally was the welding together of the kit in a Kent boatyard, The design and install of the rig and the same for the sails. Apart from that my wife and I did everything ourselves. Sorry no, we had the upholstery professionally done as well. All the very best and thank you for your interest.

We have found our Absolutely fantastic. My wife and I really are living the dream. When we sailed her from the east coast round to our berth on the river Exe, about 300 miles, our skipper, a very experienced sailor, commented many times what a great boat she was. He made the comment one day that although he wouldn't do it by choice, if he were caught out in a force 9 at any time he would be confident of the boats sea keeping abilities to get home safe and sound.

Best regards Keith.

Roberts PCF. 40

Boat Plans for fiberglass or Steel or Aluminum cutting files and boat plans.

Bruce, looking through your web site I had a pleasant surprise to find my PCF 40 photo's shown. If for any reason you would like further information or photo's please do not hesitate to contact me.

I recently, (Easter 2006) spent 5 days on board "MOJO II" heading towards Townsville, 25 to 30 knot wind and 2 to 3m seas, and she handled it with ease.

I have found the boat very sea worthy and economical after travelling from Sydney to the Whitsunday's ( about 1200 nm ) where it now resides, and is used for family holidays. Warren Goddard

Roberts PCF. 40

Boat Plans for fiberglass or Steel or Aluminum cutting files and boat plans. The PCF 40 is flush deck forward making for easy anchor handling and plenty of space to stow the dinghy etc.

Hi Bruce,

I recently purchased a PCF40 after recovering the boat from a reef on Guam, where it had been aground for about 6 years. We are in the process of bringing her back to sea worthy condition. The boat's name is the Pearl. She was originally built in Papua New Guinea in 1978 and has crossed the Pacific four times over her past life. She was used primarily as a small cargo transport between the Pacific Islands.

I don't have the original drawings or specs on the boat (other than what's on the website). All of the paperwork, manuals, and it looks like the original boat plans were lost when she went aground. What I'm looking for is info on the design water line and recommended ballast weight and placement. Is this information available on line or will I need to purchase the full set of boat plans

Bruce replies: WE SENT A SET OF boat plans WITH OUR COMPLIMENTS !

Roberts PCF. 40

Boat Plans for fiberglass or Steel or Aluminum cutting files and boat plans.

Another PCF 40 this one owned in Canada by Claude Charland

Roberts PCF. 40

Boat Plans for fiberglass or Steel or Aluminum cutting files and boat plans.

Australian Built PCF 40 - This boat was built at our Marine Park boat-yard back in the 70's - the boat is still in service and in recent years has commanded a good re-sale value.

See larger version TRAVELER 45
STEEL OR ALUMINUM KIT or CUTTING FILES & boat plans.

Other sail boat plans are available - what do YOU want in the way of a rig ?

TRAVELER 45
STEEL OR ALUMINUM KIT or CUTTING FILES & boat plans.

This Traveler 45 is being built in Nova Scotia Canada,