| | | | | |
| --- | --- | --- | --- | --- |
| BRUCE ROBERTS CUSTOM YACHTS | | CRUISING SAILBOATS | POWER BOAT PLANS | PASSAGE-MAKING TRAWLERS |
SEE LATEST LAUNCHINGS - NEW DESIGNS & COMMENTS FROM OUR EXISTING CUSTOMERS.
Recent email from TY 620 builder:
Hi Bruce, Well we're coming along fine with our project. I'm amazed at how straight forward has been. We are having a lot of fun. My employees are anxious to come to work each day as they enjoy the progress as much as I. Thanks for your help, Lee
Hi, Thought I would e-mail you a couple of pictures of Dan's 43' Voyager. Things are going pretty well, and should be setting side shell later this week. Will be setting keel and rudder tomorrow. Altogether we have about 60 hours in at this point, not bad considering we only have had 1 man working steady on it!! Rumor has it there is a 57' possibly looking for a construction site from Colorado. We are having so much fun we'd love to build some more!!! Could you add us to your Metal Boat newsletter as a West Coast assembly company??? It would be great if you could. Well, Bye for now, back to welding! Bart Samaduroff, President, HME Inc.
TY 43 ASSEMBLY BELOW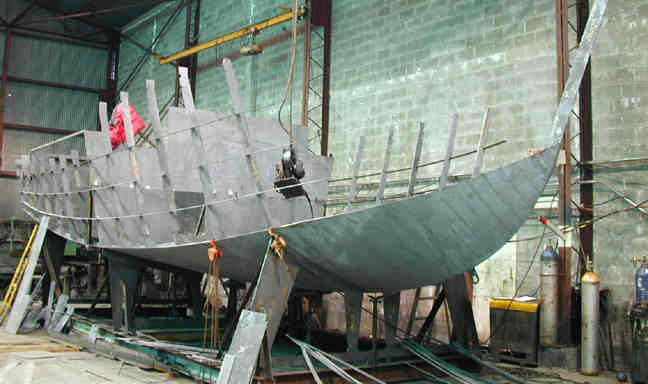 Bow view of bottom plates and frames set in position - plates rest in supplied jig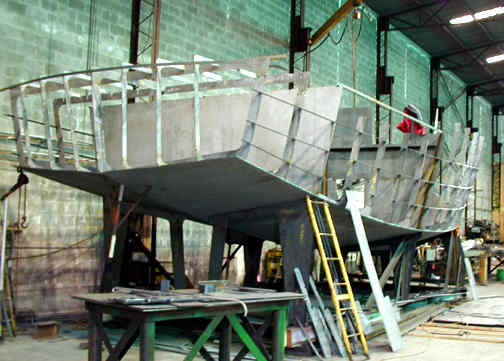 Stern view of bottom plates and frames set in position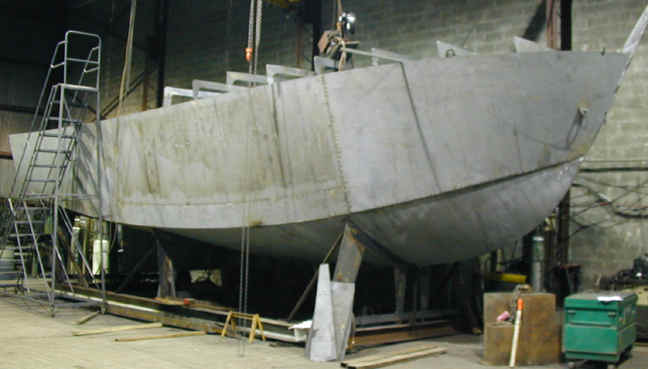 TY 43 Spray chine forward, works well and keeps fore-deck dry!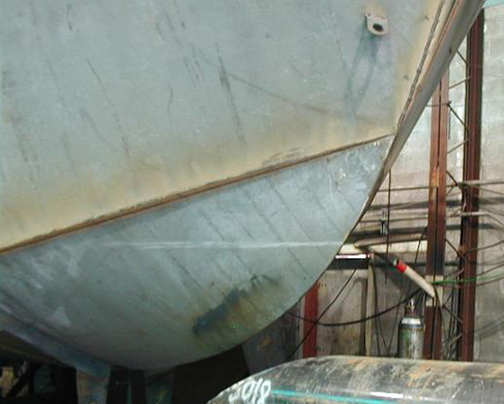 Close up of Spray chine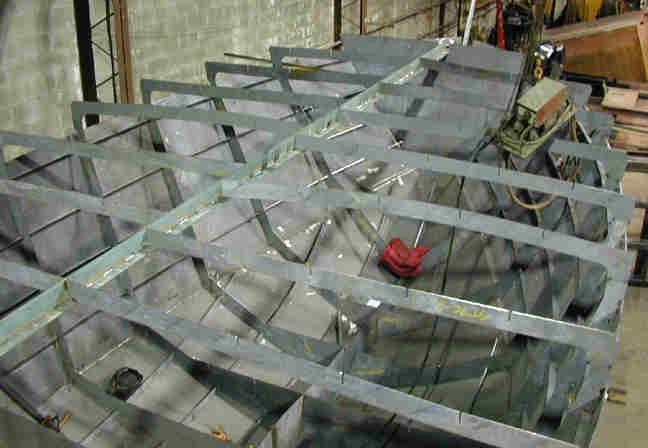 Deck beams in place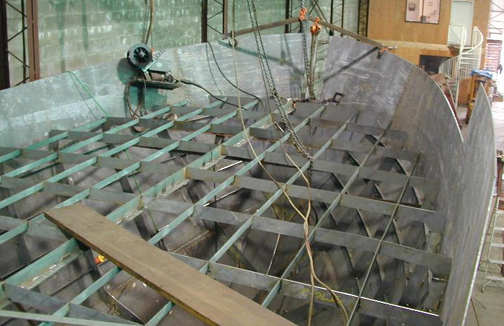 Bulwarks in place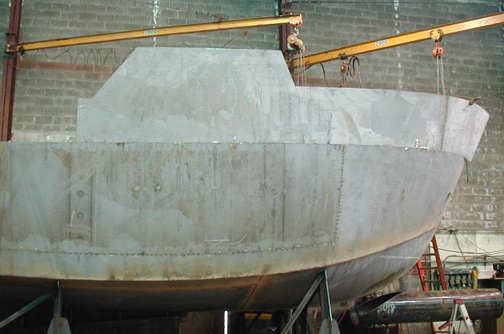 Side view of Bulwarks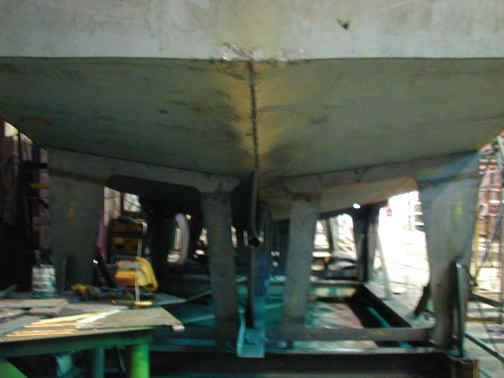 Stern tube in position - keel will be formed around the tube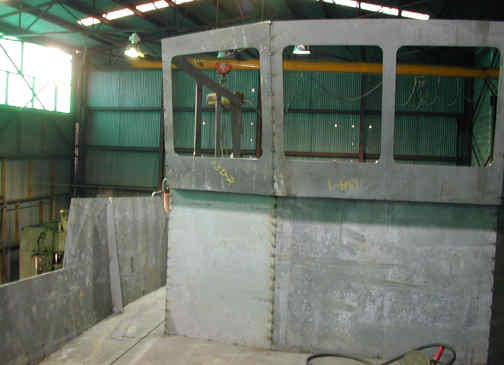 Setting up Pilot House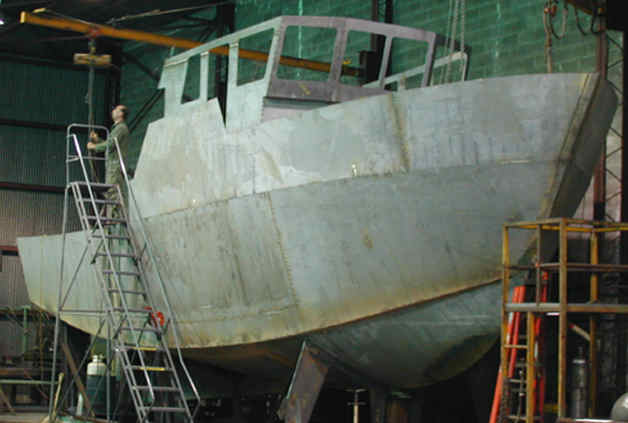 Forward bulwark in place.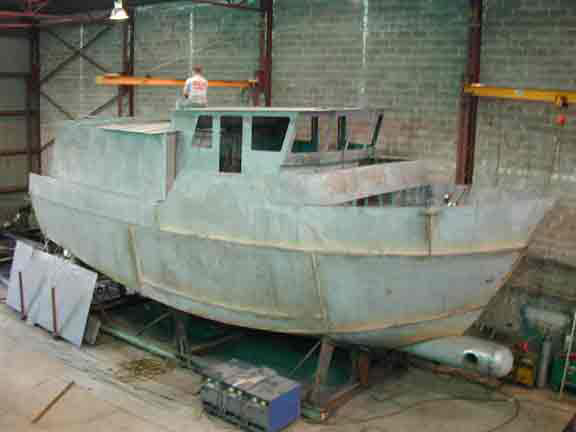 Starting to look like a Trawler Yacht 43 ! - Bulbous bow is owners choice.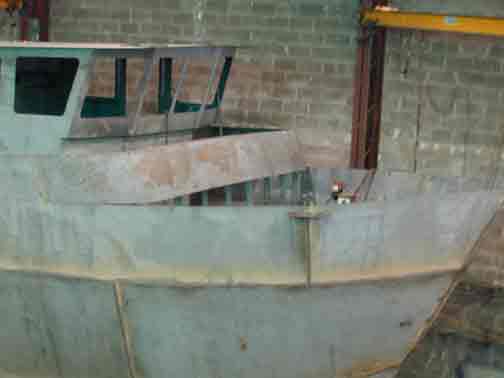 Building Portuguese Bridge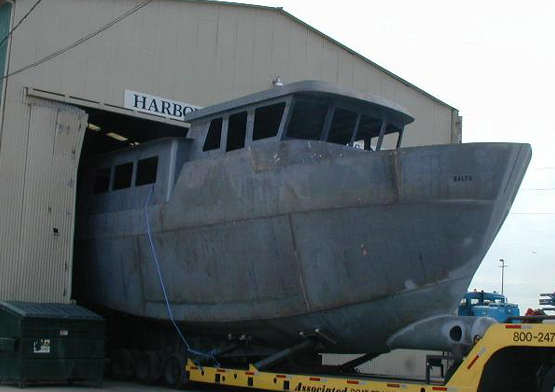 Coming out !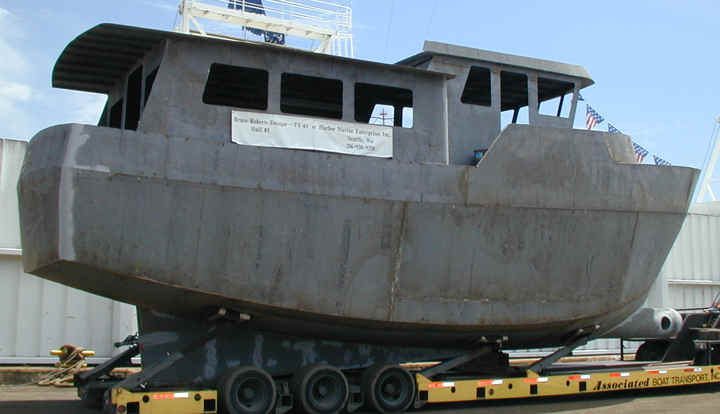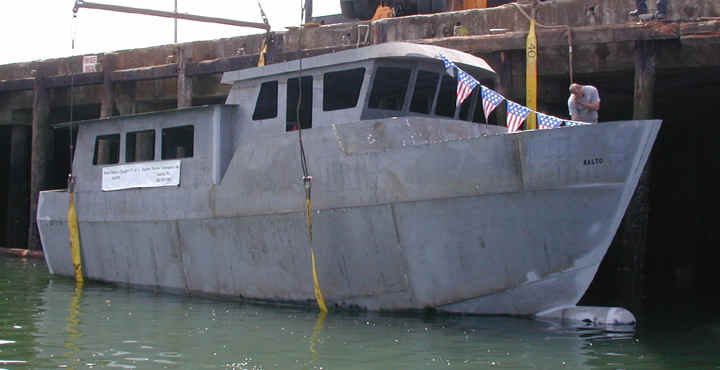 Trial launch before engines fitted and fitting out commences.
Hello Bruce, My wife and I took the journey to Western Washington to visit Bart at Harbor Marine and take a look at Dan's boat. I have to say that I am very impressed with the project. We are considering the Trawler yacht 43.. Bart was very helpful and took the time to talk to us about the different options that we have. (You are lucky to have a man of his caliber representing you.) I will tell you, if we do buy your boat Bart will be a big part of the reason we make the decision to do that. Enough of patting Bart on the back. Back to the boat. It was love at first site. The study boat plans that you sent me did not do it justice. Seeing the boat up close was the real seller. It's a beauty and obviously Dan has put a tremendous amount of thought into his project and the rewards are going to be obvious. I talked to Bart a little bit about him welding up the boat. We just need to come together with a plan that I can afford. I can't wait to see this boat in the water. Bart said he would call me when that happens and I will make another trip over to see him. Patty and I have looked for 3 years now for just the right boat and I have to say that I think we are getting close. That's all for now Mike and Patty Port
PS: My original boat plans that you sent me were for the 41'. Your representative on the East Coast talked me into looking at the 43' and sent me the updated study boat plans. Next time you talk to him thank him for me.