| | |
| --- | --- |
| Bruce Roberts-Goodson | SAVE HALF! YES, you can build your own boat & SAVE HALF of the cost of a factory built power or sailboat, YOU can prove it ... Just order the STUDY PLANS of your choice and cost out the COMPLETE BOAT. Build your own & you SAVE 33% of the cost of a USED boat & you do not even have to do all the work yourself to save. Check out what customers have to say about our designs & our 24/7 service, PLUS see the links to the beautiful boats they have built with our help ! |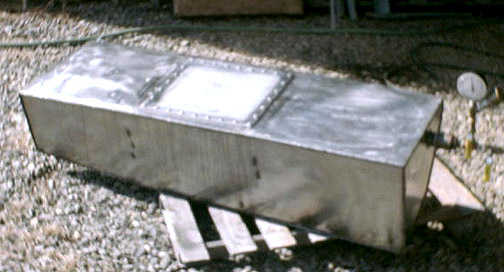 Hi Bruce,
Hope you get these pix. Just to let you know how my project is progressing, I am (hopefully) going to blast as soon as the weather warms up, insulate, plumb, wire, and reinstall all that woodwork we took out and painted over the last year. Just pressure tested the two water tanks John Hope and I built, pix attached, and they held the 5 psi over a couple days so I quess they pass. As you see, I did use an extra large access plate and was worried about sealing it. Some experimentation with soapy water resulted in using a bead of Teflon compound on either side of the fiber gasket and nylon washers on the bolts to stop the leaks. Since my project formerly was measured in decades, but is now measured by centuries, the KISS principle is becoming somewhat clearer to me. Regards, Tomm Tomlinson.

DESIGNERS NOTE: We recommend 3 lb pressure to test tanks.