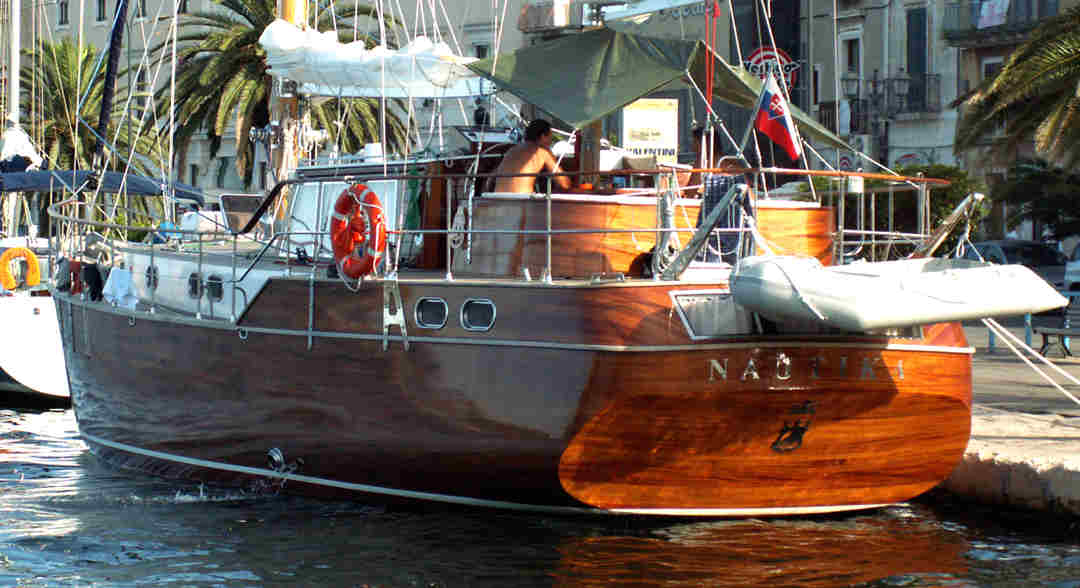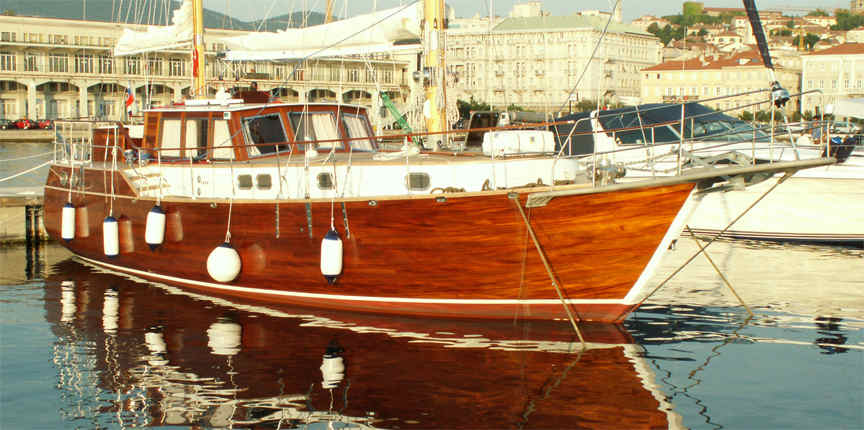 You can see many more photos of this magnificent wood epoxy
Centennial Spray 45 on the Study boat plans on DOWNLOAD or USB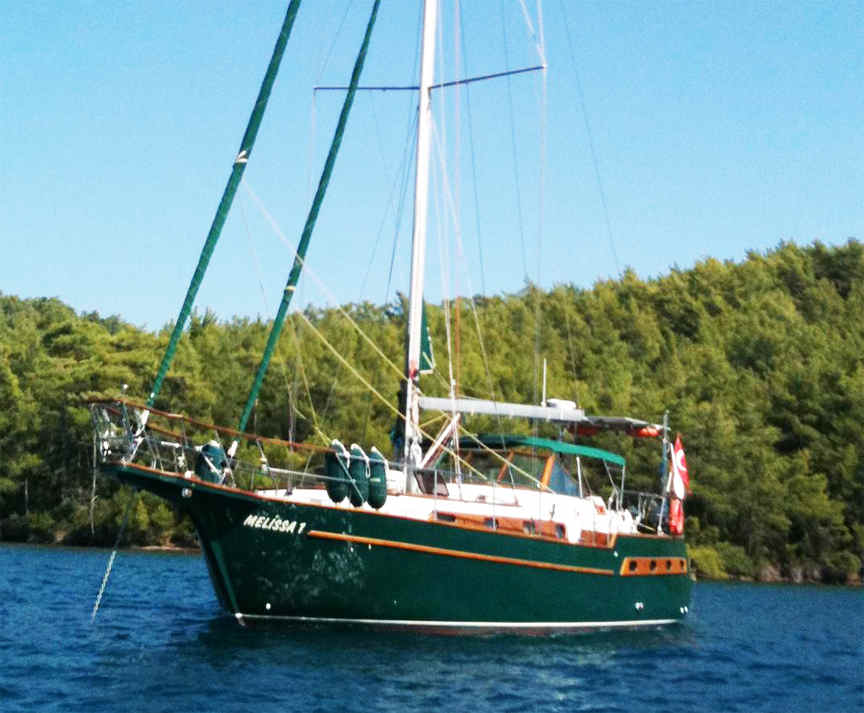 Dear Sirs, We purchased your project of Centennial Spray 45 and my friend - Zihni Butuner, built the beautiful Melissa1 in his factory - Tire Profil in Izmir Turkey. (attached some photos).
She was finished and launced in 2007 and since then she is sailing in the Eagean and he is very happy with her. She is now in Teos Marina - Turkey. Thank you, Gideon Tur
SEE BELOW FOR INTERIOR PHOTOS OF A CENTENNIAL SPRAY 45
BOAT SUPER STUDY PLANS.
Delivered by DOWNLOAD to your computer. The study plans have lists of materials & equipment etc & these will be useful in costing out the complete boat. Each STUDY PLAN contains ALL the construction drawings for each material - STEEL, ALUMINUM & WOOD EPOXY as applicable to the particular boat plan - with up to 25 sheets per plan! Lists of materials - Technical information - Numerous construction drawings are all included.

You can view & print the drawings in full or in sections.

BUILDING PHOTOS are included in the study plan package.

PLUS you receive a FREE ( VALUE £69.00 ) e-book BUILD YOUR OWN SAILBOAT ..

Please note that when you receive your credit or debit card statement the amount will be converted to YOUR local currency.

STEP BY STEP ASSEMBLY PHOTOS INCLUDED WITH THE STUDY PLANS & COMPLETE PLANS
---
STEEL, ALUMINUM, WOOD / EPOXY.


£69.00 - $85.00 - €79.00

To order STUDY PLANS go to SPECIALS PAGE

and click on €79.00 BUY NOW BUTTON
SPECIAL OFFER - ANY THREE STUDY PLANS FOR


£99.00 - $125-00 - €114.oo


CLICK HERE TO LEARN MORE
STEP BY STEP ASSEMBLY PHOTOS INCLUDED WITH ALL STUDY PLANS
Centennial SPRAY 45
Boat plans include Gaff rig . Bermudian rig . Junk rig
boat plans & Full Frame Patterns - Round Bilge Steel or Wood / Epoxy

There are over 4,000 Bruce Roberts' SPRAY SAILBOATS in service world-wide plus another 1,000 SPRAYS being built from our boat plans and patterns. We have been willing to listen to YOUR ideas about this wonderful boat and several boat plan layouts have been drawn with many features that are interchangeable between the various versions.

The Centennial Sprays are designed for building in Round bilge steel or Wood/Epoxy, and can be rigged with a variety of sail boat plans including a gaff schooner, Bmu cutter, junk rig etc. Custom sail boat plans and additional accommodation layouts may be drawn to suit your requirements for a reasonable fee.

Many of these Sprays have completed complete circumnavigations some more than once & usually with crews consisting only of two persons !
| | | |
| --- | --- | --- |
| L.O.A. ( HULL ) | 13.87 m | 45' 6" |
| L.W.L. | 12.42 m | 40' 9" |
| BEAM | 4.72 m | 15' 5" |
| DRAFT | 1.53 m | 5' 0" |
| DISPLACEMENT | 22,226 kg | 49,000 lb |
CENTENNIAL SPRAY 45

Hi Bruce, Finally we had our first test sail on 3 of August. She handles great and we did good speed in the light winds. (4-5 knots in 3-5 m/s wind). The rig is hollow glass-fibre spars of our own construction.

Johan and Lise Levin
Boat Corinne af Västerås Sweden

BRUCE's COMMENTS: The builder has customized his boat by adding a pilot house similar to the one that is shown on our Spray 52 and several other Spray models. We agree that the boat is a credit to Johan and Lise.


Centennial SPRAY 45

We ordered preliminary boat plans for the Spray from Bruce and started adapting our layout to the 45 foot hull. When Bruce released his round bilge version, the we were convinced this was the perfect hull for us. The hull characteristics were a major for our layout without compromising the sailing characteristics.

We sent our deck and cabin layout to Bruce and contracted with him to do a set of drawings using them.

A wonderful thing happened when working with Bruce. We had originally drawn the deck with a doghouse over the companionway. He, faithfully, had a doghouse in the drawings that he did for us, but he also made a slightly different version of the cabin which used a pilothouse with a steering station on a platform on the starboard side. He sent this alternate design to us as a gift.

We so much like the idea of the open pilothouse creating a bright open space out of the saloon and galley that we adopted it. We were able to take the general concept and implement it in the final design.

Regards Ben Smith

Note: Small accommodation shows standard lay-out .. these are all in the study boat plans on DOWNLOAD or on USB
.

Centennial SPRAY 45

One of several CS45's built by Put Veini

Dear Bruce, I can tell you my own impression of sailing the Centennial Spray 45. I made a trip cross the Baltic sea.

She steering herself really, just need to carefully put sails on right position. I did not touch the steering wheel for more than 20 minutes, just look at compass. Excellent performance, just nice. Thank you very much for smart design. Best Regards, Victor V. Tchaburko

Dear Bruce, We have now built NINE steel boats to your boat plans. One of the best things to happen to builders is when former customers come back for another new boat. Yes the customer for whom we built a Robert 58 in 1998 has ordered a new Spray Classic for delivery completed this year including the interior.

I am very proud and happy to build boats from your boat plans for people who have such a high estimate of your design & my workmanship. Victor Tchaburko

Centennial SPRAY 45

"Bruce, I and two Estonian master mariners motored Mother of Perl to Vastervik, Sweden for sails and rigging and sailed her back to Tallinn in the end of October. A truly great hull in every respect. We also barely touched the steering and this was going straight downwind under sail. With a little experience, I know that I could balance this boat on any point of sail. Fantastic! I'll let you know more about our adventures with Mother of Perl as we travel this next few years on both sides of the Atlantic and hopefully Pacific.... Regards Ben Smith"

SPRAY 45 "Shiloh"

Centennial Spray W/E hull built in New Zealand

STUDY PLAN PACKAGES ON DOWNLOAD or on USB
- YOU CHOOSE DOWNLOAD OR USB
. . . GIVE ACCESS TO HUNDREDS OF step by step BOAT & STEEL OR ALUMINUM PLANS & CUTTING FILES ASSEMBLY PHOTOS ... See details
SPECIAL OFFER: COMPLETE BOAT PLANS & FULL SIZE FRAME PATTERNS ... Delivered by DOWNLOAD to your computer within 12 hours of you placing your order. The plans have all the information you need to build your own boat.. Each plan contains all the drawings for WOOD EPOXY, STEEL & ALUMINUM construction, plus bonus drawings covering electrical, plumbing and engineering, everything you need to build your boat.
Plus you will receive a DETAIL FOLIO showing how to make many of your own boat fittings, lists of materials and equipment are all included plus all technical information, numerous construction drawings and written building instructions are all included.
You can view & print the drawings in full or in sections. BUILDING PHOTOS are included in the plan package. PLUS you receive a FREE ( VALUE £69.00 ) e-book BUILD YOUR OWN SAILBOAT .. Only available at this price if you order off this page ....
---
£795 - €895 - $895
PLANS & CUTTING FILES EMAILBRUCE TODAY'S
SPECIAL OFFER & PAYMENT INFO
Morning Bruce
My name is Gary. I had ordered two sets of boat plans for the Spray, one in fiberglass, one in steel from you. I followed your recommendation and went over to Sweden and arranged with Sven to build the Spray in tribute to my wife who had passed away, There was a big write up in Sweden and the U, K. about the "Nancy Ann."
She's getting quite well known. We stopped at the Azores and this whole family came running over to the "Nancy Ann" They had pictures of her and had also heard about me. Am sending pictures of "Nancy Ann" and my last discussion with Sven.
I feel that you should be kept well informed of the history of the "Nancy Ann" as she's designed by you. Am hoping that your enjoying your trip, your pictures will be waiting for you when you return to the U.S.
Respectfully, Captain Gary. L. Olson
Bruce, We will be re-launching in October so I'll gladly send some then.

I am 1.94 (6ft 4") - and she was the first yacht I could walk around without banging my head

- her fitting out, and feel of quality was overpowering. To say both my wife and I are still smiling - is an understatement. Best regards, Tim from Oman