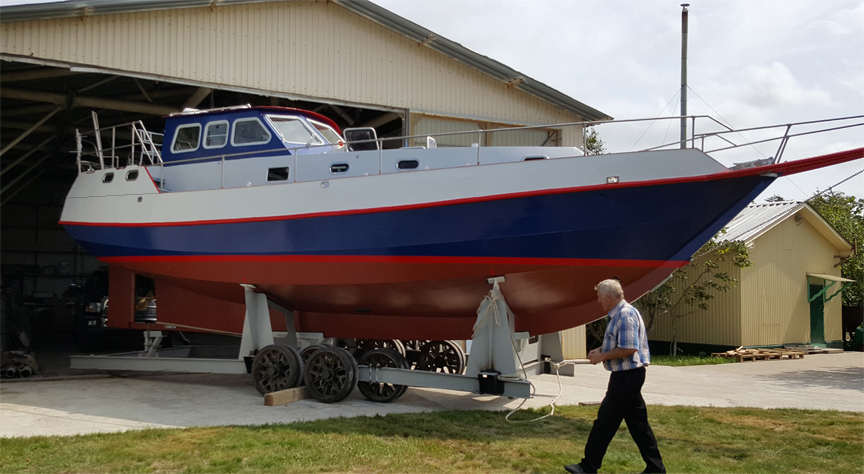 SPRAY 370D

built from Bruce Roberts cutting files and plans by Igor in Russia. This is the second Spray that Igor has built - the first one was a Spray 22 and Igor and his family loved the boat so decided to build the larger Spray 370 - COMPLETE "STEP BY STEP" STEEL OR ALUMINUM PLANS & CUTTING FILES ASSEMBLY PHOTOS are available with the Spray 370 STUDY PLANS.
---
SPRAY 370

- STEEL OR ALUMINUM PLANS & CUTTING FILES.
The original Spray 36 was a stretched Spray 33 and with several hundred of the S36 in service worldwide, we felt NOW was the time to update this sail boat. Since starting work on this project we have realized the huge potential of this boat design. The large range of versions in the Spray 370 series offers something for all. Please check out the various general arrangements and see if one of these can be the basis of YOUR boat. Spray 370 is only available from AUTHORIZED Bruce Roberts DESIGN OFFICES.

During the conversion from the Spray 36 to the Spray 370 STEEL OR ALUMINUM PLANS & CUTTING FILES we increased the beam by 8 inches. We made subtle changes to the bow; this allowed for easier fitting of the forward plates plus an increase of space in the internal accommodation areas.

There are over 5,000 Sprays already sailing world wide plus over 1,000 currently being built from our boat plans and STEEL OR ALUMINUM PLANS & CUTTING FILES. We have been willing to listen to every combination of idea's about this wonderful boat and several layouts have been drawn. Many of these features are interchangeable between the various versions.

This boat is designed in accordance with Lloyds for category 1 (unrestricted operating / sailing area), which is much better than the EU and other Classification Societies and the CE-A require. Complete stability calculations are included in the design package. All calculations are also cross referenced against ABS requirements to ensure that the design meets world-wide standards and specifications.


In the case of STEEL OR ALUMINUM PLANS & CUTTING FILES, all plate parts belonging to the hull, deck and superstructure that are accurately cut to size are included. The parts are marked with the appropriate part number and engraved matching marking lines to assist in the assembly and location of the part in its position. Cutting method is Plasma / Oxygen, ensuring highest accuracy and smooth edges.

Plate parts are cut from Lloyds approved A Grade Shipbuilding quality STEEL that has been coated with factory applied Sigma weld MC welding primer. We use and recommend steel plate that has the official designation ISO standard 10474 or EN 10204 with 3.1.B certificate.

Many of these Sprays have completed complete circumnavigations some more than once & usually with crews consisting only of two persons !

Check out our e-book BUILD YOUR OWN SPRAY for details.
SPRAY 370 A

FROM DUBAI.




Dear Bruce, Finally some pictures of her sailing! I have had a few trips up and down the coast from Fujairah and as always she behaves well. I am lifting her out later this month for antifouling and I am using Cuprotect System as it is guaranteed 5 years and purported to be a 10 year plus treatment.

I will let you know how I get on with that. She now has davits on the back with a Niccollslite NN10 nesting dinghy hanging from them. On long trips I can put the dinghy nested on the foredeck. The watermaker is on the way Ultra Whisper 600 from Sea Recovery.

I would just like to say how pleased I am with the Spray 370 and thank you for all the support you and Hal have given me during the build. Best regards Bill Wigan, Dubai.

NOTE: THE LATEST SAILING PHOTOS OF THIS SPRAY 370 ARE INCLUDED IN THE STUDY PLAN PACKAGE FOR THIS DESIGN.

SPRAY 370 A

This Spray 370 A was built in Dubai from our CUTTING FILES and plans by Bill Wigan

SPRAY 370 B Built by Rod & Dee Palanca

FROM USA.

Hi Bruce, Yes we finally got her ready for sea. We took her out last Saturday. In about 7-9 knot winds, we were making 3.7 to 4 knots close hauled and 4.5 knots running downwind wing and wing. What really made me happy was that once the sails were trimmed to her course, she steered herself, keeping within 5 degrees of a base course. I sat there for 15 minutes and never had to touch the wheel.


She heels just enough to let you know the sails are drawing but otherwise sat very upright and steady, no hobby horsing in the waves and riding the swells very well. We are looking forward to heading north from Newport, OR up to the Anacortes, WA area early next month. Let me if there is anything else you would like to know about "Icanaho."

FROM RUSSIA.




Hello

,

I'm building a

yacht

designed by

Spray

370

D

.

The work is done

, my father

and

I

and two

hired

employee.

Attached

are some photos

of the construction process

.

Perhaps the

photos will be

of interest to you

.

On one of the

shows

photo

of the yacht

plywood

Spray

22

We

built it

5 years ago.

I love

this

boat,

but

for my family

requires

more room than

the Spray 22 ship

. On the new Spray 340

the rig

will be

gaff

.

Thank you.

Sincerely,

Igor.

SPRAY 370 B Built by Rod & Dee Palanca

We have launched in Newport, OR. We have lots to do on the boat. We also plan to travel to see family and friends as well as go fishing and crabbing and just have fun.

SPRAY 370 B
Built by Rod & Dee Palanca

Here we see the Spray 370 during the latter construction stages ... this Spray 370B was built from a cut to size steel STEEL OR ALUMINUM PLANS & CUTTING FILES supplied by Bruce ROBERTS CUSTOM YACHTS.

SPRAY 370 B

This boat can have a variety of rigs including the Bmu. Cutter plan as shown here.

ALL STUDY PLAN PACKAGES ON DOWNLOAD or on USB GIVE ACCESS TO HUNDREDS OF BOAT & STEEL OR ALUMINUM PLANS & CUTTING FILES ASSEMBLY PHOTOS

SPRAY 370 B

SPRAY 370 Version B with optional Junk rig.
This boat is also available with other rigs including the Bmu. Cutter shown above

NOTE: We now have an excellent set of construction photos plus many photos of completed Sprays that are available with the STUDY PLAN PACKAGES.

SPRAY 370 B

SPRAY 370 B suggested accommodation plan. As you will have noticed in these pages, the accommodation in his design can be arranged to suit your requirements.

SPRAY 370 B

Alternate accommodation arrangements for the S370 B

SPRAY 370 B

The boat plans for all junk rigs come with special construction and control line (not shown here) boat plans and drawings.
Spray 370 C

This Spray can be rigged as shown or with a variety of other sail boat plans including Gaff rigs, Junk rigs etc.

Spray 370 C

Suggested accommodation plan

Spray 370 C

One alternate accommodation plan for the Spray 370 C .. several different layouts are possible to suit your requirements.

Dear Bruce, I took the Kangaroo (ex Bellavia) for a test sail today. Simply pure joy. The pilot house has not changed anything.

My wife came along (her first time on a sailboat) she loved the boat. I will send you some pictures soon of her with the sails up in a good breeze. I want to be on your Spray website. Best regards Asi

NOTE: Several photos including some sailing ones are included in the study boat plans on DOWNLOAD or on USB - YOU CHOOSE DOWNLOAD OR USB


Hi Bruce, I took the Kangaroo out for a another hop today in a force 5-6. Pure pleasure!!! Slow graceful movement, balanced helm , stable like a rock . The mainsheet purchase works fine now after some minor modification.
Other boats on the bay where heeling over far and their crews busy pulling strings . I was drinking coffee with my wife in the cockpit. Regards Asi

ALL STUDY PLAN PACKAGES ON DOWNLOAD or on USB GIVE ACCESS TO HUNDREDS OF BOAT & STEEL OR ALUMINUM PLANS & CUTTING FILES ASSEMBLY PHOTOS