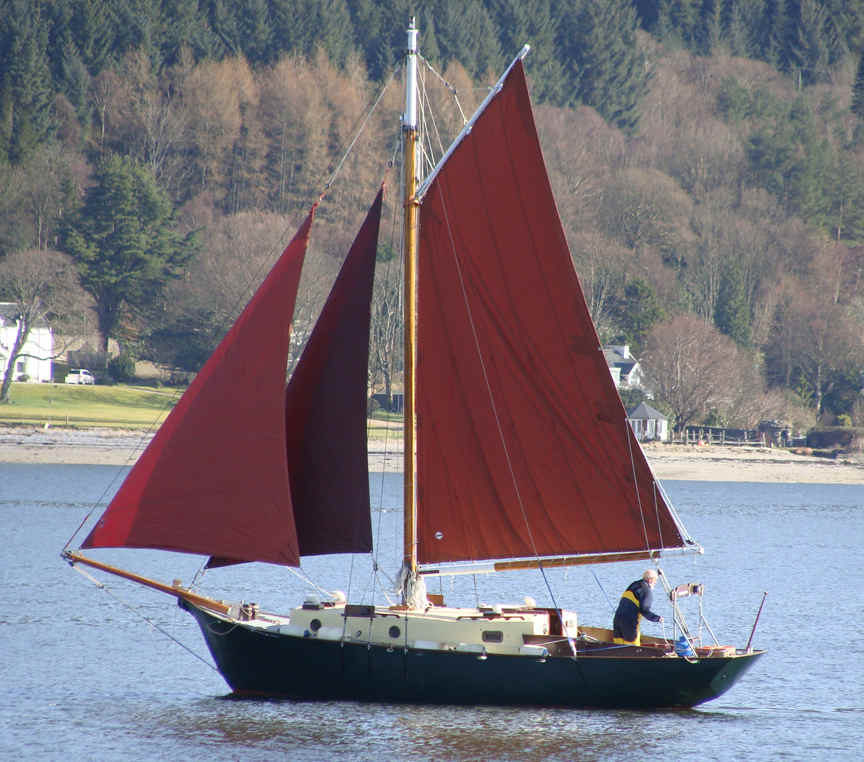 Roberts 31 is sailing under Gaff Cutter rig.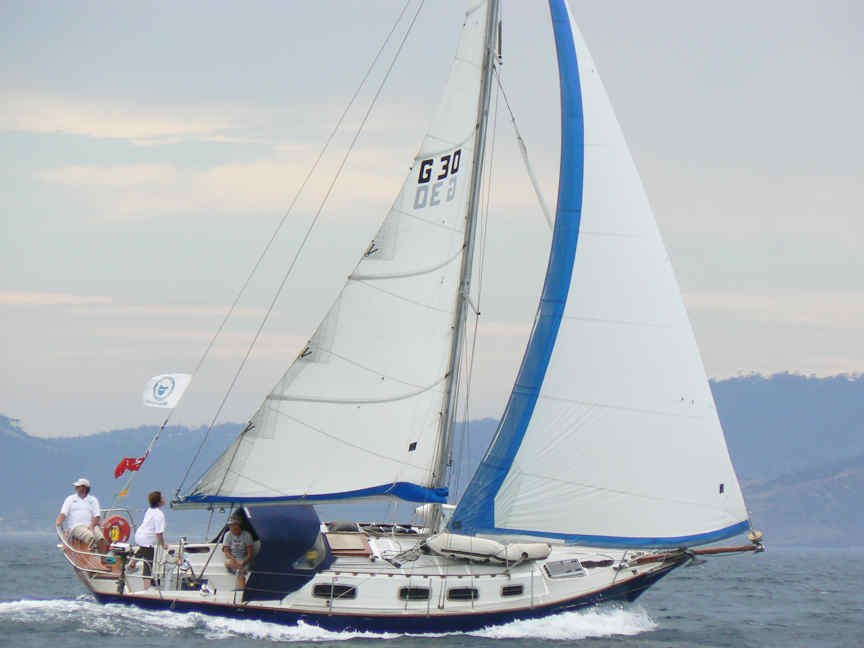 The Roberts 31 pictured on left was built in Australia and has
cruised extensively both in Australian waters and overseas.
Roberts 31 - Fiberglass construction.
Over 100 of this design have been built in various part of the world. Several have made trans ocean voyages.
This design is a well proven world cruiser as many are currently sailing in different parts of the world and the reports are excellent. It can be rigged as a Cutter, Schooner or Ketch and different layouts are available. You can build the Roberts 31 in Round Bilge Fibreglass The complete boat plans package include many sheets of large-scale drawings, plus full-size patterns for the hull etc.

| | | |
| --- | --- | --- |
| L.O.A. | 9.73 m | 31' 11" |
| L.W.L. | 7.35 m | 24' 2" |
| BEAM | 3.05 m | 10' 0" |
| DRAFT | 1.37 cm | 4' 6" |
| DISPL. | 6441 kg | 14,200 lb |
| AUX. POWER | | 20 to 30 hp |
SUPER STUDY boat plans ! ANY THREE STUDY boat plans. These study boat plans have lists of materials & equipment etc., these will be a great help in costing out your chosen boat. EACH DOWNLOAD OR CD contains - ALL the construction drawings of the THREE boats you choose with up to 25 sheets per plan! Lists of materials - Technical information - Complete construction drawings. You can view & print the drawings in full or in sections. THREE STUDY boat plans ON DOWNLOAD or on CD + FREE 1400 page all colour e-book BUILD YOUR OWN SAILBOAT is included. HUNDREDS OF STEP BY STEP BUILDING PHOTOS ARE IN THE PACKAGE. us$99.oo ORDER NOW
Roberts 31
Fiberglass construction.

As you can see there is more than one accommodation arrangement that will suit the Roberts 31. If you have your own ideas then we would be pleased to hear from you on this subject.

Inside a Roberts 31

Roberts 31
Fiberglass construction.

The Roberts 31 on the left is used as a family boat. The owner who is personally known to us reported that he was 100 % satisfied with the boats handling and performance.

Regular trunk cabin version

Roberts 31
Fiberglass construction.

These are just a few of the many Roberts 31's that
have been completed by builders just like you !

Low Pilot house version

Raised topsides version

Roberts 31
Fiberglass construction.

Both the Roberts 31's pictured on the left have made long ocean voyages; one has cruised extensivly to the Far East including Japan and China and the other has cruised from Australia to Canada and both sides of USA.
CLICK BELOW TO GO TO:
SAILBOAT DESIGNS - POWERBOAT DESIGNS - ORDERS - HOME PAGE