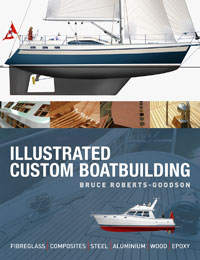 HARD COVER us$79.95
Hard-cover - 352 pages
Illustrated CUSTOM BOATBUILDING
DETAILS ORDER
Hi Bruce, I have received your Illustrated CUSTOM BOATBUILDING book yesterday. You did a great job of writing and putting it all together. In reading through several chapters, you have already answered several of the questions I was planning to ask you in the future. Thanks for sending the book to me. I am finding it to be very helpful. Have a Great Day! Earl

---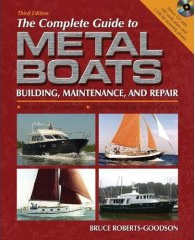 e-BOOK us$79.95
e-book METAL BOATS
Written for those interested in building in Steel or Aluminum. The benefits & disadvantages of the different metals are explained. Discusses the right tools and equipment & welding techniques and how they apply to various metals.
The differences between the various hull shapes explained in detail plus the correct engines & equipment.
Other subjects include electrolytic protection, building skegs. keels and pilot houses, in fact everything you need to know about metal boats is covered between the pages of this book. Chapters on building from a KIT many kit assembly photos etc.
---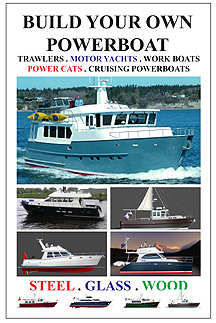 e-BOOK us$79.95
1200 PAGES
BUILD YOUR OWN
POWER BOAT
1,400 PAGES
302,500 WORDS
10,000 PHOTOS

DETAILS ORDER

Save 50%! on the cost of your next boat! This 500 page e-BOOK covers everything you will want to know about custom building a trawler or other cruising powerboat to suit YOUR requirements. No need to accept "off the shelf " solutions to your cruising aspirations. Glass, wood & steel building methods are all covered. You will need this knowledge to manage a building program.
---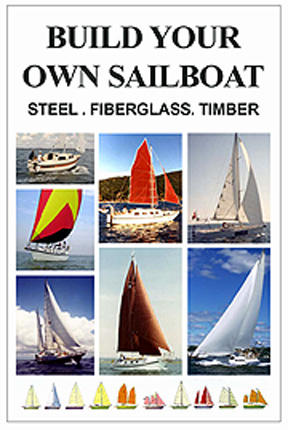 us$79.95
BUILD YOUR OWN
SAIL BOAT
DETAILS ORDER
ALL SAILBOATS & SPRAYS
e-BOOK 1400 PAGES
1,400 PAGES
302,500 WORDS
10,000 PHOTOS
Illustrates 100 boat plans you can build in Wood, Fiberglass, Steel or Aluminum
19ft-5.8m to 76ft- 23.20m
This great HUGE e-BOOK goes into great detail on all methods of building your own Sailboat including Sprays plus all Roberts kit sailboats, build from scratch sailboats and motor sailers etc. Covers Steel, Fiberglass and Wood Epoxy building techniques with explanatory text and THOUSANDS of COLOR photographs of each stage of the building program. ALL sizes and types of sailboats are covered
---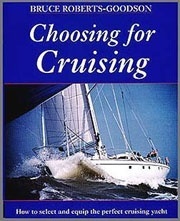 CHOOSING CRUISING SAILBOATS
Hardback book
us$79.95
DETAILS ORDER

CONTENTS:
1. Budgets and Planning
2. Choosing the Hull
3. Decks and Superstructures
4. The Rig
5. Interiors
6. Engines, Cooling and Fuel Systems
7. Marine Electric's
8. The Tender
9. Ground Tackle and Warps
10. Safety
11. Medical Emergencies and First Aid Kits
12. Choosing the Crew
13. Cruising with Children and Pets
14. Summary- a Designers Perspective
20. Why not Choose Inland Cruising
ONE OF SEVERAL REVIEWS
For those considering changing their cruising boat, a new book by a very well known cruising yacht designer has just arrived. Named "Choosing for Cruising" and written by Bruce Roberts-Goodson, of the Roberts range of solid cruising yachts, it looks at the real basics of what one needs to select and equip a cruising yacht.
This book throughly addresses the hull material, the rig, interior layout and the engines and electric's. It goes on to consider the tender, ground tackle and even the crew. It does not limit the discussion to sea cruising and has a chapter specifically looking at inland waters cruising. A very good review of the options open. Royal Yachting Magazine